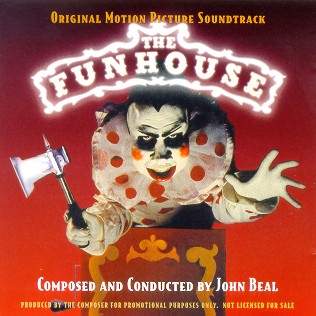 The Funhouse, made in 1981, is described by Halliwell as - "a violent, freak-show horror that tries for black humour but misses most of the time; it sticks to the usual equation: teenage sex equals gruesome death." The colorful CD leaflet cover showing a grotesquely-grinning, malicious clown figure emerging jack-in-the-box like and holding a hatchet sums it all up. Apparently it is a now regarded as a cult classic.
John Beal's dark, Gothic score, nodding towards Bernard Herrmann, and anticipating Danny Elfman, is impressive and it gets a robust performance in this new recording from the composer's contract players.
A solo piccolo announces the rather plaintive but soon shrill-sounding three-note motif from which much of the score is built but this is quickly crushed by harsh emphatic chords from the orchestra before we are whisked into a wild carnival atmosphere. This music develops into an almost Ravelian waltz (which becomes ever more twisted and demented in the cues "The Funhouse"and "Chained Melody") The atmosphere then relaxes, but not for long because creeping, menacing string figures emerge that grow more and more menacing until we have the sort of shrill stabbing chords associated with the shower scene in Psycho but with little flashes of xylophone colouring. All this material is contained within the Main TitleTrack 1!
In "God is watching You" (surely an ironic title) Beal uses edgy metallic electronic instrumentation to screw up the "don't look-behind-you" suspense, together with quieter more reflective music. "Carnival Skyline" offers some welcome if brief serenity; it's an evocative and atmospheric portrait with just a hint of threat. I will not tire you with a complete track by track analysis, the score continues in much the same vein, but Beal's score is resourceful and he weaves enough variety using electronics skilfully interwoven with his conventional instrumentation to continually screw up the tension until it climaxes noisily and terrifyingly in "The Funhouse" and "Chained Melody" cues. Often he will use some little surprise staccato grotesque effect to spine-tingling effect.
An above-the-average horror score. It is a pity that Mr Beal was not served with mo re complete documentation than the scanty one-page leaflet that serves as the CD booklet.
Reviewer
Ian Lace

Paul Tonks adds:-
If you've made up your mind one way or the other about composer John Beal on the strength of the Coming Soon ! collection, you need to obtain this at the double so as to be able to make up your mind all over again. That set of trailer themes in no way prepares your thinking for a fully developed score. The bitty nature of that listening experience has you latching onto favourites, and then wishing there were more. Here Beal flexes every muscle, and fulfils the promise of the "Main Title" to give you a thematically rich score. Being a horror film, there's plenty of spooky invention too.
Hailing from 1981, this promo speaks volumes of the opening of that decade, when full orchestrations won out over electronic experimentation. All the way through this disc, there is a delightful sense of large proportions. It's a busy score, with fast and frenetic passages ("The Funhouse") building up a constant sense of unease.
I am a bit of a sucker for the carnivalesque waltz too, so to hear it implicitly or by suggestion under the harp glissandi and rapid fire drumming is a personal treat. The 'Big Top' sound can easily come off as cheesy, but the necessary chill quota for a horror really puts paid to that. Danny Elfman enjoys the sound as well, and it's nice to see someone else having macabre fun with the genre long before he came on the scene.
Reviewer
Paul Tonks

This CD carries the message: "Produced by the composer for promotional purposes only. Those interested in acquiring a copy should visit John Beal's web site on: http:www.beal-net.com/john/