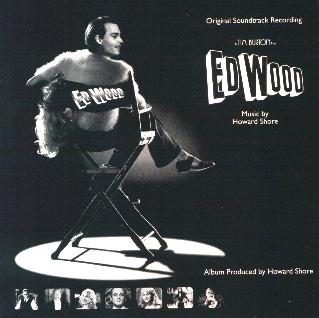 To date this is the only Tim Burton movie without a Danny Elfman score ('creative differences'). David Cronenberg's regular filled the shoes with a score Edward D. Wood, Jr. would have been overjoyed with. It plays up the kookiness of his nonsensical plots and haphazard directing style. There's lots of Theremin and Ondes Martinot throughout, notably in the bravura "Main Title". Thematically derived from, the titles really lay the groundwork later on, although some nice brief themes do surface, such as the extension of Swan Lake for Bella.
Keeping the chintz appeal alive are cues such as "Elmogambo", "Kuba Mambo", and "Nautch Dance" - the last two being source cues.
"Ed & Kathy" showcases the sweet love theme which matures into a grand noble statement of Eddie's dreams. This is perfectly coupled with the patriotic swell of "Eddie Takes A Bow" where snare drums and bell underline a brass march.
A couple of snatches of dialogue gradually wear on the listener, but it's otherwise hard to fault a genuinely perfectly matched score.
Reviewer
Paul Tonks