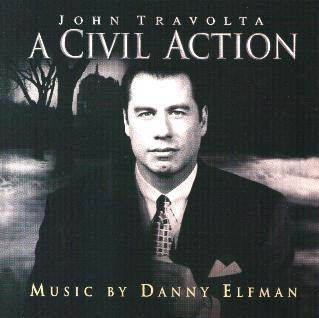 Everyone is entitled to an 'off' day I'm sure. When it's on CD for you to review though, they're not likely to get away with it ! A Civil Action is the least of Elfman's scores in quite some time. To my ear it all too often sounds like an elaboration on To Die For (the strings in "Objections" are uncannily similar).
His practise of the art of samples has certainly raised many scores to levels of artistic intrigue. Mission: Impossible became a fascinating exercise in distinguishing live percussion from synthesised. Men In Black, Dead Presidents, and even Good Will Hunting all benefit from his quirky ensemble of sampled sounds (his "palette").What they all had however, was a sense of cohesion and a little melodic charm. A score certainly does not have to have a melody to be memorable, but when it's left to leap all over the place like this it makes for a very uninvolving listen unfortunately.
I should not overlook its few points of interest, such as the innovative guitar work in "Civil Theme", or the lovely use of mixed choir for "The Letter". Sadly the rest is just too familiar and nondescript.
Reviewer
Paul Tonks
and Ian Lace adds
Danny Elfman can always be relied on to write an interesting score and even though this new music for A Civil Action has, perhaps, as Paul Tonks comments, too many familiar ingredients, I was impressed enough by his rhythmic vivacity and instrumental colour. I particularly liked evocative tracks like "The River"and "Water" and his more pensive strings material and limpid harp figures in "Why?"
Reviewer
Ian Lace

Reviewer
Paul Tonks
&
Ian Lace