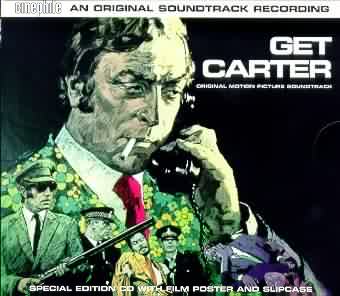 Tragically, British film composer, Roy Budd died in 1993 at the early age of 46. Roy Budd was a respected Jazz musician before he turned his hand to film music. Born in Surrey, just south of London, he began working professionally at a very early age with engagements at the London Palladium at the age of 12 (in fact he had been nicknamed - "the Mozart from Mitchum"). He was respected as being a brilliant musical improviser. His music combined jazz with contemporary pop music.
Now Cinephile have issued a collection of his scores. The first of these is given the special presentation treatment with a cardboard slip case and largish film poster. This is appropriate for his music for Mike Hodge's British gangster film, that has been compared with the best of Hollywood in the genre, is Budd's masterpiece.
The film concerns Carter's vengeful visit to his old hometown, Newcastle, to seek out the villains who had killed his brother. Michael Caine was brilliant in the role of Jack Carter; cold and laconic with a bitter, caustic wit, yet vulnerable too. He was supported by a marvellous supporting cast including Ian Hendry as Eric. Remember their dialogue at the race track? Jack:...I'd almost forgotten what your eyes look like. They're still the same - like two piss holes in the snow." Eric: "'Still got a sense of humour!" Jack: "Yep. Yes, I retain that, Eric!" The race track dialogue, and eight other dialogue snippets are interspersed with the music on this CD. [The film's supporting cast also included John Osborne, Glynn Edwards, Bernard Hepton and Brian Mosely (British soap opera Coronation Street's lately deceased Alf Roberts) who fans will remember as the man that Carter throws off the top of a multi-storey car park.]
Who could forget the brilliant, steely-hard Carter theme, a two-note, pause, two-note motif played on the harpsichord with the added sound of strumming fingers across piano strings. This is stated right at the beginning and developed in a great jazz improvisation played against Carter's train journey northwards from London to Newcastle at the start of the film. Train noises are also included in the cue; and notice how appropriately and how well they blend with the music, the tempo of which slows as the train arrives at Newcastle. Budd's score blends jazz and early 1970s Pop music into a wonderful mix, creating memorable cues all the way through this album. (An indication of the esteem in which the original soundtrack LP was held is the fact that a copy recently fetched £1,500 at auction!) It is salutary to realise that this score was brought in for only £450! The players and instrumentation are economical: just Roy Budd with Geoff Cine (bass) and Chris Careen (drums and percussion), plus vocalists. The songs are all vibrant and memorably melodic: "Looking for Someone"; "Something on My Mind"; "Getting Nowhere in a Hurry"; and "Love is a Four Letter Word" all of them making ironic commentary on Carter and the storyline. A very firm recommendation
Reviewer
Ian Lace

As Budd's career developed his music supported a wide variety of screenplays proving his adaptability and versatility. Below are briefer reviews of another five of his scores by Ian Lace and Rob Barnett:-
Roy BUDD
Fear is the Key

OST

CINEPHILE/CASTLE CIN CD 002 iMVS (UK) [36:15]
Diamonds

OST

CINEPHILE/CASTLE CIN CD 003 iMVS (UK) [47:29}
The Black Windmill

OST

CINEPHILE/CASTLE CIN CD 004 iMVS(UK) [40:33]
Sinbad and the Eye of the Tiger

OST

CINEPHILE/CASTLE CIN CD 005 iMVS (UK) [1:53]
Paper Tiger

OST The National Philharmonic Orchestra conducted by the composer

CINEPHILE/CASTLE CI N CD 012 iMVS(UK) [50:51]
Sinbad has been the subject of scores from Bernard Herrmann (The 7th Voyage of Sinbad) and Miklos Rozsa (The Golden Voyage of Sinbad) - both reviewed recently on this site. It is instructive to compare these two with Budd's music for the last and least regarded of the (cheaply produced) Ray Harryhausen epic. For Sinbad and the Eye of the Tiger (1977), Although not in the same class as his illustrious peers, Budd, nevertheless, delivers an enjoyable, racy score as colourful and Arabian exotic as Rozsa but more straightforwardly melodic than Herrmann blending ardent love music, comic characterisation and the more horrific, grotesque for the obligatory monsters.
Reviewer
Ian Lace

Alistair Maclean's novel, Fear is the Key (1972), made an uneven transfer to the screen. After the edge-of-your-seat car chase in the first half hour it was down-hill all the way. Budd provided an upbeat jazz-based score with one of his attractive long-spanned melodies announced in the Main Theme. The most significant track here is the music for that car chase; ingenious in its pacing, mood and evocation (the strings realistically depicting screeching tyres), but the inclusion of actual car noises as the track proceeds can become very tedious on repeated hearings. The remaining tracks offer easy trad jazz listening in various tempos mixed with some interesting variations on the darkly menacing materials with which we have grown so familiar.
Reviewer
Ian Lace

Paper Tiger (1975) starred David Niven as the tutor to the young son of the Japanese Ambassador to an unspecified Far Eastern country. Niven, the paper tiger (coward) of the title spins fictitious tales about his non-existent war exploits, but when tutor and pupil are both faced with real danger, the Niven character first flunks and then rises above his fear to become a tiger proper. Roy Budd created one of his best scores for this film. The opening Main Theme contains one of his loveliest melodies that can persist in the head for days. This is followed by authentic-sounding Japanese - beautifully innocent - music for "Teacher and Pupil". Niven's character is shaped by a waggish, swaggering version of "The British Grenadiers", and the suspense/combat music is well handled. Another subsidiary melody is also included and it is good to hear The Ray Coniff Singers and the Mike Sammes Singers again. Budd has all the advantages of the splendid playing of the National Philharmonic Orchestra (used by Charles Gerhardt for his RCA Classic Film Scores series).
Reviewer
Ian Lace

Budd's music is polished and knife-edged whether in a cool dreaminess or icy threat. It is rather continental (Italian) in feel. This music is definitely worth hearing as representative of the 1970s. Diamonds with its cold, quietly-cutting charm is striking. This is most obvious in the title tracks as well as in Crown Jewels and A Handful of Gems and the end-titles.
Along the way you get some all-purpose Persian market music which cuts little ice with me: Budd marking time. The Three Degrees (and no doubt fans will be seeking out this album as well as Budd collectors) are in excellent voice and are recorded in an ambience that glistens and shivers
Reviewer
Rob Barnett

The Black Windmill is a film which has been shown quite a few times on television so people may well remember Michael Caine as the go-it-alone secret agent who, to save his child, takes on enemies on both sides of the 'wall'. The score has some of the quiet and freezing charm (In the Garden) of Diamonds but is interspersed with some fleet-footed jazz trio passages. Overall though the score does not hold up as well as Diamonds though the climactic gestures of No Co-Operation make the album worth hearing. Both Diamonds and Windmill are very well documented - a great credit to the enterprise. There are plenty of stills and original poster-art is used. Sadly The Black Windmill instead of using the durable booklet format, uses the fold out movie poster facsimile. This is fine for short term impact but guarantees a short life for the insert. Playing time is short. Enjoyable but not utterly compelling.
Reviewer
Rob Barnett