Sir Malcolm Arnold: Overture - The Roots of Heaven; William Alwyn: Suite of Scottish Dances; Sir Malcolm Sargent: An Impression on a Windy Day; Clifton Parker: Overture - The Glass Slipper; James Langley: The Coloured Counties; Gordon Jacob: The Barber of Seville Goes to the Devil; Maurice Johnstone: Tarn Hows - A Cumbrian Rhapsody; Alan Langford: Overture - Two Worlds; Sir Richard Rodney Bennett: Little Suite; David Lyon: Overture - Joie de vivre.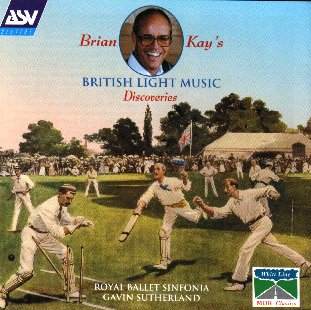 This is an enterprising and entertaining programme of light music by British composers many of whom have written for the screen.
Arnold's Overture: The Roots of Heaven is directly linked to the film of the same name starring Errol Flynn in his penultimate role, with Orson Welles, Trevor Howard and Juliette Greco. It was set in Africa and this Overture, written for the film's London premiere, responds to all the elements of the screenplay: elephants, the Americans and the love interest. Arnold, as usual, juxtaposes an imposing fanfare and highly evocative African sound landscape-painting with quirky, jazzy rhythms and a broad, sweeping romantic melody; a minor tour de force.
William Alwyn, of course, scored many British films, but he is represented here by his jolly Suite of Scottish dances strongly based on traditional Scottish tunes. I was especially intrigued by the second dance entitled A Trip to Italy it is as though the Cock of the North is meeting Respighi's The Birds; and by Carleton House which seems to transport the dancing to the Tyrol.
Sir Malcolm Sargent is remembered as a distinguished conductor especially by older British Promenade Concert enthusiasts, yet his An Impression on a Windy Day shows that he had considerable skills as a composer. This is highly pictorial music, supremely evocative; Sargent vividly captures the atmosphere of a wild, blustery day with music that reminds one of Mendelssohn while the more romantic elements recall Eric Coates. (Has the work a hidden programme about a pair of lovers' sometimes stormy relationship?) This is a perfect little gem that makes one wonder what Sargent might have accomplished if he had chosen to develop this facet of his talents.
Clifton Parker wrote the music for the film Sink the Bismark. His Overture to his children's operetta, The Glass Slipper, based on the Cinderella story, is included here. It is an appealing, jolly, Mendelssohnian-quick-silver, yet dainty scherzo. Gordon Jacob well known as a master arranger and orchestrator is represented by his wickedly funny The Barber of Seville Goes to the Devil a brilliant parody on the famous Rossini Overture. Considering the pathetic nag that the Barber rides, no wonder such a fate befalls him! This item is a riot and worth the price of the CD alone!
James Langley's The Coloured Counties takes its name from a quotation from a line in Bredon Hill from A.E. Housman's A Shropshire Lad: "Here of a Sunday morning, My love and I would lie, And see the coloured counties, And here the larks so high, About us in the sky." The music is nicely, hazily, evocative and lightly romantic with some rather odd Celtic inflections. But the highlight of this CD, for me, is Tarn Hows, Maurice Johnstone's Cumbrian rhapsody celebrating the loveliness of this stretch of water lying between Coniston and Hawkshead in the English Lake District. Johnstone's music magically paints Tarn Hows slowly shrugging off early morning mists, then resplendent, glistening under the midday sun to the admiration of its many visitors and then bathed in serene, spectral, moonlit beauty.
Alan Langford wrote his Two Worlds to a BBC commission. The intriguing Overture is perky and full of good humour; it is a neat combination of the elegantly classical and colourful Latin American rhythms. Sir Richard Rodney Bennett has notched up many celebrated film scores but her we have a charming set of little pieces comprising his enchanting Little Suite, its movements, for the most part, named after birds. This magical little work with its gentle waltz rhythms is comfortably and charmingly redolent of a children's world of long ago - a nice romantic nostalgic wallow. Finally there is another work principally for younger audiences - David Lyon's colourful Overture - Joie de vivre which is full of just that.
Gavin Sutherland and the Royal Ballet Sinfonia deliver sparkling and sympathetic performances of all these little gems.
Reviewer
Ian Lace