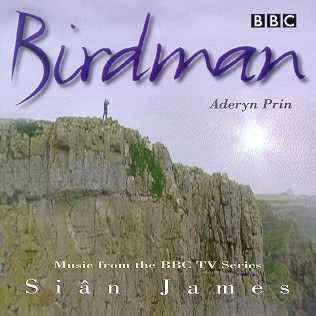 This is an enchanting collection which I recommend warmly.
Birdman is a new six-part series made for BBC Wales, to be shown in te UK from late February. It is about an RSPB officer's conservation work protecting endangered species including birds of prey, grouse, lapwing and seabirds.
Welsh artist Siân James, who has composed the music for the series, is also heard on this soundtrack CD as singer and instrumentalist. She is steeped in Celtic music. As a child, she studied piano, violin and harp. She began performing in concerts at fourteen and formed the popular folk/rock group Bwchadanas whilst at university. Her composition professor was William Mathias. Her other TV and film work includes singing on the score for The Englishman Who Went Up a Hill and Came Down a Mountain.
Writing about her Birdman assignment in the CD booklet she comments "There was something appropriate about asking a Welsh traditional singer to compose a soundtrack with birds as its theme. The reason being that birds have always played a significant part in the Celtic culture of Wales. They play a central role in several of our legends - eg.Blodeuwedd, Branwen and Rhiannon. Birds were also relied upon to foretell events. There are countless sayings in the Welsh language that refer to the flight paths and other activities of birds as being indicative of present and future events. And of course our folk songs are littered with ornithological references, the Ilatai or messenger song (where young men send birds to their lovers to ask them if they love them) is one of our most common types of traditional song."
The nineteen numbers here embrace mainly the Celtic tradition and employ traditional instruments but some have a slight seasoning of modern electronic instrumentation but not so much as to be inappropriate and intrusive. Pipes, piano and harp are dominant and most of the songs are sung in the Gaelic language. One or two of the numbers lean strongly towards the pop rock culture and one, "Rhodio", has a strong Afro-Caribbean flavour. Most are serene and relaxing and frankly sweetly nostalgic. This is easy listening and I do not mean to be at all disparaging, on the contrary these numbers demonstrate an impressive musical facility. So, turn out the lights, throw a log on the fire and sit back and dream.
Reviewer
Ian Lace

And Rob Barnett adds -
I was very pleased to have the opportunity to review this disc although being television-less at present I have not seen the series. My pleasure is related to my interest in the development and popularity of Celtic music in the popular field.
The crossovers and links between the work of Karen Matheson (she of the golden voice in Capercaillie and a phenomenon) and of Siân James struck me with some force. If I prefer Ms Matheson's voice it is clear nevertheless that Siân James has a voice of crystalline purity and sorrowing plangency. The accompaniments are typical of the work of Capercaillie though I am pleased to say that there is less synthetic treatment for Ms James' instrumental accompaniments. Truth to tell the songs are not as memorable as those of Capercaillie but they strike with some soft beauty on the ear and are worth your time. A gentle album of under-stated melodic poetry. Recommended and definitely listenable separate from the TV series.
Reviewer
Rob Barnett