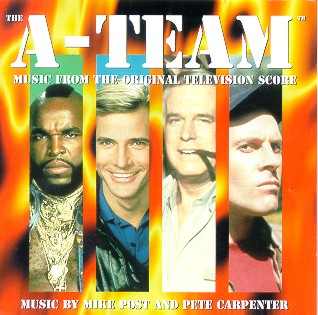 The early 1980s brought a plenteous supply of little-or no-brainer action television -- shows like "Simon & Simon," "Whiz Kids," "Airwolf," "KnightRider," and, perhaps most notoriously, "The A-Team." For me, it was a period of guilty pleasure. Hardly pinnacles of educational or inspirational television, youngsters of the '80s soaked them up all the same.
The music by Mike Post and Pete Carpenter is just as much a guilty pleasure. Episodic in nature, it never melds to form a true score with a sense of direction or purpose. However, the music adaptation by Derek Wadsworth helps make the individual tracks more 'wholesome,' notwithstanding that word being a less accurate description than one could use; yet it is close enough. The result is a theme and variations approach that serves the disc well. Quite frankly, the populist facets of the soundtrack can (and presumably should) become annoying, if not headache inducing, to anyone with good taste in music. Regardless, the electric guitars, drums, and pop mentality are what help make the album so enjoyable. Hearing the wonderfully typical "A-Team" theme performed with a disco beat halfway through the album is mildly surreal, unbelievably cheesy, and ultimately a perfect musical summation of the TV show. Perhaps I am biased because it brings back so many memories of my formative years, but I thoroughly enjoy this excursion into television's campy past.
The production design is minimal, while the instrumental performances and recording lack power and skill. I still enjoy it...Fear for my critical integrity prevents me from praising anything that is so bad, or at least so average, as to be good. But even the staunchest critic must have a few guilty pleasures for traditionalists to gawk at. "The A-Team" is one of mine.
Reviewer
Jeffrey Wheeler

On the other hand Rob Barnett comments:-
Silva have done it again! Those industrious people have located the OST (15 tracks) for the cult 1980s TV series The A-Team. The Stephen J Cannell Productions' series was distinguished by its bloodless brand of jokey mayhem. It is utterly trivial fare decked out with the talents of George Peppard and his trio of loopy, charming and hard-done-by mercenaries acting like mobile Robin Hoods. As for the music I will not say much except that it fitted its task (the highest praise really). It is brash and jazzy. Its orchestral textures are disrupted and dominated by 1980s disco-style beats and militaristic side-drum figures. There is one main theme that is instantly memorable (which, after all, is what it is all about). But this is not a score you will be tempted to come back to for its stand-alone musical virtues. It has none. For die-hard A-team fans and collectors of scores for cult TV series. Celebrate however that scores like this are available for those who would like to have them. The market is well and truly pluralist. Now how about an album of music from The High Chaparral and The Virginian? While you are at it how about the positively Respighian theme from Dynasty.
Reviewer
Rob Barnett

Reviewer
Jeffrey Wheeler

&
Rob Barnett