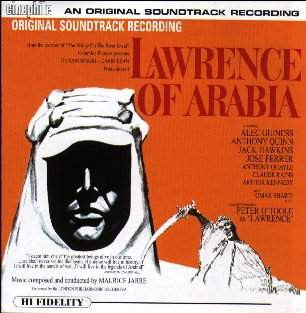 Jarré, it is too easily forgotten, is a film composer capable great musical achievements. In Lawrence and most especially in the 1980s sci-fi film Enemy Mine (when are we going to get a CD of THAT score?) he contributed scores of the highest distinction. The desert theme from Lawrence is well known and justifiably so. But this theme (which reappears often) is contrasted with a hearty jollity and exotic Moroccan local colour. The score starts with some thunderous drums but soon relaxes into the big theme and here the shortcoming of this disc asserts itself strongly.
The sound quality does nothing for the music. The original tapes must have suffered from technical degradation in storage. The sound is rather fragile and coarse where some refinement and luxury appointments would have paid dividends. I am afraid that I can only recommend this for its collector's value as an artefact reproducing the artwork of the original film and LP. The visual dimension, as with all the Cinephile series, is faultless and the notes are good. Even the disc is designed to look like one of those authentic film cans. Playing time is distinctly short.
My expectations for this CD were very high. If you want the score then go for the Silva Screen re-recording. I also noted some extremely long silences between tracks and the timer counter was running through these as well.
Reviewer
Robert Barnett