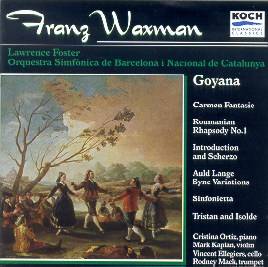 Franz Waxman composed scores for 144 films, was nominated for twelve Academy Awards and won twice in 1950 (Sunset Boulevard) and 1951 (A Place in the Sun).
This is a collection of works for concert performance. Some were derived from Hollywood studio-style material.
Goyana: Four Sketches for Piano Solo, Percussion and String Orchestra (1960) is a collection of musical sketches - referred to by Waxman as "quick illustrations and impressions, rather than long pieces with elaborate development sections." As might be expected they are mostly, appropriately, Spanish in colour and rhythm, and highly evocative. The opening movement, 'La Marquesa de Santa Cruz' represents the subject of Goya's painting posing as Erato, the muse of the love song. Waxman's music is sensuous, delicate and fragrant with a brief passionate outburst. 'Country Dance', is Waxman's response to the painting, reproduced on the cover of the CD booklet, of couples dancing under a tree to the accompaniment of village musicians. Waxman gives them a merry yet elegant dance punctuated by castanets.
The third picture 'The Miracle of St Anthony' is a mural depicting St Anthony bringing a dead man back to life and thereby clearing an innocent man of a murder charge. Heavy bells and low anchoring piano percussive chords open this dramatic episode with music that recalls Respighi and the ancient Gregorian Church modes. The concluding movement inspired by Goya's 'The Witches Sabbath' that shows a group of witches seated around a giant demon-goat, prompted Waxman to use Scarlatti's "Cat Fugue" as a basis for this Tarantella-like composition. It is a sly tongue-in-cheek horror comic - great fun. Christina Ortiz clearly relishes these diverse vignettes and plays with panache and conviction.
The Charm Bracelet (1949) was, originally, a composition for solo piano. When he realised that this version was too difficult for non-professionals, he started to orchestrate these charming little children's pieces for chamber orchestra. They were intended to be played by young people. (Waxman's arrangement was completed by Arnold Freed in 1990.) In 'The Little Shoes' we can imagine a little girl skipping, and dancing. 'Four Leaf Clover' is classical ballet music. 'The Little Soldier' seems to be striding up and down brandishing his wooden sword and wearing a paper helmet. 'The Golden Heart' is a sentimental little salon-style piece. 'The Pony' trots proudly and merrily with some imaginative rhythmic writing for the percussion.
Sinfonietta for String Orchestra and Timpani (1955) is more dark-hued and reminiscent of Waxman's film noire scores although no programmatic intent has been revealed. The opening Allegro movement is intense with powerful contrapuntal writing for the strings. The Lento second movement is a dirge-like song with violas and celli mourning alone without violins and basses. The astringent, edgy Scherzo is spiky and sinister.
The Tristan and Isolde Love Music for Violin and Piano (1945) based on the Love Duet in Act II of the Wagner opera comes from the period when Waxman was working on the Warner Bros. film Humoresque. Waxman invited Heifetz to play on the soundtrack and the virtuoso played this work many times but never recorded it. This is its premiere recording. Ortiz and Kaplan are sweetly passionate.
At the time of Waxman's death at age 60 on February 24th 1967, he was working on a Cello Concerto for Pierre Fournier. The Introduction and Scherzo for Cello and Orchestra was orchestrated and it is included here in an adaptation from Waxman's score by Patrick Russ. It is a bittersweet taste of what might have been accomplished. Its hot-house, eerily dramatic opening grips the attention at once with the cello moodily ruminating over darkly sinister material before the music develops into a highly colourful march with the cello pompously marching off to war…
Auld Lang Syne Variations for String Orchestra, Violin and Piano (1947) is a cheeky parody of various musical styles. 'Eine Kleine Nichtmusik' has typical Mozartean decorations, 'Moonlight Concerto' has the theme mimicking Beethoven, Bach is lampooned in 'Chaconne à Son Gout'; and in a wickedly witty 'Hommage to Shostakofiev' the styles of Shostakovich and Prokofiev's are exploded.
Roumanian Rhapsody No.1 in A Major for Violin and Orchestra (1947) is a brief two-and -a half-minute opportunity for Kaplan to show off his virtuosity again. This was intended to be used for Humoresque but the scene was cut from the film. The music is, of course, based on Enescu's music.
Waxman's famous Carmen Fantasie for Violin and Orchestra based on themes from Bizet's opera is played here in a transcription for trumpet and orchestra. Rodney Mack displays much virtuosity and in the more macho episodes his trumpet does sound effective. A trumpet, however, is hardly a romantic instrument and so, personally, I can only regard this concept as an incongruous miscalculation.
The solo artists and the Barcelona orchestra are all consistently splendid.
An album that should be in every Waxman enthusiast's collection.
Reviewer
Ian Lace