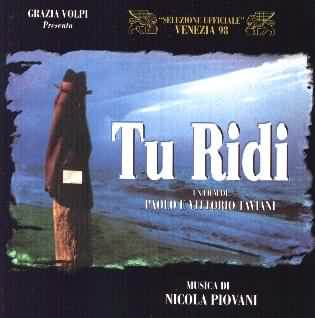 This album actually sells itself a little short, because it is only by looking at the rear of the disc you see it's a 2 for 1 deal also including material from the film Mas Alla Del Jardin.
Thankfully it's not a chalk and cheese combination; both sit in stylistic comfort side by side. Piovani's forte for less is more gives splendid weight to the ensemble performances here.
Tu Ridi opens on a jaunty combo for recorders and drums in the title track. The general bounciness could be favourably compared to Rachel Portman's early style circa Benny & Joon. Yet the obvious Italian influences distance his style from others. The reprise of the main theme in "Felice Abbandonato" features a beautiful 'violincello' solo by Francesca Taviani. It easily pinpoints the geography of the film, and is a most refreshing sound indeed.
This score also features something almost akin to a Christmas fugue with a chiming lilt underpinned by sombre strings and woodwinds in the cue "Ballaro'". There's a bewitchingly effective use of Indian percussion and electric guitar in "La Danza Di Rocco", and it even ends in unpredictable style with the theme blending into a typewriter's tapping - most mindful of Morricone.
Then Mas Alla Del Jardin occupies the second half of the disc. It's a less diverse or experimental score, but is perhaps the more sweeter for it. A cue which encapsulates everything nicely is "El Adios Del Ama" with it's memorable guitar strumming. This score in isolation is a most calming Mediterranean breeze.
Reviewer
Paul Tonks