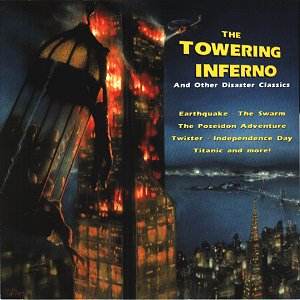 John Williams: The Towering Inferno; Earthquake; The Poseidon Adventure
Jerry Goldsmith: The Swarm
James Horner: Titanic
Alan Silvestri: Volcano
James Newton Howard: Outbreak
John Frizzell (theme James Newton Howard): Dante's Peak
David Arnold: Independence Day
Mark Mancina: Twister
Quoting Robert Townson's headline to his enjoyable booklet notes, 'Earthquakes and Fires and Floods, Oh My!' - and Oh My! how splendid are the majority of the tracks on this album. Needless to say, the work of John Williams, Jerry Goldsmith and Alan Silvestri are the highlights. The Royal Scottish National Orchestra shine brilliantly under the batons of both McNeely and Debney.
The opening twenty-minute or so collection of excerpts from John Williams Towering Inferno score have tremendous impact. The five-minute 'Main Titles' are tremendously exciting and exhilarating - a real sense of occasion is communicated as VIP guests foregather to celebrate the opening of the huge new San Francisco tower block. But it is the wonderful 'Planting the Charges' sequence that really impresses. This is an object lesson in building up tension over a significant time span using imaginative and immensely varied specks of orchestral colour, complex harmonies and beautifully balanced dynamics in wide perspectives.
John Williams is also represented by his thrilling and urgent Main Title music for Earthquake and his magnificent Main Title music for The Poseidon Adventure (a personal favourite of mine). How evocatively Williams pictures the proud ocean liner coursing over the sea - you can see the movement of the waves and sense the ocean's dark depths.
Urgency and growing danger is implicit in Jerry Goldsmith's fast-moving and astringent music for The Swarm. Small but multitudinous menaces (this time viruses) are also represented in James Newton Howard's 'They're Coming' music from Outbreak. His music is quietly reflective and brooding as well as being compellingly forward-driven. Newton Howard knows very well how to build-up suspense.
Newton Howard helped promising newcomer, John Frizzell in creating the music for Dante's Peak. The Main Title embraces the story's human dilemma and heroism as well as evoking the sizzling heat and violence of the eruption. Volcano the other movie had another blistering score from Alan Silvestri with braying brass, percussive piano and hammering timpani ostinati all combining to represent the unstoppable red hot 'March of the Lava'.
Mark Mancina's score for Twister places us squarely in its location: the vast flat-lands of the mid-west. Rodeos and country and western celebrations are suggested and a sense of pride in this homeland is communicated before we are aware of the threat from hostile elements. David Arnold's heroic music carries the intrepid flyers in their assault on the alien space crafts in 'The Day We Fight Back' from Independence Day
John Debney sensibly opted for an arrangement of James Horner's Titanic by now over-exposed score in the 14 minute suite that closes the programme. The Royal Scottish National Orchestra respond splendidly but the unimaginative use of the (wordless) choir - they have some really grotesque and jerky lines - mars this final track forcing me to award the album just ****
Reviewer
Ian Lace