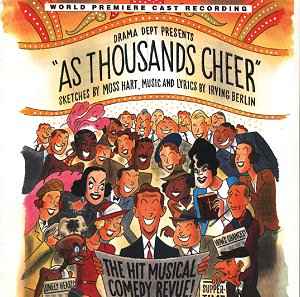 Not to be confused with the routine Gene Kelly and Kathryn Grayson M-G-M musical of 1943, Thousands Cheer. As Thousands Cheer - the musical comedy review was a huge success when it opened on September 30th 1933 on Broadway with a cast that included: Clifton Webb, Ethel Waters, Marolyn Miller and Helen Broderick. It reminds us - if we ever needed reminding - of the genius of Irving Berlin. Like Cole Porter, he was a brilliant lyricist as well as composer of not only a host of memorable romantic ballads but also many caustically witty and sometimes risqué songs.
This brilliant new production by the Drama Department gives us the opportunity of appreciating these hard-hitting satirical songs - many of which must have really blown the 1930s audiences.
The programme is based on a series of comments on newspaper headlines of the day. It opens with the traditional 'Man Bites Dog is news' admonition to cub reporters. In this opening number we learn that the man was French and that the dog was a she bitch and a poodle. Of the 15 numbers on the album, the best known are Easter Parade and Heat Wave - "…we are having a heat wave… when she made her seat waive, she created a heat wave …her anatomee made the mercuree rise to 93!" Then there is the hauntingly beautiful number, Lonely Heart about the girl who writes to the lonely hearts column of the newspaper.
What really must have shaken the 1933 premiere audience was Supper Time. In the middle of a high-spirited musical comedy revue, this headline appeared: 'Unkown Negro Lynched by Frenzied Mob' - the song that followed when Ethel Waters stepped out in a tattered apron, singing it is 'supper time' and that she should be setting the table but what's the use since her man wouldn't be coming home, must have stunned them. Paula Newsome delivers this awesome song with pathos, dignity and fiery defiance.
The Metropolitan Opera songs are hilarious. In Metropolitan Opening we meet the new millionaires like Mr Ruben, a Cuban who has a delicatessen empire; while Metropolitan Opens in Old-Time Splendour celebrates the inanities of commercial radio. Simultaneously, we hear an aria from Lucia di Lammermoor, a commercial for Muelers Miracle Mustard Sauce, the Williams Family - a soap opera, and the world famous chef, M. Pepiton.
In Our Wedding Day, we are invited to join a wedding party but instead of joining the couple in church we meet them in their bedroom for they had been living in sin before the ceremony. Then we discover that this is the norm when we are invited to meet New York Through A Keyhole. "Get a view of who is cheating who…if you want to get an in on the latest bit of sin …have a look through a keyhole. If you want to see New York getting ready for the Stork…if you really want to know how she got into the show, have a look…"
Naughty but nice. Great fun with terrific singing from a cast that sparkles.
Reviewer
Ian Lace