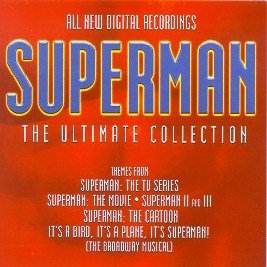 The booklet proclaims that these are 'all new digital recordings not from the original recordings.' Then we read - orchestrations (by Donald Johnson) - so immediately my critical senses are stimulated. Before we leave the booklet there are informative notes (probably the best thing about this whole production) by Jon Burlingame who writes about film music for the Los Angeles Times and Daily Variety. There is no indication of the name of the orchestra (presumably a contract ensemble - maybe some of the players may have wanted to remain anonymous after encountering some of this material?) and there are no track timings given.
First the good news - well the fairly good news. This comprehensive survey of the caped crusader's exploits through the media, includes music from Superman: the Columbia serial; from Superman: the TV series; from the musical , It's A Bird, It's A Plane, It's Superman! and from Superman: The Max Fleischer Cartoon. I cannot vouchsafe for the accuracy of all this music but it all sounds very energetic and enthusiastic. The Phantasmagoria on themes from the musical is quite the best thing on this album together with Ken Thorne's bossa-nova-type material that is 'Honeymoon Hotel' from Superman II.
The bad news? The insensitive and at times embarrassingly bad arrangements of John Williams's brilliant original Superman music. 'The Trip to Earth' and 'Leaving Home' from Superman are particularly inept and the love themes are drained of charm and this sort of 'Flying' would surely have sent Superman and his Lois colliding with even the shortest skyscraper. Similarly, Jerry Goldsmith's Supergirl arrangement is clumsy and graceless. The only track that I think vaguely benefited from such interference was the craziness of 'The March of the Villains' from Superman.
If you must have this album, then I suggest that you program out the John Williams arrangements. Definitely a case of the curate's egg - good (or fairly good) in parts. 'Sorry Varèse but you can't win them all!
Reviewer
Ian Lace

plus