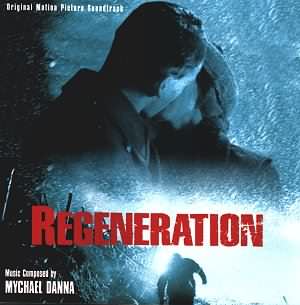 Mychael Danna is a new name to me. The sleeve notes (a single double fold) give no biographical information and little else apart from stills from the film and a reasonable level of detail on the discographical side.
Though the disc times out as above there is in fact just over thirty minutes of original music by Danna. The remainder is made up of circa eight minutes of poems and one track from an ancient 78 presumably contemporary with the Great War. There is also a wild Gaelic dance comparable with that in Titanic at track 21. The poems are read with steely restraint.
Outstanding are the Wilfred Owen poems read by Stuart Bunce. His masterful account of Dulce Et Decorum Est and the final poem The Parable of the Old Man and the Young left a distinct shudder and a prickling of the hairs on the back of my neck.
One of my intended reads has been the Pat Barker trilogy. The way things are going I expect that the film will be my introduction to the sequence which takes as its focus the poetry of Wilfred Owen killed in the last year of the war and Siegfried Sassoon who survived both wars and died in 1967.
What of the music: Subdued, elegiac, pastoral? Yes, sorry to be predictable but Danna's music is summed up by those adjectives. The music is a step away from the music of Geoffrey Burgon for BBC's Testament of Youth (on a Silva Screen CD). Danna displays an eloquent Holstian reserve. Sad bugle calls echo across the shires and are dimly heard amongst the rumbling thunder of the Somme, Bapaume and Passchendaele. Danna strikes a consistent unity of mood but the whole suffers from insufficient variety. The music's elegiac tone is reinforced by the wonderful and (thank heavens!) youthful voice of Lucia Mrazova whose part is a vocalise which inhabits a number of the tracks where it is used as a humanising instrumental thread. I hope we will hear more from her. She would be wonderful in Gorecki 3 of Nystroem Sinfonia del Mare.
Not so much a Symphony Of Sorrowful Songs as a Symphony Of Tragic Elegies.
Just a passing thought: the Great War has been a dominating seam in the British arts. Did the involvement of the USA (albeit from 1917 onwards) spark an equivalent stratum in the arts of the USA?
You will know if you want this disc. It is too unvaried for general recommendation but is secure in its mood of celebrating sorrowing and remembering aching loss - a loss which is still alive in those living today.
Reviewer
Rob Barnett