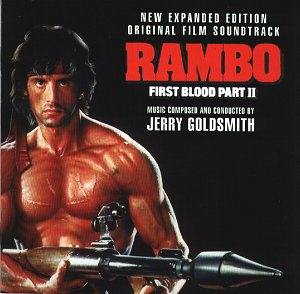 Rambo films, of which this is the second, rode high during the Thatcher and Reagan years. The Brits devotion to US pap culture spelt success for the Rambo-Stallone character. The films were landslides of action and violence. They trod dodgy soil while making some politically correct noises about Vietnam they also celebrated a loner militarism which has the most uncomfortably tragic echoes in life everywhere.
The Goldsmith score is good; not outstanding. Leering noises, blatant violence and a measure of off-the-shelf tension memorably meet the influences of Janacek (Sinfonietta), Kodaly (Dances from Galanta) and the Rózsa of the Hungarian folk song strata. The Jump is a notably successful track.
There are 21 tracks and Silva inform me that the disc includes over 15 minutes of previously unavailable music.
In summary then, a good (though not compelling) score with some highlights. It is not in the league of certain other Goldsmith scores such as the delightful Mulan and some of the Star Trek music.
Reviewer
Rob Barnett