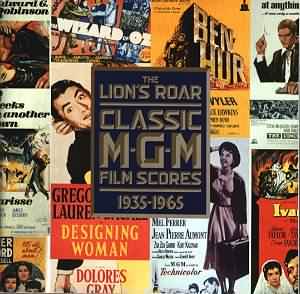 Excerpts from:
(*previously unissued selection)


| | | |
| --- | --- | --- |
| | | |
| Mutiny on the Bounty* (1935) - Herbert Stothart | | The Good Earth* (1937) - Herbert Stothart |
| The Women* (1939) - Edward Ward | | The Wizard of Oz (1939) - Harold Arlen and Herbert Stothart |
| The Philadelphia Story (1940) - Franz Waxman | | Random Harvest* (1942) - Herbert Stothart |
| The Clock* (1945) - George Bassman | | The Yearling* (1946) - Herbert Stothart (based on themes by Delius) |
| Madam Bovary (1949) - Miklos Rozsa | | The Prisoner of Zenda* (1952) Alfred Newman |
| Lili (1953) - Bronislau Kaper | | Ivanhoe (1952) - Miklos Rozsa |
| Invitation (1952) - Bronislau Kaper | | The Bad and the Beautiful (1952) - David Raksin |
| Bad Day at Black Rock* (1955) - André Previn | | I'll Cry Tomorrow* (1956) - Alex North |
| Lust for Life (1956) - Miklos Rozsa | | Designing Woman (1957) - André Previn |
| Raintree County (1957) - Johnny Green | | Some Came Running (1958) - Elmer Bernstein |
| Ben-Hur (1959) - Miklos Rozsa | | North By Northwest (1959) - Bernard Herrmann |
| Home from the Hill* (1960) - Bronislau Kaper | | The Subterraneans (1960) - André Previn |
| Cimarron (1960) - Franz Waxman | | King of Kings (!961) - Miklos Rozsa |
| Two Weeks in Another Town (1962) - David Raksin | | Mutiny on the Bounty (1962) - Bronislau Kaper |
| Bachelor in Paradise* (1961) - Henry Mancini | | The Prize (1963) - Jerry Goldsmith |
| How the West Was Won ((1962) - Alfred Newman | | The Americanisation of Emily (1964) - Johnny Mandel |
| A Patch of Blue (1965) - Jerry Goldsmith | | The Cincinnati Kid (1965) - Lalo Schifrin |
| Joy in the Morning* (1965) - Bernard Herrmann | | The Sandpiper (1965) - Johnny Mandel |
| Doctor Zhivago (1965) - Maurice Jarre | | |
An M-G-M musical anthology without excerpts from M-G-M musicals? Yes, and certainly not before time! Too often, we forget that many of the other M-G-M films had excellent musical scores. This wonderful, generous collection comprises 37 selections - making up nearly three hours of music. Most of them, including early scores from the 1930s, have been re-engineered in very convincing stereo. I have asterisked the considerable number of selections that have hitherto been unavailable including Bernard Herrmann's music for Joy in the Morning and David Raksin's Two Weeks in Another Town as well as many scores from the 1930s and 1940s.
Beginning in 1935 the Lion's Roar introduces Herbert Stothart's lusty score for the 1935 version of Mutiny on the Bounty (the one with Clark Gable and Charles Laughtan). The sound is very good revealing plenty of detail of this proud, rousing score for the famous 18th Century seafaring adventure. Stothart is revealed as another front-ranking, pioneering composer for the screen. This collection also includes his highly evocative and colourfully orchestrated music, complete with huge gong strokes etc, for The Good Earth, a film set in China; his well-loved, enchanting score for The Wizard of Oz; the sweeping romantic music for that famous war-time weepie Random Harvest and his sensitive arrangements of Delius's Music (from Appalachia) for The Yearling.
Edward Small is a name that is all but forgotten today. Included is his sweeping, full-blooded romantic score for The Women. The Main Title is a really grand peroration and the seven minute suite sounds terrific and crams in a multitude of styles - jazzy, witty, sensuous etc. George Bassman is another forgotten name. He is represented by his score for The Clock another wartime romance that starred Robert Walker and Judy Garland. Bassman's music is another unashamedly romantic wallow.
Franz Waxman contributed some important scores for the studio and helped to establish standards of excellence at M-G-M. Disc one includes his music for The Philadelphia Story; this original soundtrack recording is even more vibrant that the Charles Gerhardt reading on the Sunset Boulevard tribute to Waxman album in the celebrated RCA Classic Film Scores series. It also includes an additional piece of music the nocturne-like, sweetly romantic cue 'Tracy in Love'. On disc two, is Waxman's music for the western, Cimarron, specifically the cue 'The Land Rush'. Here Waxman is in his Taras Bulba, 'The Ride to Dubno' mode. He creates an exciting study in crescendo as the mass of settlers race over the plains to claim their land.
Miklos Rozsa's music, of course, lifted many M-G-M films. The waltz from Madam Bovary is a tour-de-force piece of narrative/descriptive writing. Like Ravel's La Valse, it is unsettling. It is sensual and dreamy like the heroine of the story but it is also bitter and ironical, pointing to the eventual disillusionment and downfall of Madam Bovary; the music working up to an almost hysterical and dizzy climax. Rozsa's thrilling music for Ivanhoe captures the atmosphere of medieval romance and chivalry. Lust for Life, Vincent Minnelli's remarkable portrait of the painter Vincent Van Gogh inspired Rozsa to compose a deeply-felt and passionately committed score full of fine, noble melodies. The unforgettable Main Title theme for Ben-Hur is included on disc two and so too is Rozsa's 'The Last Temptation' from King of Kings - the whiff of fire and brimstone is palpable as Christ confronts the temptations of the Devil.
Alfred Newman contributed an exciting Richard Strauss-like (in Don Juan mood) score for The Prisoner of Zenda and the rip-roaring, virile music for How the West Was Won
Bronislau Kaper was another favourite M-G-M composer. For the adorable Leslie Caron starring as Lili, he wrote an enchanting fragile score (remember - 'A Song of Love is a Sad Song…'?) which contrasted starkly with the bombastic and lusty storm-tossed music for the 1962 remake of Mutiny on the Bounty. Kaper's surging music lifted the 1960 production Home from the Hill. This powerful score is given an eight minute suite which includes not only the broad sweeping main romantic melody but also material that is malignant and eerie; Kaper gives full rein to the melodramatic elements of the screenplay and screws up the dramatic tension. His earlier score for Invitation combines the creepy with the sweetly sentimental. The haunting main theme lets all the tortured romantic stops out with sobbing strings and sighing woodwinds.
André Previn was an important member of the M-G-M music department and he contributed some potent scores. For the first time, we can enjoy his hard-edged uncompromising Main Title music for the equally powerful screenplay that was Bad Day at Black Rock; his fetching melody for Designing Woman showing off his talent in a lighter context; and his vibrant jazz-based score for The Subterraneans.
Alex North composed another jazz-based score for the gorgeous Susan Hayward brilliantly cast as the alcoholic singer Lillian Roth in I'll Cry Tomorrow . North's music contrasted the sleazy with softer more romantic material that had more complex shading than most in this genre.
Elmer Bernstein is represented by his abrasive jazz-based score for Some Came Running. His brutal, squalid music was ideal for this tale of disillusionment and tortured love. The pursuit music that accompanied the final chase of Shirley MacLaine by her estranged, psychotic lover is frightening indeed - full of sneering, braying brass figures and pounding rhythms.
David Raksin's lovely theme from The Bad and the Beautiful is included (Raksin's own reading of his haunting score included with Laura and Forever Amber in RCA's Classic Film Scores series is outstanding.) From the sequel picture, Two Weeks in Another Town we have Raksin's bittersweet 'Generique' and 'Via Veneto' themes.
Johnny Green played an important role in M-G-M 's music. His lush Entr'acte from Raintree County reminds one of John Williams's five alien notes from Close Encounters of the Third Kind only here there are just four! Two scores from another Johnny - Johnny Mandel are also represented: the appealing smoochy music from The Americanisation of Emily; and the lovely 'The Shadow of Your Smile' theme from The Sandpiper. Another composer of light music, Henry Mancini wrote the music for the Bob Hope vehicle, Bachelor in Paradise in the inimitable Mancini style, relaxed and elegant. Lalo Schfrin wrote an exuberant, racy, jazz-based score for The Cincinnati Kid.
A young Jerry Goldsmith contributed a promising score for The Prize; fast-moving, hard hitting and tense. Also included is Jerry's homespun music for A Patch of Blue - a delectable, fragile score.
The great Bernard Herrman is represented by his well-known Main Title music
for North by Northwest and by his music for Joy in the Morning. Alas, it is really a retread of his score for Vertigo.
The album concludes with Maurice Jarre's End Title music from his exceedingly popular score for Doctor Zhivago.
The 48-page booklet that accompanies this 2 CD set is a sumptuous production. The notes give fascinating glimpses into M-G-M's music department and the work of the composers. All the film scores on the album are covered and there are many photographs, including film stills.
I can't wait for any succeeding album taking presenting music for M-G-M films from 1965 to the present day. No serious student of film music should ignore this important release. Heartily recommended.
Reviewer
Ian Lace