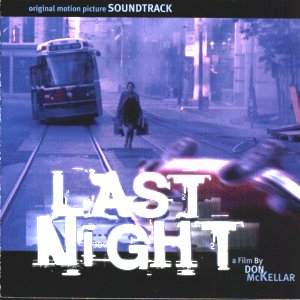 The film "Last Night" by Canadian writer-director Don McKellar is all about the last night of the world. Goodness, a jaw dropping idea if ever I heard one. Do we need another vision of what the end of this millennium will be? I think that particular market is getting to saturation and its only June. McKellar said he was interested in making a film that would "answer those difficult questions: Who should I be with? Where will I go? What should I do as the world is ending?" Profound stuff alongside such earth-shatteringly great questions of our times as "Is it time for my pills yet? Didn't you know it's a Government Conspiracy? and "the 70's, the bands that time forgot?"
The music for the soundtrack of Last Night is an uncomfortable combination of 1970's pop songs and some original compositions by Alexina Louie and Alex Pauk. McKellar says that he started by compiling a very subjective top ten of all time, explaining that "they seemed to play wherever I went , not because I chose them, but through some perverse insistence of their own. I couldn't ignore music with such determination". I agree that it requires much determination to listen this collection of seventies ear floss. Maybe that's the point he's making, there's only one thing worse than the end of the world and that's listening to "Heartbeat, It's a Lovebeat" performed by the Defranco Family. It's not often I laugh out loud when I am trying to listen carefully to a music track but this one caught me out. Somebody tell me it was Jimmy Osmond on lead vocal please and my life will be complete.
The performances of these 70's tunes is fairly questionable and the lead vocals on "Glamour Boy" performed by The Guess Who had me staring at my monitor speakers in disbelief whist murmuring "it'll be over soon" to their abused midrange capability. The vibrato must have pushed the singer's larynx into inter-dimensional space, it should have stayed there.
The inclusion of Bachman-Turner-Overdrive is essential for the Smashy and Nicey fans and actually had a reasonably good guitar sound, this track leaning a little more towards the heavier side of things.
Having trashed the seventies music on this CD, I have to praise the work of Alex Louie and Alex Pauk. The tracks stand out as atmospheric and intense at times and although providing relief from the flares and afro hair on the other tracks are completely miscast as far as this recording goes. I would like to hear more of their work as it is well scored and interesting. Alexina Louie is composer in residence at the Canadian Opera company and Alex Pauk has composed over 35 concert works including commissions from the Canadian Broadcasting Corporation.
The CD of "Last Night" was a "Fright Night" and easily qualified for a government health warning on the sleeve notes - "Listening to this CD will make your hair curl". Anyway put your flares on and grow a droopy moustache, after all it's not the end of the world, is it?
Reviewer
Warwick Mason