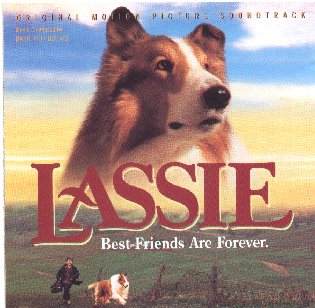 Basil Poledouris' score to "Free Willy" remains, to this day, an unfortunately overlooked example of magnificence. Its amalgamation of symphonic and electronic sound recalled natural wonder -- a score of sympathetic awe, the sort of musical painting an artist such as Mr. Poledouris captures and molds to the film.
Poledouris' soundtrack for "Lassie" (the 1994 return of the world's most popular collie) brings more of the same. The greatness is in the comprehension, the grandeur, the tenderness that is still present and as strong as ever. The sadness is in that we have heard slices of it before, and musical over-familiarity is not always easily brushed away. True, there are no moldy leftovers here, just a few things that need re-heating.
The themes are exceptional. The new "Lassie" theme's long melody line, and a counterpoint reminiscent of John Barry's trademark tunes, is vintage Poledouris. One could recognize the style instantly. There is a pulsing theme for a wolf attack that is wholly solid. And the track 'Lassie Protects the Herd' reminds us that this is by the same composer who brought us "Conan the Barbarian" several years before. There is really nothing thematically to complain about aside from the realization that the music could be fresher.
Those who do not mind their soundtracks slightly chilled (figuratively speaking) will delight in this score as any other Poledouris opus. One specific bit of orchestration is a different matter. I hear Poledouris intone Lassie's theme with French horns so many times that I suspect if people were hearing it live the entire section might have to worry about them clogging their bells & bores with clothing. For the sake of good music, Basil, leave the poor horn players alone!
The album is competently produced, and flows swiftly and unpretentiously. It would be perfect for listening to while driving on a country road... of course, sometimes that is all one asks for.
Reviewer
Jeffrey Wheeler