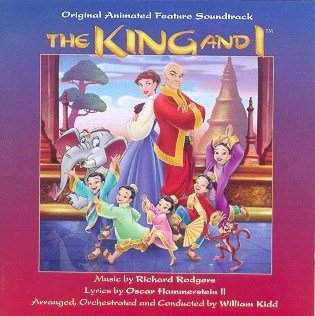 RICHARD RODGERS (music) and OSCAR HAMMERSTEIN II (lyrics) THE KING AND I - animation (OST) arranged by William Kidd with voice of Barbara Streisand on track 1 Philharmonia Orchestra/William Kidd Anna - Christiane Noll (singer); Miranda Richardson (spoken voice) King - Martin Vidnovic (sung and spoken voice)
No doubt purists will shiver when they read the words 'arranged by' but here is an arrangement specially done for the soundtrack of the latest Warner Bros animation. No expense has been spared either: the orchestra is the Philharmonia. I hope that they are used again because the orchestral sound is one of the shining splendours of this recording.
Barbara Streisand sings the main theme song sequence (only - about 5 mins) and this will, for many, make this a must-buy, irrespective of content. She sings one song from the show (I Have Dreamed) and then segues into two others from the show but which are not used in the animation. As ever with Streisand the singing is strong, emotionally all there and with brain completely engaged in the words. The recording is reverberantly up-close and invades your space in a way that attracts rather than repels. The ambience is similar to that in the CD of Mulan.
Various aspects of the songs took me by surprise. Amongst these was the swirling whirlpool of menace in the introduction to I Whistle A Happy Tune. Hello Young Lovers Whoever You Are is extremely well done by Noll. The whole of the contribution by Christiane Noll is characterised by pure but natural enunciation without it for one moment sounding affected. Noll's is a name to be watched and I look forward to seeing her being used more often. Her sweetly honeyed and breathily intimate singing is extremely seductive. I have dreamed is well sung by David Burnham (apart from his weird pronunciation of 'view' and 'you') and similar laurels go to Tracy Venner Warren. Shall I Tell You What I Think Of You is very Lerner and Loewe with quite a bit of Henry Higgins in it. Shall We Dance Together has an introduction in which Rule Britannia puts in an appearance. Otherwise it is fluffily Straussian. Martin Vidnovic as the King has a difficult role but I thought his accent was far too stagey; you may like it.
Tracks 12-22 are orchestral only with 14 and 17 being notably sweet and 15 has some rustling Sibelian (Tapiola) shudders in the strings. The Banquet (20) has a stalking grandeur but overall I do not find these tracks that inspiring. The songs are a different matter.
If you enjoyed Mulan there are a few parallels in terms of sound and spirit so do try this CD. A new and reviving spin on the original and a glitteringly swirling event in its own right as well as a souvenir of the film.
There is a good booklet with illustrations from the animation and words for all the songs.
Strengths: the songs - both Streisand's one track and the others especially anything with Christiane Noll!
Reviewer
Rob Barnett