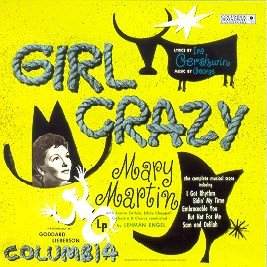 Girl Crazy, in its movie incarnation, starred Judy Garland and Mickey Rooney; it was one of M-G-M's successes of 1943. The film retained most of the show's infectious songs with some interpolations and new numbers written by resident composer Roger Edens.
The original Broadway show dated back to the 1930-31 season, but despite its quality and the unusual number of big hit songs, it ran for just 272 performances. The blame for its relatively short run was the results of the 1929 stock market collapse. By comparison, a revised version that opened in February 1992 under the title Crazy For You enjoyed a run of 1,622 performances. It also did very well in London.)
The story is quite madcap; it's about a New York playboy who is banished to a quiet little Arizona township. He travels all the way in a New York taxi cab and turns the humdrum farm where he stays into a bustling dude ranch and gambling emporium. There are also the inevitable romantic complications and entanglements. Mary Martin shines in her role as the postmistress heroine Molly Gray. Her expressive singing of 'Embraceable You', 'I Got Rhythm' and 'But Not For Me' are some of the highlights in this album which delights from beginning to end. The other evergreen numbers include: 'Bidin' My Time'; 'Treat Me Rough' and 'Boy! What Love Has Done For Me'.
Heartily recommended.
Reviewer
Ian Lace