**************************************************************

EDITOR's RECOMMENDATION

**************************************************************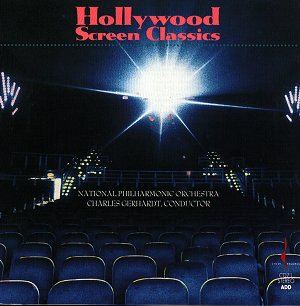 Collection: Hollywood Screen Classics National Philharmonic Orchestra conducted by Charles Gerhardt. CHESKY CD71 [67:01]
[Recording produced by Charles Gerhardt; recorded in Walthamstow Hall, London. Recording engineer: Kenneth Wilkinson. Recordings all made in 1968 except * 1971 and † 1974.]
Richard Strauss: Also Sprach Zarathustra for 2001: A Space Odyssey (opening)*
Korngold: The Adventures of Robin Hood * Kings Row Suite
Steiner: Gone With the Wind Suite
Rozsa: El Cid
Victor Young: Shane
Alex North: Cleopatra
Rosenman: East of Eden
Raksin: Laura
Styne-Cahn: Three Coins in the Fountain
Barry: Born Free*
Mancini-Merc: Charade
Hayasaka: Rashomon*
Hadjidakis: Topkapi †
I will confess that I was unaware of the existence of this recording until I read the Charles Gerhardt obituary notice in Gramophone. I feel honoured to have this opportunity to review it now as a tribute to the man who pioneered the recording of classical film scores. If it was not for him and a few dedicated individuals like the late George Korngold and the late Christopher Palmer, many important scores from the Golden Age of Hollywood might now be irretrievably lost. This album must therefore be self-selecting as my Editor's Choice - CD of the month.
I noticed immediately that the tracks on this album are all unique in some respect. They form a fitting tribute to Gerhardt as record producer, conductor and arranger. Many tracks are clever arrangements that not only never work against the spirit of the original scores but actually enhance them.
I reproduce the production information of this album in some detail in my header above because it is relevant. The skill of recording engineer Kenneth Wilkinson was a major factor in the success of Gerhardt's later series of Classic Film Scores albums recorded for RCA in London's Kingsway Hall. Just after this recording of Korngold's Kings Row music, Sidney Sax, leader of the National Philharmonic Orchestra, introduced Gerhardt to Erich Wolfgang Korngold's son George. The two then collaborated on the RCA Classic Film Score series.
The programme opens with Richard Strauss's opening music from Also Sprach Zarathustra which so impressively accompanied the commencement of Kubrick's 2001: A Space Odyssey. Typical of Gerhardt's meticulous attention to detail, he differentiates the volume of the three trumpet calls (a detail even leading conductors often ignore.) According to the score, the first trumpet call is very soft, the second louder and the third the loudest of all. The organ pedal (recorded separately in St Albans Cathedral and mixed in later) sounds really thrilling.
Of the two Korngold pieces, The March of the Merry Men from The Adventures of Robin Hood is a vividly-evoked colourful romp, but it is the seven-minute Kings Row suite which really impresses. It introduces many of the main themes and it serves as a grand prelude to the complete score recording Gerhardt was to make in 1980.
From Leonard Rosenman's score for the James Dean vehicle, East of Eden, there is the simplicity and beauty of the pastoral/romantic tune associated with the Julie Harris character. This orchestration by Hill Bowen was to have been conducted by him for the recording. But Bowen died suddenly and Gerhardt took over conducting at the last moment. It was his first recording with the orchestra that later was officially to be named "National Philharmonic Orchestra" (a crack ensemble made up of musicians from London's leading orchestras, mainly for recording purposes).
I think everybody has a soft spot for a film(s) that have been panned by the critics. For me it is the 1954, 20th Century Fox production, Three Coins in the Fountain. It was this film plus my admiration for the music of Respighi that sent me to Rome when I was a teenager. Gerhardt has taken the Oscar-winning title song from the film by Jule Styne and Sammy Cahn and weaved a magical arrangement that borrows from Respighi's Fountains and Pines of Rome (complete with tolling bells, fountain effects and nightingale). By the way when will some film score reconstructionist rediscover the beauty of Victor Young's score for this film and bring out a recording of it?!
Another clever arrangement follows - of David Raksin's Laura. This is quiet and mysterious before it becomes a sprightly Viennese waltz. Victor Young's "The Call of the Faraway Hills," the theme from the classic western, Shane is heard in a concert arrangement made by the composer for public performance.
The sultry love theme from Alex North's Cleopatra score is followed by a brilliant arrangement evoking the heat and dust of East Africa of John Barry's Born Free theme. Gerhardt employs tricky cross-rhythms that test the virtuosity of the National Philharmonic, and a battery of exotic-coloured percussion.
Hanry Mancini's Charade theme gets the distinctive Gerhardt treatment too in an exciting and catchy arrangement while the Rashomon music by Fumie Hayasaka wonderfully blends oriental and occidental elements. Intended, but never used in the film, El Cid, is a passionate and very Spanish Miklos Rozsa (spelt wrong in the booklet) love theme. The title song from Topkapi (Hadjidakis) suggests the film's good-natured humour.
The album ends fittingly and impressively with music by the great Max Steiner: a 23- minute suite from his score for the immortal Gone With the Wind. Gerhardt, as usual, is fully committed and goes for it with all the expressive stops out.
A wonderful album and one that should be in every film music enthusiast's collection
Reviewer
Ian Lace

**************************************************************

EDITOR's RECOMMENDATION

**************************************************************
For Charles Gerhardt
In February 1999, during the preparation of this recording, Charles Gerhardt died at age 72. Together with producer George Korngold, he was responsible for the renaissance in film music of the 1970s. In a series of 13 magnificent "classic film scores" recordings for RCA, he introduced the best of Herrmann, Korngold, Newman, Steiner, Tiomkin and Waxman on disc. Gerhardt assembled the orchestra, conducted them in high style and conceived and directed the packaging. These CDs are still the standard that every recording thereafter has approached.
When Sunset Boulevard: The Classic Film Scores of Franz Waxman was planned, there was never a second of doubt in Chuck's mind that Prince Valiant would open the recording, I suggested that perhaps a better-known film such as Rebecca might be a more appropriate choice, but Chuck insisted, telling me that the minute the music began the audience would be hooked; and of course he was right. The popularity of this music today is in no small part due to his restoration. It is therefore most appropriate that this first recording of the Prince Valiant soundtrack be dedicated to the memory of a great musician, Charles Gerhardt
- John Waxman writing in the CD booklet of :-
Franz WAXMAN Prince Valiant Music conducted by the composer for the OST FILM SCORE Golden Classics FSM Vol.2 No.3 [62:17]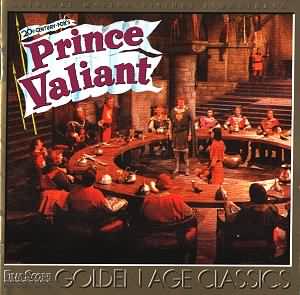 How right Chuck was to place this score at the beginning of his Sunset Boulevard Franz Waxman collection. Personally, I rank hearing the Prince Valiant music as one of the outstanding movie experiences of my teenage years. I recall being totally overwhelmed by Waxman's glorious music, all the way through from the splendid Main Title with its rousing fanfares and that terrific noble and heroic theme for Prince Valiant (a young 23 year-old Robert Wagner); and one of Waxman's most sumptuously romantic melodies for Aleta (a gorgeous-looking Janet Leigh). I remember sitting transfixed through three successive performances of the film just to hear the music over and over.
This is the first time that the original soundtrack of the score has been available and it is a revelation to hear this wonderful music, one of Waxman's acknowledged masterpieces, with the composer himself conducting the 20th Century Fox studio orchestra. The music was stored on 35mm magnetic film stock and, remixed in modern stereo, offers us the opportunity to hear this Classic Golden Age score (the film was made in 1954) almost as if it were being performed today. But there is bad news as well as good for serious deterioration of the stock has resulted in damage to one or two tracks. This is most apparent in the material near the beginning of the screenplay which has been afflicted with mag wow -most notably in the cue 'Val Leaves the Island.' Another even more serious problem is that the exciting Tournament music has been lost. It is therefore recommended that this recording is heard in conjunction with Charles Gerhardt's marvellous nine-minute suite of the music from the film including this Tournament scene, in all its glory on RCA GD80708: Sunset Boulevard: The Classic Film Scores of Franz Waxman.
There is so much to admire in this score. There is the lovely Faure-like theme for Ilena (Debra Paget) Aleta's sister who suffers an unrequited love for the rather stiff and pompous knight, Sir Gawain (Sterling Hayden) who is allotted an equally wittily pompous motif. The ceremonial music thrills - like the 'Procession' to Camelot as well as the Tournament music. Waxman's music for the 'Banquet' is also impressive - a courtly Renaissance pastiche for trumpet, light woodwinds, harp and triangle. But some of the most interesting music is reserved for the villainous Sir Brack (James Mason). Waxman's sinister, threatening theme for him is a minor mode triplet tune plus a percussive hammering galloping motive. In the 'First Chase' sequence, for instance, Waxman's writing becomes experimental as the Black Knight jabs his lance at Val upper register string trills are punctuated by the Black Knight theme in three overlapping keys. Waxman's dissonant sonorities were something new for a film score but how well they depicted the Black Knight's evil and Valiant 's peril.
The accompanying booklet maintains Film Monthly's high standards. It includes a full, informed track-by-track analysis and details of the original score restoration plus many stills from the film. The notes end with this dedication: For Charles Gerhardt.
A compulsory aquisition for all Waxman admirers
Reviewer
Ian Lace

For purchasing details contact Film Score Monthly:
http://www.filmscoremonthly.com
**************************************************************

EDITOR'S CHOICE – August 1999

**************************************************************
Franz WAXMAN Mr Skeffington Moscow Symphony Orchestra conducted by William T. Stromberg MARCO POLO 8.225037 [62:57]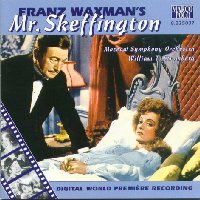 Bette Davis knew the value of film music. She keenly appreciated its power to flatter her and support her portrayals, focusing and intensifying the emotions of her characters and, often, revealing contradictions in their personalities. Davis took a keen interest in the composition of the music for her films. At Warner Bros, where she was under contract from 1932 to 1949, her films were scored by Erich Wolfgang Korngold, Franz Waxman and Max Steiner. They would all become very familiar with her screen characterisations. [Her favourite was Max Steiner, who contributed music for most of them - 20 in all.] But of Waxman's score for Mr Skeffington, Bette Davis told the composer's son, "Yes, now that was music!"
Excerpts from the scores of many Bette Davis's films were included in Charles Gerhardt's Classic Film Scores albums, notably "Classic Film Scores for Bette Davis" (RCA VICTOR GD80183) which included the strikingly atonal and advanced cue, 'Forsaken' from Mr Skeffington (Warner Bros. 1944). Fittingly, therefore, this new Marco Polo release carries the dedication - In Memory: Charles Gerhardt. [Gerhardt died on this year
In fact 'Forsaken' is one of the two climactic and most impressive cues in this new album. But first, a brief description of the film. Fanny Trellis (Bette Davis) marries the gentle rich Jew, Job Skeffington (Claude Rains) for his money but persists in her hedonistic lifestyle which includes many admirers. Eventually, an attack of diphtheria robs her of her beauty leaving her an ugly disfigured woman. Her suitors now only visit her because she might have money. Job returns after many years wandering about Europe on his own, and after suffering under the Nazis. He is blind and therefore oblivious of her disfigurement and so the film ends with Fanny at last finding fulfilment with her estranged husband.
Mr Skeffington was poorly received by critics and public alike when it was first released and not really appreciated until much later when it was seen by new audiences on TV. Waxman's score is film music of a very high order played by the Moscow SO on top form. They have clearly got into the stride of this series now and this is one of their best releases to date.
Waxman's score is heavily influenced by the richly romantic music of Richard Strauss. It is apparent in the brief storm music, in the wry humour that pervades much of the score especially in the scenes involving Fanny's many suitors where Waxman pokes mischevious fun at their foibles and, most dramatically, in the scene (the cue 'Finale') where Fanny descends the staircase to meet her now blind husband; here the music has quite eeie parallels with the Marschallin of Der Rosenkavalier.
The two main themes of Fanny and Job dominate the score. The former theme winds its way through self-indulgency to despair as illness ravages Fanny's beauty, to a glorious affirmatory 'Finale' as Job and Fanny are reunited. The music for Job on the other hand speaks of a stoic dependability and gentlemanly dignity. Much of the score's darker material surrounds the irresponsible activities of Fanny's self-destructive brother Trippy who is eventually killed in World War I which is held at a distance while Fanny continues to live life to the hilt. For the cue 'Forsaken', Waxman creates a disturbing, disorientated atonal atmosphere as the music swirls around Job's theme. Fanny, utterly desolated, finally accepts her predicament and at last appreciates the sterling worth of the husband she has largely ignored.
Waxman creates a sound world, which brilliantly evokes the sound and spirit of the age in which the film is set. In the orchestra you hear the honking of the automobiles as the first of Fanny's suitors arrive vying for her attentions, and you share the jazzy excitement and terror of the prohibition period. Waxman's gift is so acute that by some extraordinary alchemy Waxman he even succeeds in suggesting Davis's very individual gait.
Strongly recommended
Reviewer
Ian Lace

and another view from Richard Adams
I can't imagine a better memorial to the great Charles Gerhardt than this CD. Gerhardt made what I believe are still the greatest recordings of Franz Waxman's music for the disc entitled Sunset Boulevard, part of the Classic Film Score Series on RCA. That disc is arguably the highlight of the entire RCA series and featured great music beautifully played and recorded. Waxman has been a lot less fortunate with other recording teams who have taken up his cause. The four (soon to be five) part "Legends of Hollywood" series on Varese Sarabande suffers from less than virtuosic playing from the Queensland Symphony Orchestra while the playing of the Westminster Philharmonic Orchestra on the complete Bride of Frankenstein re-recording from Silva Screen doesn't even approach professional standards. Marco Polo's own re-recording of Rebecca with Adriano conducting is also marred by indifferent conducting and playing. (It's frustrating that record producers assign 2nd and 3rd rate orchestras for film music re-recordings. Since these scores are usually only recorded once, they should be afforded the best playing and recordings possible.) Korngold, Herrmann and Rozsa have been luckier in this regard. Varese Sarabande is using the excellent Royal Scottish National Orchestra to re-record Herrmann's scores while Varese, Decca, DG and Koch have used front-rank orchestras to record Korngold and Rozsa. Waxman is the equal of any of those composers and he deserves better recording and production standards. With this new recording on Marco Polo of his score to Mr. Skeffington, he finally receives it.
This is the finest recording of a Waxman film score since Sunset Boulevard (admittedly I haven't heard Elmer Bernstein's reportedly outstanding 25-year old recording of The Silver Chalice once available through his film music club) and this may also be the best film score recording issued so far from Marco Polo. Everything about this production is top-drawer. Mr. Skeffington at first seemed an odd choice to record. Why not Prince Valiant, Hemingway's Adventures as a Young Man, The Spirit of St. Louis, Peyton Place or Dr. Jekyll and Mr. Hyde chosen instead? I should have know better than to second guess John Morgan and Bill Stromberg! This is glorious music that features the same rich melodies, sophisticated harmonies, inventive scoring, invigorating rhythms and virtuosic contrapuntal technique that characterize most of Waxman scores. Listening to this or any other Waxman score makes one wonder why he bothered to write such fully developed music when he must have believed what he was writing would never be heard on its own. Whatever his reasons, his scores work extremely well away from the visual images that inspired them.
Ian Lace discusses the specifics of the score and film in his review above. I would like to re-emphasize what he says about the recording itself. The first few recordings in this series were marred by some less than polished orchestral playing. Bill Stromberg has obviously developed a great rapport with the players of the Moscow Symphony Orchestra and they have developed nicely under his direction. While you can still tell them apart from the very best orchestras, the differences are becoming increasingly insignificant. There are several bravura passages in this music which the MSO sails through without a hitch. Bill Stromberg's interpretation is everything a Waxman fan could wish for. The music has the necessary sweep but at the same time he is careful to assure that all the orchestral details come through clearly. He is aided with a good recording that is open, detailed but has an adequate amount of ambient warmth.
Mr Skeffington was trimmed by nearly 20 minutes at the time of its release in 1944. This required Waxman to do some last minute rearranging and cutting. Score reconstructionist John Morgan has gone back to the original sketches and has reinstated the cuts thereby lengthening several of the cues. This is typical of Morgan's dedication to authenticity as well as his commitment to present these scores in the best possible light. Morgan's involvement in this series is one of the principal reasons for its success. Finally, special praise must be given to Bill Whitaker's outstanding liner notes. The film and the music have been exhaustively researched and discussed in an essay that are as entertaining to read as they are informative. If only this was the standard that all companies followed in writing liner notes. This disc is strongly recommended.
Reviewer
Richard Adams