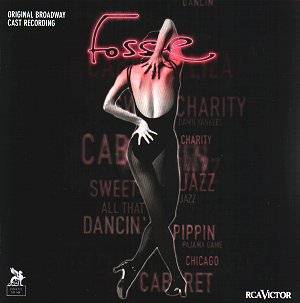 Crunchy Granola Suite; I Wanna Be a Dancin' Man; Sweet Heat; I Gotcha; Rich Man's Frug; Silky Thoughts/Cool Hand Luke; Dancin' Dan(Me and My Shadow); Nowadays; The Hot Honey Rag; Take Off With Us- Pas De Deux; Razzle-Dazzle; Who's Sorry Now?; There'll Be Some Changes Made; Mr Bojangles; Life is Just a Bowl of Cherries (reprise); Sing! Sing! Sing! - Part 1; Sing! Sing! Sing! - Part 2.
What an immense, incredible talent was Bob Fosse! Choreographer, director, dancer, actor, singer - he was all of these.
In 1973 Fosse became the only person in history to have won an Oscar, a Tony and an Emmy Award all in the same year. His many Broadway successes included Call Me Mister, Pal Joey, The Pajama Game, and Sweet Charity. He appeared in a number of films including Kiss Me Kate, The Little Prince, My Sister Eileen and Damn Yankees. He went on to direct the film version of Sweet Charity, then Cabaret, and All that Jazz. He also directed non-musical films; Lenny and Star 80. His TV credits include three Emmy Awards as director/choreographer and co-producer of Liza with a Z. Bob Fosse also choreographed a ballet, Magic Bird of Fire (Nepotism).
Fosse, the musical that is his tribute, opened on January 14th 1999 on Broadway after palying in Toronto, Boston and Los Angeles. It comprises 21 numbers associated with his work All the numbers are delivered with great panache and vitality by a talented young cast. Very enjoyable
Reviewer
Ian Lace

and another view from Warwick Mason
This recording is a collection of songs from different Broadway productions by Bob Fosse. In 1973 director Bob Fosse became the only person win an Oscar, a Tony and and Emmy award in the same year.
His Broadway credits between 1947 and 1952 include Call me Mister, Make Mine Manhattan, Dance me a Song, Billion Dollar Baby, The Roaring Twenties, Pal Joey and Pal Joey again in 1963.He went on to choreograph the Pajama Game and Damn Yankees , Bells are Ringing, New Girl in Town and How to Succeed in Business Without Really Trying. Between 1958 and 1966, Mr. Fosse directed and choreographed Redhead,Little Me and Sweet Charity, winning a Tony for each as a choreographer. In 1972 he received Tonys for his choreography and direction of Pippin. His last three Broadway musicals, Chicago, Dancin' and Big Deal were the first of his writer or co-writer/director/choreographer credits on Broadway.
On film he can be seen in Kiss Me, Kate (1953), The Little Prince (1974) and Thieves (1977) written by Herb Gardner as well as in My Sister Eileen (1955) and Damn Yankees (1958) for which he was also choreographer. He choreographed The Pajama Game in 1956 from then on also took on the role of director, beginning with Sweet Charity (1968). In 1972 he directed and choreographed Cabaret (winner of seven Oscars including Best Director) and in 1974 he directed his first non-musical film, Lenny. Mr. Fosse co-wrote, directed and choreographed All That Jazz (Cannes winner) and wrote and directed his second non-musical film, Star 80, in 1983.
His television credits include three Emmy Awards as director/choreographer and co-producer of Liza with a Z (1972). Mr.Fosse also choreographed a ballet, Magic Bird of Fire (Nepotism) and was a member of the Riff Brothers vaudeville team (1938).
The illustrious list of awards for Bob Fosse is a fitting tribute to the vast body of work he has done and the Broadway cast recording of the Livent production of "Fosse" is an entertaining 79 minutes worth. The twenty one tracks have an engaging liveness about them that transports the listener efffortlessly to
Centre front row. Many of the songs are familiar standards in their own right and are a pleasant reminder of the halcyon days of popular songs that have a good story to tell as well as instant melodic rapport.
"Life is a Bowl of Cherries", "Bye Bye Blackbird","Big Spender","Steam Heat", "Who's Sorry Now?" and "Mr.Bojangles" are articulated well and this new recording brings a refreshing interpretation of what are, after all, classics of their genre.
I was reminded of Cab Calloway's "Minnie the Moocher" scene in "The Blues Brothers" (yes the original film not that awful sequel) by the arrangement of "Sing Sing Sing" (track 20) with the orchestra obviously having fun. The drummers tongue seems firmly in his cheek as he thwacks out some lovely tom-tom rolls. The brass section are definitely trying to out-wahhhh each other and some great solo parts appear as the song runs into track 21 with clarinet, brass and piano giving good account of the high standard of musicianship.
Throughout the recording the vocals are vibrant with all soloists displaying that "something" that singers have in their phrasing and tonality that is unmistakably "Broadway" . I liked the hints of Garland and Streisand that where skilfully underplayed by the soloists, it would have been a mistake to try to copy those greats and it would have slid into aural parody all too easily if they had tried.
What a clever idea to put together some of Bob Fosse's work in this way and, although I felt some initial trepidation at the range of musical eras strung together, it works really well. For those who aren't aficionados of the Broadway musical this CD delivers a good selection of well orchestrated classics.
It's definitely a night out, in.
Reviewer
Warwick Mason