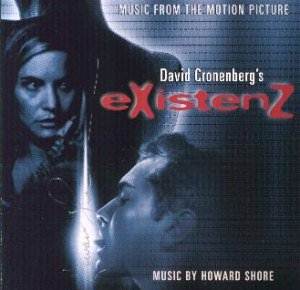 Every collaboration between Shore and Cronenberg heralds a new sound within the composer's range. He readily acknowledges that it is for this partnership that he pulls out all the stops. Hopefully there's no need to catalogue their track record, but if we at least look to the last - Crash - we can immediately see just how much of a leap is made from picture to picture. From an experiment in guitar (who'd have thought there was anything new to have been found there ?) to an experiment in aural perception. Courtesy of Shore's trusty London Philharmonic Orchestra and some electronic subtlety you should prepare to have your senses foxed.
The music plays with perspective. Loud instruments are placed back in the overall perspective, while softer ones are brought forward. It's a very layered soundtrack. The parts of the orchestra were recorded separately to achieve this and then altered electronically in the mix. It's a score that was really built in the studio, and the effect is quite mesmerising. If you have the sort of speaker set up to do it justice, you may find many of the channel mixes unnerving. That's down to the music too of course, which is eerie in the extreme for the most part.
One superb embellishment is the most delicate use of a theremin I have heard yet in a film score. It's such a 'showy' instrument that usually the idea is basically to hit you over the head with the fact that it's there. On the album there are only 2 cues in which careful listening will pinpoint its use. "a genuine game urge" is the most obvious in carrying one of the score's subsidiary themes a short distance. It is in "traumatized nervous system" that I find it especially telling at how subtle a composer Shore is. About midway a passage tapers from piano and strings into what initially appears to be a solo female voice. It's the mistake listener's made when the instrument first appeared.
You won't find this to be a lyrical score by any means. In reflecting the film's multi-layered game of sensory perception it is instead a soundscape of the inner ear. Breathtaking.
Reviewer
Paul Tonks