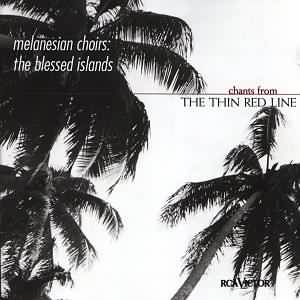 And now, for something completely different….. someone singing for the sheer joy of it! The Melanesian Choirs of Guadacanal perform some entirely uplifting and wonderfully unaffected chants and songs on this CD from RCAVictor.
The choirs mostly sing unaccompanied and the natural exuberance of the performances are captured vividly in this production by Claude Letessier and Terrence Malick.
They were recorded in November 1997 on the South Pacific Island of Guadacanal with the mixed male and female voices being recorded during a choir practice at All Saints Parish, Honiara. The male voices were recorded during an early morning service of the Melanesian Brotherhood (a community of lay ministers located in Tabalia on the western end of the island).
The words, with few exceptions, are in pidgin English, the common language of the Solomon Islands. At the time of the recording the director of the All Saints Choir was Brother Zephaniah (who is now working in the Philippines) and the choir master of the Melanesian Brotherhood is Robert Nani.
The Choirs have an innocent charm and the inclusion in them of young voices adds to that ambience. The harmonic structure of the songs is simple and instantly accessible and after a couple of listenings, I was quite familiar with the melodies. The lyrics are a different prospect though and I have to admit to a total failure to grasp the pidgin english lyrics most of the time! However, this didn't prevent me from half an hour's entertainment trying to figure some out. I guess that "Mi go longway" (track 10) is "I have a long way to go" although "God yu tekkem loef blong mi" (track 3) couldn't really be something about the Almighty helping himself to my bread roll, could it?
There are 26 tracks in total and they are largely of religious content. I can see your face drop as you may consider this to be a down side but this music should not be considered as being boring or self-righteous. Quite the contrary, it would be wonderful if church services could all include chants and songs as uplifting and smile making as these are.
The message on the CD is "The people of Guadacanal wish you joy!". After listening and thoroughly enjoying their performance I would say…"..yu holem hand blong mi".
Reviewer
Warwick Mason

---