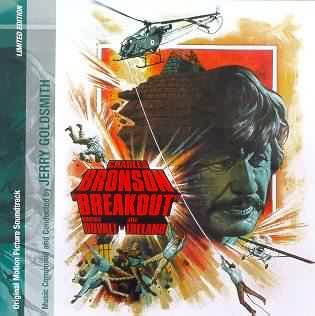 This is more for Goldsmith completists and dedicated collectors than the general listener. The available music is of shortish duration (he only used 30 minutes of music in Patton, a film that runs for three hours) and the mood is pretty similar throughout. A Bronson 'vehicle', this action film boasts tense music (try 3 track 3 and the creeping Tapiola strings in The Tail) and as the excellent notes rightly point out a minimalist approach to the use of the orchestra.
What are the highlights? Ambushed offers some fine high sierra/chase music. There are some Penderecki-shrill strings in Hasty Exit. Border Crossing nods in the direction of The Magnificent Seven and is a rare example of the composer embracing a bigger sound though I have to say that the mood suggests Chevy Chase rather than Bronson and anything more earnest. Miraculous Recovery and Waiting are tense then relax into catchy guitar music mixed with a heel-clicking, foot-tapping sequence for the brass. The dark brass in Waiting sound like a tribute to the octopus music from Herrmann's Beyond The Twelve Mile Reef (when are we going to be treated to the full score of that film?). Tenderness and a Legrand-like approach to the serenade come across in Schemes, All Yours and the end titles. However tension is never far away usually suggested by maracas, squat brass spits and cracks and high strings. Breakout sports squat, snarling and confident brass. Other distinctive features include the ticking cool of the duo guitars in Main Title and False Arrest, and the presence (not altogether welcome to my ears!) of a synthesiser in End Title which is a condensed tone poem built from the previous cues. A Mexican street band make a smilingly uncomplicated contribution at 5:04 in the end-title track.
There are great notes by Gary Kester whose adroit descriptions and some artfully used (and re-used) stills add considerably to the end-result. The cover design revolves around the original cinema poster.
Recommended for Goldsmith completists.
Reviewer
Rob Barnett