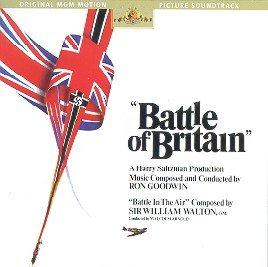 Generous thanks to all involved in this Ryko project. Especially worthy of recognition is Eric Tomlinson whose forethought, as the engineer for the Walton recording sessions meant that backup copies of the original (and now lost) studio master tapes were available. They were not however in pristine condition and the booklet makes some defensive comments about technical quality. In fact the sound is fulsome and although nowhere near as rich as the best studio digital is more than adequate. Oddly enough it sounds more handsome and with a deeper 'pile' than the accompanying Ryko release of A Bridge Too Far!
On this disc (running just short of an hour) are preserved the OSTs of the score used in the film and of the one written for it but tragically discarded by the producers. Goodwin's score was used. Walton's was not. The stellar cast-list included Laurence Olivier. Olivier had worked with Walton in Henry V and Richard III. Olivier suggested Walton and the studio were happy to go with the flow. An already self-critical Walton was becoming, in the 1960s, even more demanding of his writing. He worked painstakingly and, so far as the studios were concerned, slowly. What he produced was circa 20 minutes of music. According to the booklet the Walton score was rejected because it was too short for a soundtrack album. This seems suspect to me. The LP could, after all, have been fleshed out with Prelude and Spitfire Fugue, the concert work carved from the very much earlier First of the Few score.
One part of the score was retained in the film. This is Battle in the Air, a five minute helter skelter scherzo. This vividly depicts (over no sound-effects) the tumult of the skies as warring planes criss-cross the British heavens in victory and defeat, flames, explosions, agonising and instant death and very little vainglory - although Walton can do vainglory better than most when he wants to. The fact that Battle in the Air survives in the film soundtrack is down to Olivier. He was horrified to hear that the score was to be dropped and threatened to have his name taken off the opening credits unless at least some of the score was used. The studio relented but only for this segment.
The orchestral contribution for both scores is spot-on and you have the bonus of sound as used in the original ST. So much of the atmosphere can be drawn from the very specific studio sound world. Here you do not need to imagine. It is instantly on tap.
While we are on the subject of the orchestra, does anyone know which orchestras were used for these recordings? The Goodwin one is conducted by himself while the Walton is conducted by his friend Malcolm Arnold. Given the Arnoldian hallmarks on the Walton score we can be very confident that Arnold, ever the practical musician, discreetly supportive and self-effacingly professional in his assistant work for his distinguished friend, wrote more than a few bars of the score. As conductor he must have been the ideal choice with Walton (miles away in Ischia) knowing that Arnold would be his very best advocate in the sessions. Arnold's standing as the leading British film music composer also helped greatly although by 1969 he had largely withdrawn from the film music scene and, settled in Cornwall, was facing his own tragically debilitating personal problems.
The notes are very Walton-centred. This is a pity as Goodwin's score is never less than bull's-eye apt for the film. The music, as ever, gives a large jolt of character to a film. Goodwin's music is much more upfront and degree or two less subtle than Walton's but it is extraordinarily imposing. Goodwin had of course already established his strong air-war credentials with the score for 633 Squadron (a George Chakiris vehicle) - a slice of film hokum if ever there was one.
There are 19 Goodwin tracks - well 18 actually as Battle in the Air is included followed by nine Walton tracks.
GOODWIN: The pronounced Battle of Britain theme is punched out with prize-fighter pugnacity. The theme his endurance and will have many variants wrung from it by the end of the score. The air-valour RAF (and Allies!) theme is contrasted with the Aces High march: full of hot air and glitter. The chests-out bombastic glitter of the typically Teutonic march rises on hot air and the stentorian brass choir is helped along by the jingling of the stahlspiel. Attack [15] marks the return of the theme but this is by no means the last we hear of it. It returns in sombre reflective half-lights for Absent Friends [18] and in shards of its previous splendour during the closing track when it is swept away by the snorting confident heroics of the main theme before even that melts away into resplendently striving strings and the all-conquering sun.
The Lull Before Storm has distantly rolling thunder and otherwise a placidly Waltonian atmosphere (viz Henry V's running flutes and birdsong in the introduction to the film). Work and Play warmly adumbrates Berlin's glamorous warm nights, evening dresses like sprayed on silver, neon lights and café restaurants, uniforms everywhere, victory and not a worry in the air. The street scene (again evoked in Threat) has a touch of Lili Marlene about it. A suggestion of Smetana's liquid sliding theme from Vltava is also there. Civilian Tragedy also recalls the same Czech work with the massed violins coursing up and down scales in flowing tragedy.
Defeat is an evocation of falling and diving stricken fighters and bombers. Offensive Build-up's stertorous little figures cross-hatch each other building tension through great string landslides and slammed fragments of the Battle Of Britain main theme
Death and Destruction's uneasily bubbling theme has dark and deep current continued into the atmosphere of Briefing. Prelude To Battle is all blazing blue skies, dazzling sun, white cliffs, verdant green countryside and the return of the confident Battle march. There are even some hints of RVW's style. Victory Assured is odiously pompous with Aces High returning. The role played by Aces High is comparable with that taken by a similar tune (sung in that case as well as treated orchestrally) in Frankel's still largely unrecognised Battle of Bulge score (a score that will be released by CPO in 2000).
WALTON (9 tracks). The March Introduction and Battle Of Britain march has horns shouting and trumpets piercing the heavens. The march is a cousin to Walton's 1953 Orb and Sceptre Coronation march. Young Siegfrieds (the blonde übermensch) of the Luftwaffe are depicted through Weberian woodland horns and bruisingly squat brass chords then surprisingly contrasted with a Gallic lightheartedness. Silverpoints are touched in by the harp and a disconcerting jollity enters the scene with hints of the 1st symphony. Luftwaffe Victory has a suitably pompous little tune and imports mosaic shards from Young Siegfrieds. Did Walton intend to suggest the tune Boys And Girls Come Out To Play in this track or is that just coincidence?
The Few Fight Back and Dogfight are archetypically rushing, scurrying helter-skelters on which zest Walton had been able to draw ever since the overture Portsmouth Point. The mortal combat of hide and seek in the clouds is conveyed through Cat and Mouse which again recalls the first symphony and the Henry V music. Gay Berlin is humorously suggested through a polka-hoedown! Here Goodwin is much more successful.
Scramble / Battle In The Air is a hectic scramble with recollections of Dogfight and the First Of The Few. The atmosphere quickly becomes deathly grim and this is aided by straight into the grim as death aided by Sibelian (En Saga) underworld gurglings. Tubby-toned rasping horns burred with excitement catterwaul and the trumpets shriek. There are many indications of Malcolm Arnold's composing hand on these pages. Try 2.08-2.30 with its skirls and whistles. This coexists in happy alliance with some strong and lean Walton.
The finale and Battle Of Britain march seems to combine tension, sturdy energy and a bubbling brighteyed zeal with Coronation march splendour. All is resolved in the spreading span of the glory-filled skies.
I would not want to be without either score.
The disc is an enhanced CD-ROM. Played on most modern suitably kitted-out PCs you will be able to access the sound and video of the theatrical trailer for the film.
Criticisms? The timings of the individual tracks are not listed. No total time is given anywhere on the packaging. There is no need for this coyness and it may provoke some to wonder why such details (found on most other film score albums) are omitted. That is about it.
Also Ryko, after criticising you over the last 12 months for your unsuitable and fragile mini-poster folded leaflets, can I now praise you for producing the notes in well designed and completely legible booklet form. The notes, by the way, are by Richard Ashton, James Fizpatrick and Silva Screen's David Wishart. They are generous in length (16 pp) and well decorated with stills, poster art and superb colour shots.
A wonderful release. A compulsory acquisition for film score collectors (and listeners!), Waltonians, Goodwinites, British music enthusiasts and anyone who cares for the musical heritage.
Reviewer
Rob Barnett

And Ian Lace writes:-
I am going to be controversial. There is a danger that we can regard composers - even our favourite composers as gods, thinking they can do no wrong. As much as I adore Walton's music, I cannot in all honesty say this is his best work. Film producers/directors are often cast as villains when they reject scores from first rank composers. But the evidence of my ears, at any rate, listening to the many new recordings of such rejected scores, that have come to light recently, leads me to feel that often those executives were right. I believe Hitchcock was right to reject Herrmann's score (except for the farm-house murder scene) for Torn Curtain; and I believe Kubrick was right to reject Alex North's score for 2001. So where does that leave the Walton music? I can understand Olivier's indignation; but was his loyalty over-coloured by friendship? We know that Walton had, for whatever reason, difficulty with this score and we know that the input from Malcolm Arnold was significant. There is no denying 'The Battle in the Air' was brilliant (how well Walton evokes the propeller screws and whirring of the planes by his imaginative use of lower strings). The producers showed taste in choosing to include this material; however, I have to say, that, overall, I prefer Ron Goodwin's music. His Battle of Britain theme is very stirring and the Aces High march is fabulous - quite the best thing on the disc (well they always say the best tunes are given to the devil!) I think that the controversy surrounding the Walton elements has tended to completely overshadow Ron Goodwin's contribution and I was shocked and disappointed that RYKO chose not to include a track by track analysis of his part of the score.
Reviewer
Ian Lace

RIGHT TO REPLY
I felt compelled to respond to a couple of the points Ian Lace raises:
(1) Battle of Britain notes: The reason why the focus is on the Walton notes is obvious. David Wishart also indicated to me during production that he covered the Goodwin score quite thoroughly in the notes for his early '90s CD production of the score for EMI (which I must add I have not seen).
Space did not permit me to cover both in detail; no disrespect was intended for Mr. Goodwin's work, which I believe is every bit as good as Sir William's collaboration with Sir Malcolm.
(2) [This note refers to the review of A Bridge too Far - Ed] The change in booklet design: Ian, if you prefer the awkward fold-out road map, you are in a tiny minority, which is entirely your prerogative. I had COUNTLESS complaints from consumers and reviewers about their illegibility, and I myself found them to be a monumental pain. I'll also take the opportunity to thank David and James for their exemplary work on this; they honestly deserve most of the credit.
Regards,
Ian Gilchrist
MGM Product Manager