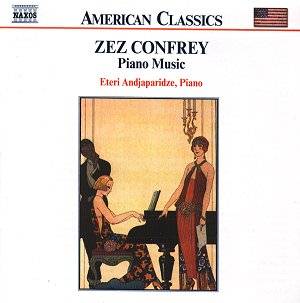 ZEZ CONFREY (1895-1971) Piano Music
Kitten on the Keys 1921
Dizzy Fingers 1923
Meandering 1936
African Suite 1924
Jay Walk 1927
Sparkling Waters 1928
Wise Cracker Suite 1936
Amazonia 1945
Blue Tornado 1935
Three Little Oddities 1923
Coaxing the Piano 1922
Stumbling 1922
Moods of a New Yorker 1932
Rhythm Venture 1935
Fourth Dimension 1959


Zez Confrey was born Edward Eleazar Confrey in Peru, Illinois on 3 April 1895.
Confrey is the Transatlantic counterpart of Billy Mayerl. If you like Mayerl you will certainly like this.
The famous Kitten is a celebration of scatty, jazzy, high speed prestidigitation. Skimming pianism and impressively whispered dynamics are memorable elements of Dizzy Fingers. Then comes the more reflective though still faintly jazzy Meandering where pacing is plastic with many shifts and changes of gear. The African Suite is not at all an evocation of the jungle: High Hattin is a jazzy saunter, Kinda Careless a Gershwinian blues drone, Mississippi Shivers is over-shadowed by the influence of Gershwin but has something of the great river in it.
Jay Walk is a light fingered wander; Sparkling Waters a Lisztian essay with silvery runs. Yokel Opus is light and easy; Mighty Lackawanna is the first seriously impressionistic piece on the disc. The surface of the piece is undisturbed and although a rippling pulse keeps things mobile the atmosphere is placid. It glows in a heat haze. The Sheriff's Lament is back to Confrey's accustomed Keystone Cops scattiness (just as suggested by the liner notes).
Amazonia is initially only very slightly Latino despite the protestation of the liner notes. There is a rhumba-Havanaise trill to the piece. Blue Tornado displays Confrey, the light as air prestidigitator. The Impromptu from Three Little Oddities (and they each have a salon-style title) is rather Ravelian and definitely the serious Confrey. The notes suggest the influence of Grieg and Macdowell on these pieces and that parallel is spot-on. The final Novelette is almost complicated enough to be Medtner but stops well short of that most of the time.
Coaxing The Piano starts storm-goaded and soon settles into the hectic fists of notes we know from Kitten on the Keys. The largely placid Stumbling was much admired by Copland who wrote of it that it typified the jazz age with its independent rhythms spread over more than one measure.
Moods of a New Yorker's At Dusk is a tentative exercise in half lights, rather like some uncertain grey evening by Frank Bridge. Movie Ballet reminds us of some Russian ballet, perhaps by Glazunov. Relaxation is a tender golden dream (which I recommend as a sample track). The final Tango is slinky with a slippery reference to the Carmen 'Habañera'. The Rhythm Venture is earnestly jazzy - an escapee from Constant Lambert's Rio Grande. The final Fourth Dimension jumps with electricity.
The Three Little Oddities and Moods of a New Yorker are much more serious than Kitten on the Keys and Confrey's reputation might hint. For anyone who thinks they might be allergic to 'home fires' piano stool virtuosity try these two suites first. They are not desperately profound, but no matter; this music entertains and delights.
Confrey would, I am sure, be delighted with Eteri Andjaparidze's zippy and zestful performances which, in addition to their glitter, also articulate the poetry of a number of the pieces.
I suspect there will be a band of Confrey enthusiasts who will be buying this disc in quantity. Quite how the performances stack up against Confrey's own 78s I do not know. I had not heard Confrey's music until I put this disc in the player. Now at least I know that Confrey has a place in the history of music. It may not be a very exalted one but he is a composer who has genuine humour, zest and feeling for people and place. A definite discovery.
The English only notes are by Marina and Victor Ledin. They are specific, informative and generally add to the musical experience.
The treasure of a thousand thousand piano stools! Recommended.
Reviewer

Rob Barnett