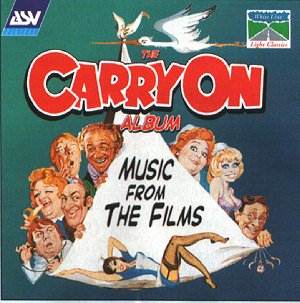 Here is the music for the Carry On films and heard as never heard before. The soundstage is not quite natural with a fair amount of (well-judged) spotlighting of instruments. The music is lightly entertaining when it is not brash. When it is brash it is the essence of 1950s kitsch and makes no impact on me except an adverse one. It is however a reminder of those films.
Most of the tracks are by Eric Rogers and the others by Bruce Montgomery are instantly recognisable as they are scored for military band. The Rogers tracks are for full orchestra. The music is very much of a piece: jazzy, brash, Poulencian and the occasional subtle touch of George (Gershwin) in the night as at 4:20 of Montgomery's
Carry On Suite. Some of the quieter interludes have some magic (middle section of Carry On at your Convenience). Oddly enough that piece of Gershwiniana evolves into a rather nobilmente bit of Walton which soon lapses back into absurd seaside trivia. Walton is also a noticeable presence in the Anglo-Amalgamated Fanfare No 1 and the Khyber theme.
The Carry On theme has a touch of Coates at his most vulgar and unsubtle. There is a bit of middle eastern Rózsa in Carry On Cleo - quite Biblical really - in the Charlton Heston sense! For the most part this is cheeky chappie, wink and a nod, sly humour which now comes across, despite classy and zestful advocacy by conductor and orchestra, like congealed horlicks, flat pommagne or tepid Asti.
The notes run to 6 pages and are in English only. They give plenty of information on the films and the two composers. There are also rare photos of Rogers and Montgomery.
A worthy addition to the growing library of British light music and a real feather in the cap of ASV whose catalogue is a national asset. Intermittently enjoyable music then and bliss if you go for the style. You will know. Great performances. It is probably my loss that much of the music leaves me cold. I speak as an enthusiast for some of the films including Carry On Screaming and C.O. Cleo. A dead cert guv' for Carry Onners. As for the rest of us …. I suppose I must confess to a po-faced review!
For: Carry-On-o-philes

For me:

Reviewer

Rob Barnett