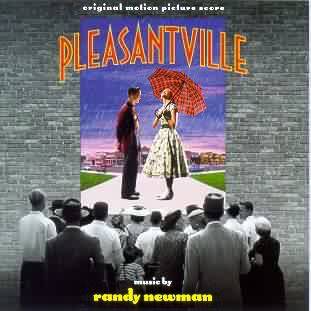 It is always a pleasure to welcome a new score from Randy Newman, nephew of the great Alfred Newman. Randy Newman's credits include: Awakenings; Maverick; Avalon; James and the Giant Peach; The Natural; The Paper; and Parenthood. Composer of acerbic, satirical and witty songs, his scores often show a sardonic sense of humour and whimsy. For Pleasantville, therefore, Randy Newman was a natural choice.
Pleasantville has yet to reach the UK but I have seen trailers of this film in which a young couple suddenly find themselves transported from modern-day America with all its stresses and bickerings into the black and white, two dimensional, 1950s/60s period, TV soap opera "Pleasantville" where they are absorbed into, and commence to disturb, and literally bring colour into its continuing story line.
The opening cue immediately gives us a taste of the cosy atmosphere of "Pleasantville" with a big band rendering of its romantic theme - so very redolent of its period. "Real rain" is a magical cue - again we have this warm comfortable nostalgic glow; the scoring is principally for strings and piano with those tiny-tinkling-bells effect suggesting scatterings of fairy dream dust. It is all so very innocent and at the same time evocative of small town America - an enchanting track. "Bud's a hero" continues this local feel - a wittily bombastic but warm-hearted tribute to a local hero, beautifully scored especially for the percussion section. "In the bath" is hesitant and coy; enchantingly fairy-like music in which female voices add to its fantasy appeal. "Mural" is more of an ecclesiastical meditation with divided strings; it is a lovely creation - romantic, ecstatic, mystical.
The encircling music for "Make-up" is delightfully coy and feminine. "The art book" that brings colour into the lives of the citizens of Pleasantville is softly- romantic-tinged Copland. "Punch" is as busy as a bee and quite as stinging while "Together" seems to suggest practise for a brass band - all swagger and splendour. "Waking up" is nostalgia tinged with regret and a distant echo of "When You Wish Upon A Star." So too is the charming "No Umbrellas" but with a hint of tragedy stated by low woodwinds. "Burning the Books" ushers in violence and disillusion and, perhaps, acceptance of a changed order in the more peaceful "The Aftermath." that has some fine string writing.
"A New Day", at five minutes duration, is the most substantial cue in the score. It opens pensively but more stirring local band music soon follows plus a little more of the fairy dust material and some heroics. Then we have some folk song material which is reminiscent of the partridge in a pear tree theme from The Twelve Days of Christmas. Comfortable nostalgic music with tremolando strings follows with that "Wish upon a Star" feeling.
"Goodbye" is again nostalgic without contributing anything new and the final cue "Let's go bowling" after a tuba haunted short cue "Sweater" is a cheerful, exuberant rhumba-rhythmed ending to a marvellous score. Pure enchantment

Reviewer
Ian Lace