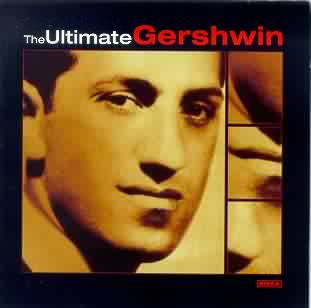 I encountered this incredible bargain when I visited a local record store recently. My eyes nearly popped out of my head - four CDs of first rate Gershwin for just under £10 that's about two thirds the cost of one full price CD!. This collection is of recordings, beautifully refurbished, made in London and New York in the 1920s, 30s and 40s. Here is some idea of the mouth-watering contents.
CD 1 begins with the Rodney Greenberg recommended (in his Phaidon book, George Gershwin) performance of Rhapsody in Blue (recorded in 1924) with Oscar Levant and Eugene Ormandy conducting the Philadelphia Orchestra. Levant, a brilliant pianist, was a great friend of Gershwin and a great performer of his music. Levant's mordant wit and lugubrious wisecrackings are felt in his refreshingly unsentimental, rather droll interpretation of the Rhapsody. Listening to his rapid-fire quicksilver playing, he seems to inject many extra notes into the work and you could swear that there were more than two hands at work here. He is ably supported by an equally mordant but highly colourful accompaniment from Ormandy. Just listen to that waspish long-held trumpet call.
Levant and Ormandy also collaborate in a recording of the Concerto in F (recorded in 1925). Again they convey a world-weary cynicism, a hard-boiled yet not unattractive view of the exciting urban pulse that is New York. Again in the sparkling outer movements, Levant's playing is risky and breathlessly exciting; the orchestra more concerned with the softer more romantic elements. The Andante is very interesting. This time the nocturne starts as though narrated by a man-about-town; it's a tougher view than the norm. One might then imagine the city waking up at dawn, the violin solo has a steely ring, the trumpet reveille is a no-nonsense call to work. Then sentimentality and nostalgia win and the tone softens and the music is that more affecting because of what has gone before.
George Gershwin is heard playing his own three Preludes in his own inimitable style; it is as though he is improvising them for they have such freshness and spontaneity. Prelude No.1 is a tango powered tour-de-force, Prelude No. 2 is a wistful blues-based nocturne while Prelude 3 is an up-beat, fast tempoed flappers delight.
Gershwin, himself, plays the celeste, in a wonderfully vibrant and amusing 1928 recording of An American in Paris with the Victor Symphony Orchestra under Nat Shilkret. It is perky, alert, confident, delightfully cheeky and full of telling characterisation. This American is really homesick but he is jolted awake by the appearance of a particularly coy and appealing Parisienne who absolutely exudes jungle allure. The percussion here are prominent as if to suggest his excited, thumping heart.
The CD concludes with the Cuban Overture - a colourful evocation of a sultry night's entertainment in Havana by Paul Whiteman and his Concert Orchestra with Rosa Linda (piano) recorded in 1932.
CD 2 is a compilation of 25 songs recorded between 1922 and 1945 all charmingly rendered in the styles of their periods. All are pearls. I would just mention a few. The laid-back Mr BingCrosby crooning "Somebody Loves Me"; George Gershwin, himself playing "Fascinating Rhythm" to accompany Fred and Adele Astaire; Sophie Tucker's assertive rendition of "The Man I Love"; the extraordinary, inimitable and enormously expressive Whispering Jack Smith singing "Clap Yo' Hands"; Gershwin playing "Someone to Watch Over Me" and "S'Wonderful"; Peggy Lee wondering "How Long Has this Been Going On?"; Judy Garland's radiant singing of "Embraceable You"; and Fred Astaire's wonderful, own way with "They All Laughed", "Let's Call the Whole Thing Off" and "Nice Work if You Can Get It."
CD3 is devoted to the Gershwin of the Jazz bands with recordings made between 1928 and 1937.
It opens with a shortened version of the Rhapsody in Blue without piano. It is a hoot! 'Totally irreverent and incredibly cheeky and blowsy in the wild style of the 1920s. In short it is hysterical and bloody marvellous. Again we have 25 tracks; most of them little gems. To mention just a few: Fletcher Henderson swinging "Somebody Loves Me" and "Liza", the latter very joyously and infectiously; then Art Tatum (piano) plays "Liza" in contrasting poetic, dreamy mode before he too races off with it at a breathless pace. The incomparable Fats Waller really goes for it in "I Got Rhythm" and Benny Goodman's Trio relaxes with "Lady Be Good"; The Inkspots sharply realise the rhythm of "Slap that Bass" - mmm, mmm, mmmm; zoom, zoom, zoom; and Tommy Dorsey's ringing and delightfully strident brass sound out "They All Laughed" while Billy Holiday and her orchestra "They Can't Take That Away from Me".
CD4 takes Gershwin and the jazz bands from 1939 up to 1947. I would single out from these 25 tracks: Doris Rhodes singing the slightly risqué "Lorelei" with the Joe Sullivan Septet; "The Man I Love" played by the Quintette of the Hot Club of France featuring Stephane Grapelli and Django Reinhardt; Louis Armstrong with that golden trumpet and that gravelly voice in his rendition of "Love Walked In"; The Benny Goodman quartet - wonderful in guess what - "S'Wonderful"; Felix Mendelssohn and his Hawaiian going wild Hawaiian style for "I Got Rhythm"; and the Art Tatum Trio hotting up and racing away with "Liza."
The debit side is that there are no notes to speak of; just track listing and dates and locations of recordings. But who cares? What does it matter? Notes are widely available elsewhere.
Verdict: rush, rush out and buy this one before all the copies are snapped up!
(Historical)

Reviewer

Ian Lace