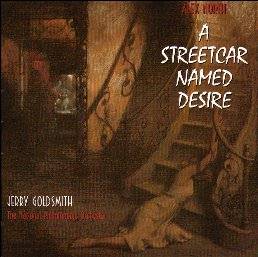 Since hearing the superb Rykodisc reissue of North's score for The Misfits I have wanted to explore and share more North. The December 1998 issue of Gramophone with outstanding contributions from reviewer Paul Tonks has offered even more tantalising information and I am certainly keen to review North's scores for Spartacus and Cleopatra.
North was active in the field of popular music and wrote at least one major hit. This background often shows in the film scores with jazzily symphonic inflections. The present music reminded me of another of my 'discoveries': Michel Legrand's The Thomas Crown Affair. There are quite a few stylistic parallels between the two although Legrand's jazz has a Gallic element absent from North's.
The disc opens with a track deep in the jazz melos. Swirling clouds of sound, screaming brass and woodwind and a jazzy piano solo grab the foreground. In the second track roulades of dark piano notes concertina across keyboard to the accompaniment of satisfyingly chuntering jazz brass. You can see where Bernard Herrmann may have found some of his inspiration for Taxi Driver.
The waterfront smog evokes the world of Raymond Chandler's Philip Marlowe as well as having a Transylvanian-Gothick gloom. This is moodily threatening and at the same time comfortably enfolding you in the 1940s mist.
Track 4 offers an unsettling serenade of liquorice-sweet quality and 'Gershwinnying' brass seeming to limn a negro spiritual. As a contrast track 5 has the sedate music-box tinkling of the 'Warsowiana' collapsing into a traditional Friedhofer-type grand score redolent of classic Hollywood.
The Stan and Stella track is slow and sexily wayward with ululating clarinet, dark blues, all delivered in a sensuously smoking, lazily sizzling accent. This style carries over into Blanche [7].
Blanche's psychological meltdown is represented by a quasi-atonal high string serenade lapsing back into her fantasy world evoked by an easy summertime serenade: 'Fish are jumpin and the cotton is high.'
Track 9 begins as a continuation of its two predecessors but darkens with echoes of Borodin's lyricism and the greater complexity and Shostakovich's scorched and blackened edges. Khachaturian's lyricism should not be a surprise visitor to a North score. North had strong family connections with the USSR and also spent some time there early in his career.
Track 10 delivers some very powerful emotional shudders and wails. There is a sense of a great unfolding and steady tearing between the high and low strata of sound as Blanche's own Blanche begins to come apart.
In track 11 punchy Stravinskian and rather desiccated music predominates. In Soliloquy [12] subtle hints and suggestions are presented in a tone of jazz impressionism like a three-dimensional mosaic jangling and shaking. The music uncannily catches C S Lewis's descriptions of Perelandra in his sci-fantasy Out of the Silent Planet. Recollections and shards of ideas crowd in with a giant music box quality.
The next track [13] continues in this vein but is not quite as lyrical. It several times hints at Stravinsky's ballet The Firebird with creeping nocturnal noises. Out of mystery there is a scream of the high brass in spasm at the end of the cue.
Next comes a low temperature romantic interlude with further suggestions of The Firebird. Excellent stereo separation of harp and piano display the fine qualities of the recording. Blanche's deeply romantic self-delusion is a delusion of great sweetness. In track 15 Blanche is clearly in love with her dream-delusions even in the moment of her brush with reality and of her retreat into them again. The music rises from a Mahlerian neurosis and settles back into Khachaturian and Borodin territory.
North, in this very fine score, demonstrates a restrained, ineffably effective, lyric genius. He can mobilise Hollywood gaudy when he needs to but he is never cheap and the final track glows with affirmation and ends with a snatched climax and not even a rose-blush of cliché. This is music of great and challengingly lovable distinction and has 12 pages of liner-notes to match.
Reviewer

Rob Barnett