Music Webmaster Len Mullenger

FILM MUSIC RECORDINGS REVIEWS

JANUARY 1999
---
For those wishing to print these reviews there is also a scrolling copy available without CD covers text only

© Film Music on the Web 1999. All rights retained. Reviewers retain copyright on their reviews. Disclaimer

COMPETITION WIN a CD of your Choice from Crotchet

*******************************************************************
EDITOR'S CHOICE - CD of the Month January 1999
*********************************************************************
| | | |
| --- | --- | --- |
| Randy NEWMAN Pleasantville OST VARÈSE SARABANDE VSD-5988 | | |
| | | |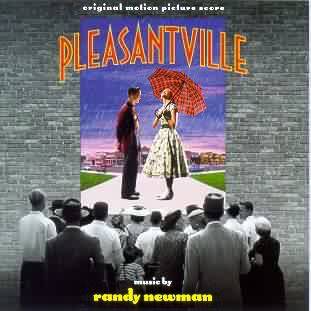 It is always a pleasure to welcome a new score from Randy Newman, nephew of the great Alfred Newman. Randy Newman's credits include: Awakenings; Maverick; Avalon; James and the Giant Peach; The Natural; The Paper; and Parenthood. Composer of acerbic, satirical and witty songs, his scores often show a sardonic sense of humour and whimsy. For Pleasantville, therefore, Randy Newman was a natural choice.
Pleasantville has yet to reach the UK but I have seen trailers of this film in which a young couple suddenly find themselves transported from modern-day America with all its stresses and bickerings into the black and white, two dimensional, 1950s/60s period, TV soap opera "Pleasantville" where they are absorbed into, and commence to disturb, and literally bring colour into its continuing story line.
The opening cue immediately gives us a taste of the cosy atmosphere of "Pleasantville" with a big band rendering of its romantic theme - so very redolent of its period. "Real rain" is a magical cue - again we have this warm comfortable nostalgic glow; the scoring is principally for strings and piano with those tiny-tinkling-bells effect suggesting scatterings of fairy dream dust. It is all so very innocent and at the same time evocative of small town America - an enchanting track. "Bud's a hero" continues this local feel - a wittily bombastic but warm-hearted tribute to a local hero, beautifully scored especially for the percussion section. "In the bath" is hesitant and coy; enchantingly fairy-like music in which female voices add to its fantasy appeal. "Mural" is more of an ecclesiastical meditation with divided strings; it is a lovely creation - romantic, ecstatic, mystical.
The encircling music for "Make-up" is delightfully coy and feminine. "The art book" that brings colour into the lives of the citizens of Pleasantville is softly-romantic-tinged Copland. "Punch" is as busy as a bee and quite as stinging while "Together" seems to suggest practise for a brass band - all swagger and splendour. "Waking up" is nostalgia tinged with regret and a distant echo of "When You Wish Upon A Star." So too is the charming "No Umbrellas" but with a hint of tragedy stated by low woodwinds. "Burning the Books" ushers in violence and disillusion and, perhaps, acceptance of a changed order in the more peaceful "The Aftermath." that has some fine string writing.
"A New Day", at five minutes duration, is the most substantial cue in the score. It opens pensively but more stirring local band music soon follows plus a little more of the fairy dust material and some heroics. Then we have some folk song material which is reminiscent of the partridge in a pear tree theme from The Twelve Days of Christmas. Comfortable nostalgic music with tremolando strings follows with that "Wish upon a Star" feeling.
"Goodbye" is again nostalgic without contributing anything new and the final cue "Let's go bowling" after a tuba haunted short cue "Sweater" is a cheerful, exuberant rhumba-rhythmed ending to a marvellous score. Pure enchantment

Reviewer
Ian Lace
---
| | | |
| --- | --- | --- |
| Erich Wolfgang KORNGOLD The Private Lives of Elizabeth and Essex (World Premier Recording of the complete score) Carl Davis conducts the Munich Symphony OrchestraVARÈSE SARABANDE VSD-5696 [65:35] | | |
| | | |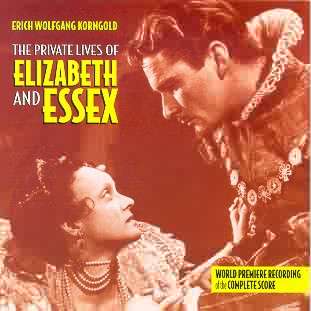 Korngold's approach to his film scores was operatic and of all his scores, he regarded The Private Lives of Elizabeth and Essex as the one that could most easily have been developed into an opera. The film is very much a literal and theatrical treatment of Maxwell Anderson's original play with the emphasis on its two main characters and its limited scenic range (Indeed one only has to recall the "fog and bog" set designs for the Ireland sequences which reinforce this theatrical feeling.) Korngold cannily seeing the screenplay as an expression of timeless, universal ideas of love, ambition and duty and their interactive corrosive effects, elected not to use any Tudor-period source material or to write in the style of that period, but to employ a full-blooded, modern late Romantic score with a large orchestra that included three saxophones, two harps, a piano, a spinet, an organ, a vibraphone and a harmonium.
The film starred Bette Davis and to her dismay Eroll Flynn who did not particularly want the role fearing, rightly, that Davis would overshadow him (she would have preferred to have starred opposite Laurence Olivier but he was not a big enough name in Hollywood when the film was being made in 1939). Yet, interestingly, Davis, many years later, admitted that Flynn was better than she had thought at the time.
[In passing, here, I would make a plea to those who shape the policy for the Academy Awards. Surely, to celebrate the Millennium, there should be some recognition for the artists the Academy passed over during the 20th Century through, shall I dare say it, politics or prejudice? Why cannot the Academy give posthumous awards to these stars? I would nominate Errol Flynn to be one of the first artists amongst them.]
The play/film took certain liberties with the facts to make the dramatic points already identified.
It is unlikely that the Queen Elizabeth I and Robert Devereaux, the Earl of Essex were actually lovers as suggested. Essex was certainly a favourite and dallied with the Queen's affections but he was only 34 when he was beheaded while the Queen was 68 two years short of her death.
This is the premiere recording of the complete score which unfolds in the chronological order of the screenplay. It is presented on this disc in the form of six suites that broadly follow the main events of the film: Elizabeth and Essex; The Queen; Reconciliation; Ireland; Essex Returns and The Tower of London.
The Main Title, and the course of the music in the first suite, contrasts the Queenly majestic, with the swagger of the headstrong young Essex and the love theme for the romance between Elizabeth and her bold young hero. This is Korngold at his dashing and hauntingly romantic best. The March is one of Korngold's finest inspirations in this genre, perfectly capturing the character of the cocky Essex. The deeper more introspective music suggests Elizabeth's more considered view of Essex's empty victory over the Spaniards, but it is the absolute refulgence of the music for the royal romance that lingers in the memory.
The Queen, suite two, is concerned with feminine politics. The music underscores the scenes in the palace. We first hear music for a military courier who has hurried to inform the Queen of defeat in Ireland we then have a theme that mocks the pomposity of the court - nice tongue in cheek Korngold this; but the main thrust of the music is with the Queen and her ladies in waiting. Lady Penelope (an unusually waspish and jealous part for Olivia de Havilland in a supporting role) who is a rival for the affections of Korngold goads the Queen to fury when she sings a song taunting her about her age. (The heavy irony is implicit in the stinging harpsichord part). The mirror scene confirms only too well that Elizabeth's charms are fleeting and one cannot help but compare Korngold's sad sympathetic music with that of Richard Strauss for his Marschallin in Der Rosenkavalier. Then there is the warmth of the Queen's consolation for the grief-stricken Margaret who has lost her lover in the wars. This is a sharply observed and beautifully designed segment of the score.
The third suite is called Reconciliation and it brings Essex and Elizabeth together again after the Queen had banished her young hothead from her court. The suite begins with exultant hunting music as Essex's friend, Sir Francis Bacon, finds him in full pursuit of his quarry. Bacon advises Essex to return to court to save the Queen from being misled by unscrupulous courtiers. The music thus speaks of furtive conspiracy but humour follows not far behind as Essex baits Raleigh by dressing the palace guards in the pretentious silver armour which Raleigh had assumed for himself. And, of course, with the lovers reunited the music also mellows and softens into the romantic again but beneath it all Elizabeth displays an iron will, she will not be duped into allowing Essex to ascend to the throne.
Suite four takes us to Ireland for Essex, despite the Queen's warnings has been coerced into taking command of the Irish campaign but the guerrilla tactics of the Irish under Tyrone (a miscastAlan Hale) and the weather prove too much and Essex's dreams of glorious victory end in an ignominious truce. After a swell of the romantic themes comes Korngold's battle music which is not quite so assertive, it's more subdued, swagger being displaced by a tired and tattered disillusion as his soldiers try to fight an elusive enemy hidden in swirling damp mists. To add to the misery Essex's letters to the Queen and Essex have been intercepted by Palace conspirators.
The music of suite five is very dramatic. Essex returns to London not in defeat but at the head of an army prepared to claim the throne. He lets his feelings for Elizabeth triumph and instead of riding roughshod he visits her and tries to persuade her to rule with him but although she undoubtedly loves him, she ultimately refuses and orders her guards to arrest him. Korngold's operatic gifts are in full flow here adding another dimension, there is the initial victorious music for Essex's arrival, then for the dignity of the Queen before her softening to Essex's ardour (three saxophones heighten the sweetness of his passionate pleadings) Then Korngold passionately emphasises the Queen's mental turmoil as she struggles between love and duty and you feel her attitude hardening as she sends him to his fate in the Tower.
The final suite is of course darkly tragic for it is set in the Tower as Essex awaits his execution.
A last minute attempt at reconciliation only confirms to Elizabeth that Essex would make a totally unsuitable monarch so, for the safety of her realm, she is obliged to sacrifice him. Korngold sympathetically illustrates her tragic dilemma, her conflicting emotions and loyalties in the most poignant music. The execution scene is starkly vivid: a dejected march to the scaffold accompanied with bleak drum rolls and trumpetings as the Queen mourns. The End Cast music brings the score to an upbeat and brilliant close.
Carl Davis, no stranger to the best of historic film scores, draws an inspired performance from the Munich players.

Reviewer
Ian Lace
---
| | | |
| --- | --- | --- |
| George GERSHWIN The Ultimate GERSHWIN 4CD set PULSE/CASTLE PBXCD 407 [4hrs.52mins] | | |
| | | |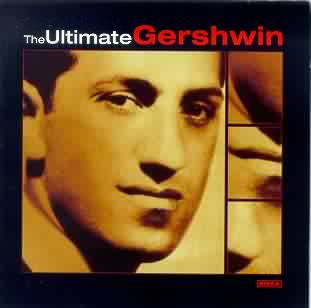 I encountered this incredible bargain when I visited a local record store recently. My eyes nearly popped out of my head - four CDs of first rate Gershwin for just under £10 that's about two thirds the cost of one full price CD!. This collection is of recordings, beautifully refurbished, made in London and New York in the 1920s, 30s and 40s. Here is some idea of the mouth-watering contents.
CD 1 begins with the Rodney Greenberg recommended (in his Phaidon book, George Gershwin) performance of Rhapsody in Blue (recorded in 1924) with Oscar Levant and Eugene Ormandy conducting the Philadelphia Orchestra. Levant, a brilliant pianist, was a great friend of Gershwin and a great performer of his music. Levant's mordant wit and lugubrious wisecrackings are felt in his refreshingly unsentimental, rather droll interpretation of the Rhapsody. Listening to his rapid-fire quicksilver playing, he seems to inject many extra notes into the work and you could swear that there were more than two hands at work here. He is ably supported by an equally mordant but highly colourful accompaniment from Ormandy. Just listen to that waspish long-held trumpet call.
Levant and Ormandy also collaborate in a recording of the Concerto in F (recorded in 1925). Again they convey a world-weary cynicism, a hard-boiled yet not unattractive view of the exciting urban pulse that is New York. Again in the sparkling outer movements, Levant's playing is risky and breathlessly exciting; the orchestra more concerned with the softer more romantic elements. The Andante is very interesting. This time the nocturne starts as though narrated by a man-about-town; it's a tougher view than the norm. One might then imagine the city waking up at dawn, the violin solo has a steely ring, the trumpet reveille is a no-nonsense call to work. Then sentimentality and nostalgia win and the tone softens and the music is that more affecting because of what has gone before.
George Gershwin is heard playing his own three Preludes in his own inimitable style; it is as though he is improvising them for they have such freshness and spontaneity. Prelude No.1 is a tango powered tour-de-force, Prelude No. 2 is a wistful blues-based nocturne while Prelude 3 is an up-beat, fast tempoed flappers delight.
Gershwin, himself, plays the celeste, in a wonderfully vibrant and amusing 1928 recording of An American in Paris with the Victor Symphony Orchestra under Nat Shilkret. It is perky, alert, confident, delightfully cheeky and full of telling characterisation. This American is really homesick but he is jolted awake by the appearance of a particularly coy and appealing Parisienne who absolutely exudes jungle allure. The percussion here are prominent as if to suggest his excited, thumping heart.
The CD concludes with the Cuban Overture - a colourful evocation of a sultry night's entertainment in Havana by Paul Whiteman and his Concert Orchestra with Rosa Linda (piano) recorded in 1932.
CD 2 is a compilation of 25 songs recorded between 1922 and 1945 all charmingly rendered in the styles of their periods. All are pearls. I would just mention a few. The laid-back Mr BingCrosby crooning "Somebody Loves Me"; George Gershwin, himself playing "Fascinating Rhythm" to accompany Fred and Adele Astaire; Sophie Tucker's assertive rendition of "The Man I Love"; the extraordinary, inimitable and enormously expressive Whispering Jack Smith singing "Clap Yo' Hands"; Gershwin playing "Someone to Watch Over Me" and "S'Wonderful"; Peggy Lee wondering "How Long Has this Been Going On?"; Judy Garland's radiant singing of "Embraceable You"; and Fred Astaire's wonderful, own way with "They All Laughed", "Let's Call the Whole Thing Off" and "Nice Work if You Can Get It."
CD3 is devoted to the Gershwin of the Jazz bands with recordings made between 1928 and 1937.
It opens with a shortened version of the Rhapsody in Blue without piano. It is a hoot! 'Totally irreverent and incredibly cheeky and blowsy in the wild style of the 1920s. In short it is hysterical and bloody marvellous. Again we have 25 tracks; most of them little gems. To mention just a few: Fletcher Henderson swinging "Somebody Loves Me" and "Liza", the latter very joyously and infectiously; then Art Tatum (piano) plays "Liza" in contrasting poetic, dreamy mode before he too races off with it at a breathless pace. The incomparable Fats Waller really goes for it in "I Got Rhythm" and Benny Goodman's Trio relaxes with "Lady Be Good"; The Inkspots sharply realise the rhythm of "Slap that Bass" - mmm, mmm, mmmm; zoom, zoom, zoom; and Tommy Dorsey's ringing and delightfully strident brass sound out "They All Laughed" while Billy Holiday and her orchestra "They Can't Take That Away from Me".
CD4 takes Gershwin and the jazz bands from 1939 up to 1947. I would single out from these 25 tracks: Doris Rhodes singing the slightly risqué "Lorelei" with the Joe Sullivan Septet; "The Man I Love" played by the Quintette of the Hot Club of France featuring Stephane Grapelli and Django Reinhardt; Louis Armstrong with that golden trumpet and that gravelly voice in his rendition of "Love Walked In"; The Benny Goodman quartet - wonderful in guess what - "S'Wonderful"; Felix Mendelssohn and his Hawaiian going wild Hawaiian style for "I Got Rhythm"; and the Art Tatum Trio hotting up and racing away with "Liza."
The debit side is that there are no notes to speak of; just track listing and dates and locations of recordings. But who cares? What does it matter? Notes are widely available elsewhere.
Verdict: rush, rush out and buy this one before all the copies are snapped up!

(Historical)
Reviewer
Ian Lace
---
| | | |
| --- | --- | --- |
| Alex NORTH 2001 (the Unused Score) Jerry Goldsmith conducts The National Philharmonic Orchestra VARÈSE SARABANDE VSD-5400 [35:39] | | |
| | | |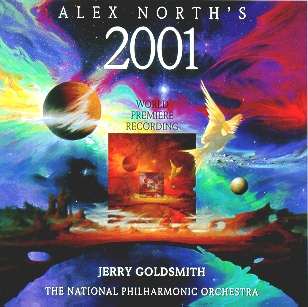 The catalogue of film scores commissioned and then dumped in favour of someone else's work is extensive. The situation has a fascination all of its own; `what might have been'. Herrmann's score for Torn Curtain, Walton's for The Battle of Britain and here Alex North's score for the epochal score of the 1970s: 2001'are all examples.
The music was commissioned for Stanley Kubrick's film and it was only as North watched the first commercial showing that he discovered that his own score had been discarded. In its place the world was offered existing classical scores including slices of avant-garde Ligeti and, for the spacecraft ballet, Strauss's Blue Danube waltz. Richard Strauss's Also Sprach Zarathustra opened the film in awe-inspiring grandeur. For both Ligeti and the Strauss Estate the film must have sold many thousands of classical albums. Ligeti must surely have been delighted. As for North he was devastated.
Now we get the chance to make our own judgement and of course it is possible, with some dexterity, to play the film with North's score rather than the classical anthology.
The score opens in gloom with a deep brass rumble and the first track is distinguished by smashing blows which have the aural quality of iced glass disintegrating under hammer-strokes. A pallid emotionless cold permeates the next track as the grey gods look down.
Next comes a heavily percussion-driven track - perhaps influenced by North's orchestrator Henry Brant. This was no doubt also affected by Stockhausen's concert music of the day. Henry Brant was much in sympathy with this then-trendy avant-garde and this also shows in the wispy ideas, cloud segments and modules of sound in the next track. It may well have been this element that put Kubrick off.
A Panufnik-like contrast of high strings with deeply murmurous brass leads into bitter resolve in face of devastating odds as suggested by track 6. This grand stance reminds me of the mood of Copland's Lincoln Portrait and the brazen cordite-blackened fanfares beloved of William Schuman.
Track 7 strikes the first delightfully carefree note with a light-as-featherdown dancing theme of great and memorable quality. It has something of Sibelius 4 with its dancing woodwind and strings - light and high and blown by summer breezes. I have also heard works by Walter Piston in similar vein. Holst's Mercury is also not far away from this track. A wonderful cue. For heaven's sake why not play it now, and repeatedly, on Classic FM. Just listen. It is Ravelian and dripping with Hollywood's grand romance. The Trip to the Moon [8] is an airy torrent in slowest of treacly motion in much the same line as the previous track but calmer and quieter.
Moon Rocket Bus has a distantly balanced solo soprano voice half removed from VW's Antartica and close to another V: Villa-Lobos's Bachianas Brasileiras No 5. This is driven forward by quite an urgent pulsing beat in the mid-range strings. The proceedings are lit by celesta, bells and vibraphone effects.
Track 10 is all glimmering stars and swirling glittering dust delivered with a fetching lyricism also found in the next track. The final entr'acte [12] is a strange contrast with confident strident brass chorales, jazz big-band sound, a dollop of Sousa and a dash of wild dance. The entr'acte seems almost a non sequitur after all that has gone before.
The music, as described in the excellent booklet, is apt to the picture - of that there is little doubt. The disc makes a satisfyingly challenging listening experience but the immediate enjoyment is concentrated in tracks 7 and 8 which deserve celebrity cue status along with Waxman's Ride to Dubno and Bliss's March from Things to Come.

Reviewer
Rob Barnett
---
| | | |
| --- | --- | --- |
| John WILLIAMS Superman John Debney conducts the Royal Scottish National Orchestra VARÈSE SARABANDE 2CDs VSD2-5981 | | |
| | | |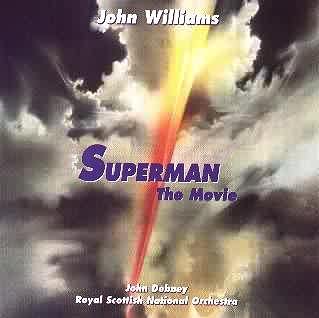 From the CD booklet I was amazed to read that the original music for this film written only twenty years ago was lost and that significant time and effort had to be invested in locating it. I have to say right from the start that I am in two minds whether it was worth the trouble. After all, Warner Bros records did issue a memorable two LP set of the music in 1978, in very good analogue sound with the composer conducting (I think) the London Symphony Orchestra in a marvellous performance. True, this new recording (in stunning 20bit digital sound) offers the most complete version of this terrific score so far available on disc but it must be argued that Williams recorded (and presumably chose) the best of the score.
We meet some of the new material right at the beginning in the Prologue which is a sort of impressionistic picture of the depths of space set immediately after the opening Superman. Listeners will be in two minds about this. After several hearings one gets used to the interruption and will welcome it as being valuable and interesting material, but on a first hearing it could jar in that it blunts the impact and thrill of the unfolding of the thrilling full Superman theme. The following two cues follow the original Warner Bros recording closely, in fact Williams is marginally slower: "The Planet Krypton" (Williams: 4:45; Debney: 4:35); and "The Destruction of Krypton" (Williams:5:58; Debney:5:27). The new recording really scores in the next cue "The Trip to Earth" revealing so much rich quicksilver detail; this is a sort of Holst's Mercury-like scherzo. The same comment applies to "Growing up" that follows, it is in much the same mood and underscores those early scenes as Superman is growing up and discovering his phenomenal powers. (This track although recorded by Williams and included on the LP and the two CD set was omitted from the one CD reduction.) I was also impressed by Debney's moving rendition of "Jonathon's Death" and "Leaving Home" the latter cue includes one of John Williams's loveliest and most noble and poignant melodies. The stand-out cue, for me, in the whole of the Superman score is "The Fortress of Solitude". Williams's own reading was very beautiful - sheer poetry. Unfortunately, Debney begins this track very well but then ruins it by allowing the inclusion of what I think is an electronic instrument recorded much too far forward so that it diminishes and ruins the effect of that gorgeous long-breathed string melody that enters at about 6:00, which is a pity because the RSNO strings are ravishing.
The second CD is good, especially the final two tracks but the level of inspiration cannot match the first CD for themes already introduced are repeated through many of the tracks albeit brilliantly developed. It is difficult to make a close comparison with the Debney and Williams albums here because Debney organises the music quite differently and the cue names are often dissimilar. CD2 begins with some new material in "The Helicopter Sequence" full of tension and drama, and disonant clashes until the Superman theme enters first hesitatingly then resplendently to overcome them. "The Penthouse" and "The Flying Sequence" sweep up some of the romantic elements very well with the frisson of star/dream dust steeled by other figures that crackle with vitality suggesting the thrill of Lois's flight in her hero's, Superman's, arms; minus, thankfully, "Can You Read My Mind" which disfigured the original Williams disc. Debney also scores in underlining the grotesque buffoonery of Lex Luthor's bumbling assistants in "The Truck Convoy" and "March of the Villains." But as I intimated above the real power is reserved for the last two cues: "The Prison Yard and End Titles" showing off the Superman theme in all its glory, and the full romantic treatment is accorded to the final cue which is the "Love Theme from Superman." Debney and the RSNO really give us full-blooded "all-stops-out" renderings of both. After several hearings of this set I have grown to like it more and more but I would not swap it for the original, wonderful Williams recording.

Reviewer
Ian Lace
Paul Tonks adds:-
There has been a deal of controversy amongst listeners over this release. Some of it rather specious. As a re-recording it has apparently let some people down in not matching Williams' original 100%. What I noticed about most such outbursts, is that they appeared rapidly following a first listen. I wonder how many got so caught up in finding fault with the music that they left no room for considering what possible reasons contribute towards two recordings sounding different from one another. For one thing, this was crafted in 2 days. Williams would have had more like 2 weeks back in 1978...
The most important aspect of this album should have gone a long way to quashing such dissatisfactions (but perplexingly hasn't). The shocking truth is that all the original score parts are lost; no-one knows where. That left only the composer's sketches to work from. The re-construction therefore follows those original notes before twiddles and tweaks were made by the director. What's up there on screen ain't necessarily what's down there on paper. Apart from the ingratitude displayed towards the album's efforts and intentions, listeners should certainly be grateful that there now exists the hardcopy parts available for live performances.
To get into what separates this from the Warner release, these are some of the new cues: "Jonathan's Death", "Helicopter Rescue", and "The Penthouse". There's the gentle tragedy of seeing off Pa Kent in the first. Full-on adrenaline coursing through the second, and some wistful quietude in the last. You pretty much have to know what you're getting coming in on an album like this though, so I don't really feel the need to add to the reams of existing commentary.
This performance benefits from the great brass section within the RSNO. John Debney couldn't hope to do more than justice to the piece, and indeed he has. If you want more music - here it is.

Reviewer
Paul Tonks
---
| | | |
| --- | --- | --- |
| Alex NORTH A Streetcar Named Desire Jerry Goldsmith conducts The National Philharmonic Orchestra VARÈSE SARABANDE VSD 5500 [46:48] | | |
| | | |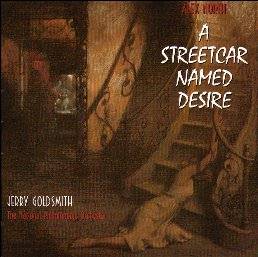 Since hearing the superb Rykodisc reissue of North's score for The Misfits I have wanted to explore and share more North. The December 1998 issue of Gramophone with outstanding contributions from reviewer Paul Tonks has offered even more tantalising information and I am certainly keen to review North's scores for Spartacus and Cleopatra.
North was active in the field of popular music and wrote at least one major hit. This background often shows in the film scores with jazzily symphonic inflections. The present music reminded me of another of my 'discoveries': Michel Legrand's The Thomas Crown Affair. There are quite a few stylistic parallels between the two although Legrand's jazz has a Gallic element absent from North's.
The disc opens with a track deep in the jazz melos. Swirling clouds of sound, screaming brass and woodwind and a jazzy piano solo grab the foreground. In the second track roulades of dark piano notes concertina across keyboard to the accompaniment of satisfyingly chuntering jazz brass. You can see where Bernard Herrmann may have found some of his inspiration for Taxi Driver.
The waterfront smog evokes the world of Raymond Chandler's Philip Marlowe as well as having a Transylvanian-Gothick gloom. This is moodily threatening and at the same time comfortably enfolding you in the 1940s mist.
Track 4 offers an unsettling serenade of liquorice-sweet quality and 'Gershwinnying' brass seeming to limn a negro spiritual. As a contrast track 5 has the sedate music-box tinkling of the 'Warsowiana' collapsing into a traditional Friedhofer-type grand score redolent of classic Hollywood.
The Stan and Stella track is slow and sexily wayward with ululating clarinet, dark blues, all delivered in a sensuously smoking, lazily sizzling accent. This style carries over into Blanche [7].
Blanche's psychological meltdown is represented by a quasi-atonal high string serenade lapsing back into her fantasy world evoked by an easy summertime serenade: 'Fish are jumpin and the cotton is high.'
Track 9 begins as a continuation of its two predecessors but darkens with echoes of Borodin's lyricism and the greater complexity and Shostakovich's scorched and blackened edges. Khachaturian's lyricism should not be a surprise visitor to a North score. North had strong family connections with the USSR and also spent some time there early in his career.
Track 10 delivers some very powerful emotional shudders and wails. There is a sense of a great unfolding and steady tearing between the high and low strata of sound as Blanche's own Blanche begins to come apart.
In track 11 punchy Stravinskian and rather desiccated music predominates. In Soliloquy [12] subtle hints and suggestions are presented in a tone of jazz impressionism like a three-dimensional mosaic jangling and shaking. The music uncannily catches C S Lewis's descriptions of Perelandra in his sci-fantasy Out of the Silent Planet. Recollections and shards of ideas crowd in with a giant music box quality.
The next track [13] continues in this vein but is not quite as lyrical. It several times hints at Stravinsky's ballet The Firebird with creeping nocturnal noises. Out of mystery there is a scream of the high brass in spasm at the end of the cue.
Next comes a low temperature romantic interlude with further suggestions of The Firebird. Excellent stereo separation of harp and piano display the fine qualities of the recording. Blanche's deeply romantic self-delusion is a delusion of great sweetness. In track 15 Blanche is clearly in love with her dream-delusions even in the moment of her brush with reality and of her retreat into them again. The music rises from a Mahlerian neurosis and settles back into Khachaturian and Borodin territory.
North, in this very fine score, demonstrates a restrained, ineffably effective, lyric genius. He can mobilise Hollywood gaudy when he needs to but he is never cheap and the final track glows with affirmation and ends with a snatched climax and not even a rose-blush of cliché. This is music of great and challengingly lovable distinction and has 12 pages of liner-notes to match.

Reviewer
Rob Barnett
---
| | | |
| --- | --- | --- |
| Bruce BROUGHTON The Master of Ballantrae Bruce Broughton conducts the London Sinfonia PROMETHEUS PCR 501 [49:19] | | |
| | | |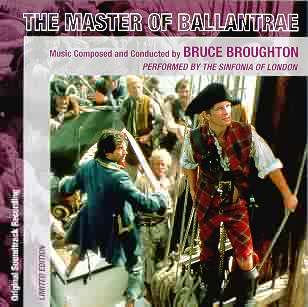 Bruce Broughton is probably best remembered for his scores for Silverado; Young Sherlock Holmes; Honey; I Blew Up the Kid; and Tombstone. The Master of Ballantrae, set in 18th Century Scotland, was filmed in 1953 starring an ageing Errol Flynn; but this is the music for the 1984 TV mini series that starred the rather wooden Michael York (no Flynn, he). Broughton used a small orchestra to generally splendid effect, to add atmosphere and thrills to this swashbuckler of the glens, the high seas and India.
Broughton did his homework in London researching hundreds of old themes to use as his model eventually choosing to weave two Scottish themes through the score. The first, complete with bagpipes, is strong and full of swagger and the promise of adventure. The second theme first appears in the cue Rowan Tree and it is softer, more tender for the more romantic and intimate scenes.
Much of the music is darkly dramatic. "The Battle at Sea" cues are unusual. Beginning with a quiet remembrance of home, the music broadens and hints at salty seas and exotic locations with music that has a definite oriental/Indian tinge and grows more and more sinister. Intrigue is clearly afoot. Some of the material is very reminiscent of the more violent moments in Vaughan Williams 4th and 6th Symphonies and the influence of Herrmann is quite apparent too. Turbulent seas are portrayed and hand-to-hand combat between colliding ships' crews suggested. Broughton uses his spare orchestral resources imaginatively but their thinness does not have the power of a full symphony orchestra to really convey thrills and menace.
[This brings me to a pet hate. TV drama serials (and I am pointing the finger mainly at UK productions), some years ago, used source music from the classics by Wagner, Richard Strauss or Nielsen etc - i.e. - full-powered, full-blooded, Romantic music played by large orchestras which added much to enjoyment and credibility of the programmes. Now, too many of these programmes employ anaemic scores (that are often poor plagarisations of well known classics) played by ridiculously small ensembles and the effect is that they not only don't add excitement, romance or atmosphere but (for me at any rate) they positively work against the TV screenplay. Yes, I do understand there are budgetry difficulties but if programme makers can pre-sell their product to many countries why can they not remember the musical requirements a little more? End of sermon]
The Far Eastern exotic influence is strongly developed employing ethnic instruments in the cue "Closing In" that has a quiet furtiveness. An attractive "Colonial Minuet" features flute, strings and harpsichord. Broughton employs the harpsichord and harp to considerable effect throughout - in "Trouble Sleeping/Dead Man Gone", for instance, to create an eerie, ghostly effect as memories disturb the sleeper.
An unusual album, worth exploring

Reviewer
Ian Lace
And Rob Barnett writes:-
This is one of those scores which would have benefited from more variety. It is quite individual in style, blending Scottish, Moorish and symphonic elements. However, after the first 20 minutes, it began to pall for lack of contrast.
The first track opens with a stentorian horn call topped off with salty sea-spray and Scottish-inflected phrase. This is delivered complete with braying symphonically caterwauling bag-pipes. I am usually allergic to this instrument but it fitted very well here. Let the wild adventure begin!
This is followed by a moody serenade and a hint (in the Caledonian elements) of Percy Grainger's wild Strathspeys and Reels and Malcolm Arnold's poetry (third Scottish Dance) and phantasmal humour (Tam O'Shanter). The music has none of the somewhat stuffy atmosphere encountered in some folksong adaptations.
If you are weary of commercial minimalism and the blandness of the many John Barry sound-alikes, give Broughton's score a spin. The music is gamely flavoured, and thank the Lord, it avoids bland tartan Scottishry. Instead it suggests a more essential Scottish mystery stretching back into prehistory (track 5) reaching deep into Celtic root-territory. The Moorish element is the paprika in the music and with it the oatmeal, whiskey and crowdie melt well together. Track 5 and 6 (Battle music) recall Rózsa's El Cid and Holst's Beni Mora as well as Shostakovich and Nielsen (the fifth symphonies of both).
Following track 6 Broughton, previously quite tough and bursting with swashbuckling invention, loses some of the initial drive and inspiration begins to dissipate.
The remaining highlights include the Adirondacks (8) sounding like a self-absorbed Indian dream dance, the Stewart elegy of track 9 with its acutely accented skirl of the brass and the reek of Whiskey fumes and peat-smoke and the final track which captures some of swooping ragged energy of the first track.
The plaintive voice of the oboe is strong in this score which reminded me of John Wilson's music for the BBC Scotland adaptation of Lewis Grassic Gibbon's 'Cloud Howe'. Now THERE is some music which deserves a concert piece to be made from it and a recording is greatly needed.
The goodish booklet is well stocked with photos and there is a modestly helpful bit of commentary. The strong photos seem splendidly to recall the original production.
I want to review more Broughton scores but this one would have benefited from representation through a suite. The sound is not ideally refined but is vivacious enough. Recommended for the adventurer. Prepare to be rewarded.

Reviewer
Rob Barnett
---
| | | |
| --- | --- | --- |
| Barrington PHELOUNG (with music by ELGAR [Cello Concerto] and Bach, Haydn and Dvorak) Hilary and Jackie OST and source recordings SONY SK 60394 [49:22] | | |
| | | |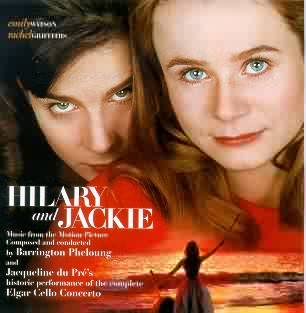 The story of Jacqueline Dupré is well known in musical circles. Du Pré a brilliantly gifted young pianist was strongly identified with the Elgar Cello Concerto although she recorded much of the cello repertoire. She rose to an early maturity and sustained that attainment until her premature death. Her story has been recounted in a recent biography by Hilary and Piers Du Pré.
This collection of about 15 minutes of original music by Barrington Pheloung and music by Elgar, Bach and Iris Du Pré is doubly attractive. The Pheloung music is strong and memorable. The Elgar Cello Concerto performance is gripping and real in a way that many `perfect' studio events can only weakly aspire to.
Barrington Pheloung's tracks 2, 4 and 6 use a long silky cantilena on highest violins with harp lighting the path and woodwind entries lightening the atmosphere. Sibelius Rakastava, Mahler's Adagietto (Symphony No 5 - Death in Venice being rather an apt echo here) and Barber's Adagio are all clear influences. The music also has some of the atmospheric pastoral requiem atmosphere of Geoffrey Burgon's music (available on Silva Screen) for BBCTV's 1980s adaptation of Testament of Youth. The music inhabits a quiet still world singing with that special blend of sadness and beauty.
Track 5 offers Iris Du Pré's Holiday Song for cello and piano. This is a dream-serenade with a strong whiff of salon charm. A Day on the Beach [7] is strikingly attractive - a marine picture breathing the deep surging currents of the sea. The cello cries heart-achingly above the waves. Pheloung has certainly heard Granville Bantock's Hebridean Symphony and the cry of wave and of Delius/Whitman's Sea Drifting, bereft and `solitary guest from Alabama' call out across the seascape. There is a pulsing passion here that is quite overpowering. This soon subsides and returns to the atmospheric and entrancing world of tracks 2, 4 and 6.
Track 7 is the undoubted highlight of the album. Utterly beguiling playing by Caroline Dale and the orchestra.
You are not getting much of Pheloung's original music but what there is definitely worth hearing. It can be appreciated and enjoyed with no knowledge of the film.
You get the most characterful performance of the Elgar concerto and you get it complete on tracks 8-11. For me this performance, first issued on CBS LP in the late 1970s, has spoilt every other performance I have heard, even the rightly-vaunted Barbirolli studio performance. For all Barbirolli's glowing embers and EMI's refined sound it cannot hold a cool candle to the torch-like intensity of Du Pré, Barenboim and the fabulous Philadelphians. This is a Hall Of Fame performance. When you get tired of clean all-star performances - ultimately transient delights - then turn to this for emotion and (to date) the best approximation of the concert experience. If you are allergic to the odd cough and must have the best sound then you will be disappointed. If you love the Elgar and can live with perfectly respectable 1970s sound then go for this CD.
Strongly recommended.

Reviewer
Rob Barnett
---
| | | |
| --- | --- | --- |
| John CORIGLIANO The Red Violin OST, Joshua Bell (violin) Esa-Pekka Salonen conducting the Philharmonia Orchestra SONY SK 63010 [66:12] | | |
| | | |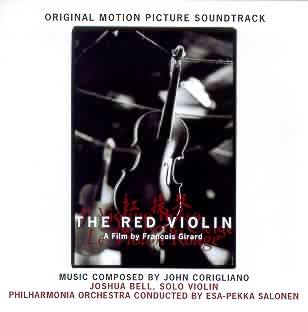 Some years there was a vogue for what were termed portmanteau films - films that were composed of two or three or more separate stories linked by a single theme that might have been quite tenuous such as passengers on a train or ship or visitors to a holiday camp; or it might have been an object a valuable possession passing through several owners and generations such as a Yellow Rolls Royce. Here we have an obvious choice - a valuable violin - the sort of possession that just cries out for the portmanteau treatment. Maybe it has been done before? I am not sure. Anyway it gives the producers and Joshua Bell the excuse - pardon me, the opportunity - to play music from many different periods and many styles as the violin passes through many hands through three centuries, beginning in Cremona where the violin is made, thence to Vienna at the height of its musical fame and then on to Oxford; next comes modern-day communist China and, finally, Montreal. On the way Corigliano ensures that Bell has plenty of opportunities to display his considerable virtuosity with the usual pyrotechnics.
I have to say that this score, for me, is a perfect example of the old adage, the whole is better than the sum of its parts. I am therefore taking the unusual step of splitting this review into two parts. First I will review the underscoring music and then the 17 minute composition, The Red Violin, Chaconne for Violin and Orchestra, which appears to have been assembled (an unkind word because as you will note this is a worthy composition in its own right) from the OST music.
The score, for solo violin and strings with spare use of percussion, starts with a female voice wordlessly intoning Anna's Theme which reminds me very much of Alfred Newman's love theme from Love is a Many Splendoured Thing. For a moment, I thought I was back aboard Titanic with James Horner and when Bell enters beneath in support and continues alone before being supported by the strings of the orchestra I felt I was in Schindlers List country. The music here is reflective and towards the end, beautifully rippling, but rather melancholy. The slow Main Title music written for strings prolongs and intensifies this feeling of melancholy rising to a tragic/passionate reiteration of Anna's Theme. "Death of Anna", placed on high strings suggests something profoundly evil or tragic. I have not seen the film (to the best of my knowledge it has not arrived in the UK yet) but it suggests to me thousands of bats screeching in a cave but it might also denote death from a plague? "The Birth of the Red Violin" is another cue that begins in the shadows which gradually lighten as the strings ascend; and one can guess at the skill and dedication invested in the creation of the violin. "The Red Violin" cue which ends the Cremona sequence is Bell's chance to show off some virtuosity.
The Vienna music opens in a more cheery mood. The style is Haydn or Mozart. Bell is allowed once more to do some double stopping and other technical displays as he stands in for Kaspar's audition and then we have a gently ornamented Baroque evocation of a "Journey to Vienna." A ticking metronome dictates the pace and development of "Etudes" (which is intrusive for repeated playings; this is a bad production judgment because this track contains some of Bell's most impressive playing). Appropriately mournful music accompanies "Death of Kaspar".
The Oxford sequence begins with the most extrovert and cheerful music of the whole score. "The Gypsies" gives Bell the opportunity to play gypsy-style and he clearly enjoys himself here. Ethnic instruments used in the backing help sustain an authentic feel and the music is influenced by Bartók and Kodály. "Pope's Gypsy Cadenza" speaks for itself. "Coitus Musicalis" wistfully recalls Anna's Theme with Bell pensive against high strings, then long held cello and middle string chords. Thi is one of the warmest and most appealing tracks with a lovely solo cello meditation.
"Victoria's departure" throws us into sadness and despair once more. "Pope's Concert" is impressive fast-tempo virtuosity. In "Pope's Betrayal" Bell develops Anna's theme disconsonantly then rebelliously for much of its length before an abrupt crescendo suggesting Pope's betrayal brings in the orchestra.
The China sequence opens quietly with the soloist playing long held chords in the violin's high register. Again the mood is sad and reflective in the "Journey to China" as though the music is weighed down by so much sorrow. "People's Revolution" is a modern Chinese (political?) folk song for children's voices and accordion seguing into a plaintive and infinitely sad comment by the strings reflecting on the way the tune was originally treated in years gone by and the feeling is intensified by another recollection of Anna's theme as the cue's second half, "Death of Chou Yuan" is reached.
The music grows darker and more tragic yet in the Montreal sequence for the "Moritz Discovers the Red Violin" cue - ghostly string slitherings give an eerie effect. "Moritz's Theme" is sadly but beautifully reflective - the Bartókian influence is here again. "The Theft" uses low strings and harp in suitable sinister, tension-filled mode with percussion punctuation. The final cue "End Titles" recalls the main theme as another Bell cadenza before the strings creep softly in with consolatory and compassionate commentary. A nice affecting ending to a score that demands some commitment from the listener. I have enjoyed it more on repeated listenings. But be warned, this music is preponderantly dark and melancholic.
Soundtrack

Reviewer
Ian Lace
The Red Violin - Chaccone for Violin and Orchestra.
Corigliano's 17½-minute work drawn from his music for the film is much more impressive. It is more richly scored, more varied in its emotional range and more colourful in its orchestration. Once more Bell meditates with a solitary female voice on Anna's Theme after a powerful orchestral opening. Then a sublime episode speaks of pastoral serenity; it is as though a flock of birds has risen abruptly skywards after feeding on the ground, disturbed by grumbling bassoons and bass drum before the violin and strings, and, later, woodwinds enter in Lark Ascending mode to restore peace. An ecstatic climax is reached rejoicing Anna's theme. As the brass enters the tempo quickens and the colours intensify as excitement mounts and the brass chases the strings with laconic, often violent, percussion punchings. A huge frightening climax is reached and the music fractures like shattered glass, an amazing moment this. Now we enter a remote and quite chilly fantasy region, the violin morosely reflecting at the top of its register, the orchestra's deeper voices maintaining an eerie low pedal point. Again the writing, in this part of the work, is imaginative with some very interesting touches - slightly atonal (I was reminded a little of Gary's abduction music from John Williams's Close Encounters at one point.) The music gradually regains its warmth and becomes more romantic and ardent. A harsher, crueller tone sometimes interjects. The music continues through another impressive show-piece cadenza for Bell and on through some very colourful and bizarre territory to reach a blazing conclusion.
Chaconne -

Reviewer
Ian Lace
---
| | | |
| --- | --- | --- |
| Geir BØHREN & Bent ÅSERUD Sista Kontraktet (The Last Contract) Terje Mikkelsen Conducts the Latvian National Symphony Orchestra MTG MTG-CD 58585 [52:00] | | |
| | | |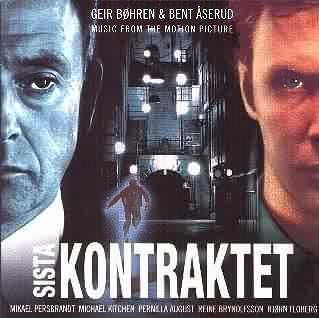 There is as much suspicion and theory about the murder of Swedish Prime Minister Olof Palme in 1986 as there ever was about JFK. This film tackles the subject bluntly, adapting an anonymously written book. For such a politically hot potato, you might expect some punches to be pulled. Though while the score is for the most part insinuatingly subtle, it saves some surprises for brief outbursts of tension.
The compositional duo of Bøhren and Åserud is very well known in Europe, and particularly in their Norwegian home. Exactly where the line splits as to who does what differs with every project. Since the collaboration produces consistently excellent material - so what ?
It took me some while to work out what the film's main theme reminded me of. In its most developed state, such as in "The Tragedy", it has a regal nobility. With that, the slight similarity to Morricone's Hamlet presented itself. It has that slow tragedian quality, even if in a more truncated fashion here. A more complex variation features in "The Contract", where a funereal beat underlines the theme alongside a lethargic tambourine. Like several of the cues, it erupts for a short with some furious energy. There is a secondary dramatic motif that bursts in and out with trumpet fanfare and the quickening pace of kettle drums. It makes its first impression with the overture-like initial cue "Olof Palme, The Uncompromising Statesman".
In the main, this really is a textbook example of unobtrusive underscoring. Throughout there are magnificent uses of footstep-like harp chords ("Two Steps Behind"), and gentle cello swirls ("The Puzzle"). "Planning The Attack" is a terrific 6 minute cue which sustains the interest through a series of gentle passages for string and harp. Despite the histrionics of a title like "Heavy Pressure", the cue is a spotlight for gentle bassoon and clarinet playing.
The last cue of the album is of a different style entirely. "The Family's Theme" is a solo trumpet speaking of Americana and humble folk. Concentrating on the piece, it really is hard to equate it back to the massed snare drumming and racy pulse of "The Assassin" or indeed the one-off use of a synth beat under nervy strings in "Robber At Large"
Overlook any doubts you may have about a CD with subtitles, and this will be a very pleasing surprise. The packaging is great, with composer photographs and a complete listing of the entire orchestra. This won't take you any closer to a solution of the Palme mystery, but it will have you wondering why you don't have more by these two fantastic musicians.
Reviewer
Paul Tonks

---
| | | |
| --- | --- | --- |
| Jordi SAVALL Marquise Savall's original music from the film, but mainly arrangements of music by Marin Marais; Luigi Rossi; Guillaume Dumanoir; and Jean Baptiste Lully. Le Concert Des Nations directed by Jordi Savall ALIA VOX 097 01 [68:09] | | |
| | | |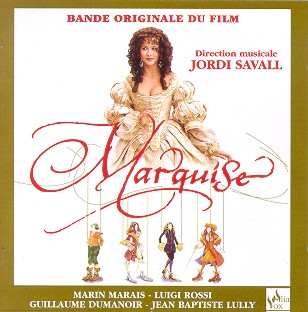 This CD is a complete delight and a pleasant change from the normal OSTs sent to us for review.
Marquise is a French film set in the 17th Century France of Louis XIV.
King Louis had a discerning taste and sensitivity for music which encouraged the evolution of music at his court and in the theatre. When appointed into Louis XIV's service, composer, Jean Baptiste Lully, helped to establish more firmly a musical style à la français which proved influential in the theatrical, and even more so in orchestral spheres during the Baroque era which had hitherto been extensively dominated by Italian repertoire. With the collaboration between Moière and Lully, the association of music and theatre found a new impulse - a true union between French and Italian styles, the one gracefully and gently enhancing the other.
The film. Marquise, traces the rise of Marquise, a courtesan from the streets of Paris into high society, working as an actress in the theatre where she is befriended by both Molière and Racine.
The music for Marquise is by 17th Century composers: Marin Marais, Luigi Rossi, Guillaume Dumanoir and Lully together with some anonymous compositions. Of the 31 short numbers in the programme, arranged in four suites to make varied and interesting listening, many have been arranged by Jordi Savall who directs Le Concert des Nations. Savall has also composed three numbers in the style of the others. In depicting the life and rise of Marquise, music from the streets, from Molière's theatre (Preludes, Sarabandes and Gavottes) and from the King's court is employed through the score. The well integrated ensemble playing of Le Concert des Nations, on what sound like period instruments, has verve and virtuosity. Most pieces are strongly rhythmical and attractively melodic. I would just mention a few. Imposing stately court music is heard in "La Marche Royale" and a short "Fanfare" composed by Savall; another original Savall piece emanating from the streets, is "Musette" which has a distinctly North African bazaar atmosphere. Then there is the delightfully feminine and graceful "Sarabande la Marquise". "Charivaris" is a delightful, high spirited dance, so too is another street piece "Marche" which despite its title is a very lively dance, while "Echos" has trumpets on and off-stage playing in canon. Darker, more sinister music (by Savall) for the more dramatic elements of the screenplay, comes in "Les Ombres" all low drum rumblings and deep viol dronings.
Highly recommended

Reviewer
Ian Lace
---
| | | |
| --- | --- | --- |
| John BARRY The Beyondness Of Things English Chamber Orchestra LONDON 460 009-2 [55:18] | | |
| | | |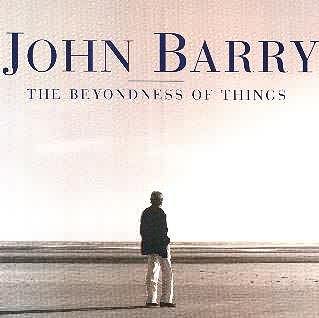 It is best to ignore the rumours that some of this album came about from rejected material (The Horse Whisperer) since it is a guessing game that detracts unnecessarily. What is unavoidable however is the realisation that John Barry writes music that just happens to perfectly suit film. It is impossible to imagine that the style we hove come to know and love would not have made it into the world in some fashion. Directors can count themselves lucky that film is the idiom in which Barry came to write his music.
So for the first non-filmic disc of his in 22 years (Americans), we are presented with music indistinguishable from his filmic style. This is who he is. About all that can be noted technically is that cues average out at around 4 minutes - a luxury most composers don't get with the increasingly mad-dash editing styles of recent years. Having said that, Barry certainly loves to carry a tune in his films, and his albums do usually feature at least one development of a theme that stands concert performance consideration. That of course became the selling point of this album earlier this year - that it would get a live performance.
The title piece commences proceedings at an atypically sedate pace. Something that is the key to 'getting' the feel of the man's music. A deliberately mellow rhythm that in film allows you time to think about its meaning. With no such visual stimulus, this disc is actually even more fun. As stated, there is an unavoidable conclusion that he creates pure cinema in music and the fun is therefore in creating the images yourself. I cannot recall ever having a collection of tunes ever insisting itself upon the imagination so much. Even obtaining a disc before the release of the film will at the very least have a booklet with pictures to suggest the look of it. Here we simply have the enigmatic titles to go with. So "The Beyondness of Things" is the first chapter of the film without a film, and its long-line melody speaks of an introduction to a land of breathtaking scenery and colour. Barry's omnipresent flute creates a midway melancholic breakdown, so obviously this is a land with a tragic tale.
The humble daily life of this land's people is communicated by Tommy Morgan's Harmonica in "Kissably Close". There's a casual jazziness in the piece, mainly from the flexible piano line. We are obviously taking a pleasant stroll through the aspects of commerce that introduce the innocent lovers to one another. As we roll into "The Heartlands", the first of use of choir soothes a potentially tragic string motif. The lead into Harmonica re-assures us that the lovers are safe for now, and some contrapuntal brass hint at the noble loftiness of their great love.
"Give Me A Smile" is the affirmation of their fate to be together - a montage of sea walks and hilltop picnicking. Small solos make for a particular tenderness in an otherwise predictable arrangement. Part of their courtship evidently calls for a wavy line dissolve to earlier times as they recall "A Childhood Memory", and indeed the (Born Free) innocence seeps out until suddenly - oh no ! - some snare drums lead into a family tragedy. Was Father killed defending the home perhaps ? Moving up and down between the upbeat and the solemn, this cue seems to want the extremes of joy and sadness from us. Once back to the present day timeframe, our lovers take an evening stroll with "Nocturnal New York", and here the day's activities in the land are contrasted with the night's (Body Heat). A sultry saxophone from David White paints our couple against a moonlit shoreline, and is sad enough to hint at never having got over the earlier memory. Thank goodness then for the joyous journey through "Meadow of Delight and Sadness". The racy drums and brass (Dances With Wolves), put them on horseback for a prairie dash across the lush scenery.
Taking a breather, they exchange "Gifts of Nature" with a flute and trumpet speaking to one another. Leaves drift on by in slow motion. They lean in, and finally kiss - to which the music swells. Something always has to go wrong of course. Once home to announce their feelings to family and friends, they are paid a visit by "The Fictitionist", a scallywag intent on muddying the waters of true love. He rides in atop sinisterly sustained strings, and tells his lies
punctuated by hard edged piano chords and a saxophone's subtle warning cry. By the time the couple return all is lost. No-one will take them in, and they are left pouring their hearts out aimlessly. The warmth of the strings brings no succour, and still the sax goes unheeded. Arising to the "Dawn Chorus" of a land outraged by the lies they've been told, it's a do or die decision before the lovers. How can their chorus of love communicate the truth under the piano and flute of disbelief. They are lambasted on all sides by the sadness of strings. Yet is there some hope in the theme's development towards sunnier sounds ?
It seems the lies will never be curtailed, and on "The Day the Earth Fell Silent", our lovers paths seem never to cross again. The stand poles apart and we catch the trails of their tears in musical close ups, which carry the discs' most affecting string movements. This being a an imaginary Hollywood movie, there is of course a happy ending. Once the truth of their love is revealed, everyone is called together for a "Dance With Reality". The jazziness of "Nocturnal New York" is recalled as the piano weaves in and around the brush of a drum, the sax's calm, and even a guitar's strumming. All is upbeat and jolly. Fade to black and cue Harmonica to carry the end titles.
There were a few bracketed nods toward Barry scores above, and it really is the case that this album would have done a film proud. The real origins stem from the possibilities afford by signing to the Decca label, and some pent up poetical cravings of the composer. Throughout the packaging are mini stanzas of poetry. The photo shoot used to promote the disc of Barry by sea just reeks of the romantic soul. Since the result is 12 prolonged pieces of romanza, this is the best Barry soundtrack in years.

Reviewer
Paul Tonks
---
| | | |
| --- | --- | --- |
| Michael KAMEN What Dream May Come OST DECCA 460 858-2 | | |
| | | |
Sweet-toned (and occasionally nightmarish) music from Michael Kamen. What Dreams May Come is a film of a romantic tale about the afterlife. It stars Robin Williams, Cuba Gooding Jr, Annabella Sciorra and Max Von Sydow.
Kamen has clearly been influenced by Gerald Finzi. Finzi's music has been extremely successful in the USA - perhaps more so than that of Vaughan Williams. Finzi's Introit, Eclogue and New Year Music are distinctly echoed in many of the tracks. Listen to track 2 for example. You can also catch the occasional reminiscence of Edmund Rubbra's style in the slowly unfolding mystery of many of the cues.
The rise and leisurely fall of the big theme is a footstep away from Basil Poledouris's Lonesome Dove music. it also catches the spirit of revivalist hymns sung in sepia-toned hues by the oboe. There are also some similarities with Nyman's music for The Piano.
The Eclogue atmosphere of track 2 is mixed with `Indian spirits' music rising to a clangorous and fearsome climax (like something from a symphony by Allan Pettersson). At 4:28 the solo flute evokes birds flying out of some nightmare into someone's dream. The steadily creeping magic of this section of the score is quite striking. It is like a slow motion film of a flower unfolding. This pacing carries over into track 3 with an easeful sense of release; answer and question; echo and sound.
Track 4 burst onto the scene with `Pines of Rome' freshness. Respighi in full sunlit glory. This is contrasted with a much quieter track [5] with a sombre sad song in keeping with Fauré's Ballade for piano and orchestra. The next track is a whisper-quiet harp dance like the harp concerto by Boieldieu. As a total contrast track 7 (In Hell) is all discord and cross-currents - a modernised whirling blast furnace comparable with Tchaikovsky's Francesca Da Rimini. It however strikes me as rather repetitive. Kamen next triumphs gloriously in track 8 with all the stops pulled out and French horns in full-burnished glory (1:20). Tracks 9-11 are moodily undulating music substantially recalling earlier tracks.
The final track [12] has Mick Hucknall sensitively singing `Beside you'. While the music matches the spirit of the soundtrack, the words fall short of the music and of the singing.
Largely a very pleasant souvenir album but in tracks 1, 2 and 8 Kamen offers music of remarkably fresh imagination and occasionally glorious sweep.

Reviewer
Rob Barnett
And Paul Tonks thinks:-
Understandably, Kamen states that he responded to this film as a family man; the idea of not getting to say 'goodbye' properly to a loved one. In many ways, this is also true of one of his earliest scores for The Dead Zone. The idea of such a personal loss is hard to deal with. As a musician required to express that, you are going to be visiting some unpleasant places in order to draw it out. For What Dreams May Come, it sounds like he travelled to the very extremes. This is a very large score in every sense appropriate. It contains the most beautiful passages I have heard from him as well as some of the very darkest. This will most certainly become a part of his concert repertoire.
Densely orchestrated throughout, what most impresses is how the by now familiar Kamen sound always sounds best at its grandest. In recent years, only Mr Holland's Opus has given him the full-blooded opportunity to write large scale. 101 Dalmatians was mostly too kiddie, Jack was mostly too intimate a film, and Event Horizon was frankly a lost score (although the album does show that something quite decent was struggling to be heard). The scale of most of this album pretty much dwarves all these others however.
With the sense of size (overly) impressed upon you, the nitty gritty is that through the hour's length a close study reveals more subtlety than a first listen suggests. Alongside the dazzling sounds for dazzling visuals are gorgeous passages of underscore. Every cue is of generous length, and none sustain one mood for very long, so we will have to make do with a here and there approach. Guitar is a dominant instrument for the introspective remembrances, and opens "When I Was Young " as well as "Seas Of Faces". The regular Kamen harp offers the occasional glissando, and there's always his penchant for piano proving itself the most affecting of all ("Longing"). Flute and oboe both vie for sweetest solo at various stages.
I have to carp on about the bombast though. This is a movie about death after all, and in visiting Hell you have to expect a thunderous approach (unless you're Bill & Ted). "In Hell" is absolutely furious at the off, with an explosiveness of Herrmannesque proportions. There is something of the grand OTT style from Baron Münchausen here. Earlier in "Children's Melody", the lullaby gives way to heavy drum rolls and a sustained cymbal crescendo. It is that seaward sensation of moving up and down that carries everything along. There is never respite in the softer passages - after a while you know a passionate flourish is due.
So in all - thank goodness for the large canvass style picture. Someone like Kamen absolutely thrives in its environment. The catch ? That would be the "Beside You" finale if you don't happen to be a Mick Hucknall fan. The Kamen + artist + guitar approach is becoming almost predictable now. At least this one's a change from Bryan Adams...

Reviewer
Paul Tonks
---
---

COMPETITION WIN a CD of your Choice from Crotchet

Discs on these pages are offered for sale. There is also a page of search engines from a selection of on-line retailers here.
Please support this web-site by buying your discs here.
Disclaimer: Every effort is made to make sales links to the correct disc but, in the end, you must take responsibility for checking that what you are purchasing is what you want.
Some of these discs were not actually available for sale at the time of posting but a link has been made in anticipation of their forthcoming availablility.
Return to :
e-mail Len Mullenger len@musicweb.force9.co.uk