Film Music on the Web (UK)
Music Webmaster Len Mullenger
---
FILM MUSIC COMPOSER PORTRAITS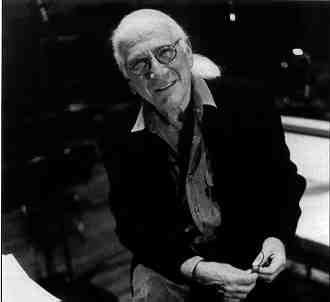 (3) Jerry Goldsmith
© Ian Lace 1998
"I think the work of Jerry Goldsmith is tops," declared a trombone player, with the Royal Philharmonic Orchestra, I met recently. He went on to say that although you can always tell a John Williams score by its sound, this is impossible with Goldsmith who is so very versatile and who excells in practically everything he writes for the screen.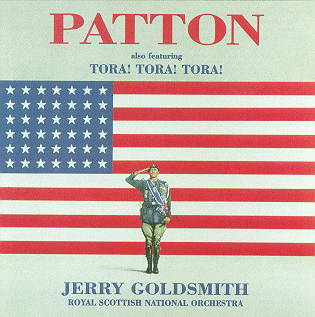 One of the busiest and most prolific film composers working today, Goldsmith was born in Los Angeles in 1929. He studied piano with Jakob Gimpel and composition with Mario Castelnuovo-Tedesco before completing his education at L.A. City College and the University of Southern California where he attended Miklós Rózsa's film music classes. He began his career on the lowest rung of the ladder as a clerk/typist in the music department of CBS. He persisted in his ambition and was rewarded, at CBS's famed Radio Workshop, by being given assignments to score live radio and televison broadcasts during the 1950s. The fact that so many of these scores were recorded live, allowed Goldsmith freedom to indulge in a certain amount of add-libbing (he played piano, organ and novachord in the small ensemble) enabling him to experiment and gain valuable insight and further his education. His first feature film was for a rather dour Warner/Montgomery western appropriately called Black Patch (1957). His reputation grew as his TV work increased for series like: Gunsmoke, The Twilight Zone and Thriller. He caught the attention of Twentieth Century Fox's music director, Alfred Newman who was impressed enough with him to persuade Universal to hire him to score Lonely Are The Brave (1962), Goldsith's first major film followed by the John Huston biopic Freud (also1962). Goldsmith's music for Freud was nominated for an Academy Award and confirmed his place amongst the leaders in his profession.
Jerry Goldsmith has scored over 150 motion pictures. His credits include: A Patch of Blue (1965); The Sand Pebbles (1966) Planet of the Apes (1968); Patton (1970); Tora! Tora! Tora!(1970); The Ballad of Cable Hogue (1970); The Mephisto Waltz (1971); Chinatown (1974); The Wind and the Lion (1975); Islands in the Stream (1977); Alien (1979); Star Trek - The Motion Picture (1979); The Final Conflict (1981); The Secret of NIMH (1982); Under Fire (1983); Legend (1985); Hoosiers (1986); The Russia House (1990); Total Recall (1990); Basic Instinct (1992); Rudy (1993); The River Wild (1994) and First Knight (1995).
He is still remarkably busy and his most recent scores include: Powder (1995); City Hall (1996); Executive Decision (1996); Chain Reaction (1996); Star Trek: First Contact (1996); The Ghost and The Darkness (1996) and Fierce Creatures (1997); L.A. Confidential (1997) and The Edge (1997) as well as a new logo fanfare for Universal Pictures.
Goldsmith has won countless industry tributes and awards including sixteen Academy Award nominations and the 1976 Best Original Score Oscar for The Omen. He has also received five Emmy awards, the latest being for Star Trek: Voyager. In 1995 Daily Variety made Goldsmith the first recipient of its newly established American Music Legend Award. He regularly conducts concerts of his music all over the world.
Jerry Goldsmith has also begun a series of archival recordings featuring the music of his friend and mentor Alex North (1910- 1991). The series began with the world premiere recording of North's 2001 and continued with the landmark scores from A Streetcar Named Desire and Who's Afraid of Virginia Woolf? He is also busy recording many of his own major scores for Varése Sarabande including Patton; Tora! Tora! Tora! (both together on one CD), The Sand Pebbles, and Frontiers (see our review) an album of his classic science fiction themes including: Alien; Logan's Run; Twilight Zone: The Movie; Capricorn One and Total Recall. He has also recorded his latest Oscar-nominated score, L.A. Confidential and that for Air Force One in a busy year working with Varése Sarabande.
---
Return to: