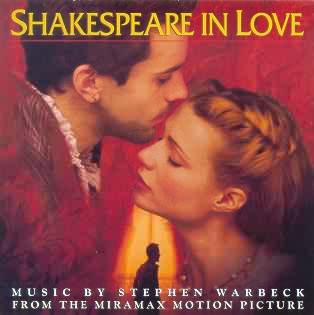 Going by the trailer (not always the safest of things to do) this is the sort of film which could only be made here and which may well catch the imagination. Perhaps people who were attracted by the recent film 'Elizabeth' will be intrigued enough by the Elizabethan era to want to explore another window onto that era.
What of the music. It is melodious, insistent and atmospheric. The style mixes elements of Patrick Doyle (nobility), Nyman (urgency) and Geoffrey Burgon (Brideshead Revisited). All three composers are represented in the title track which is both sorrowing and dynamic. The music of the first track recurs often notably in track 11 which includes a swift change from mezzo forte to whisper quiet playing. This is striking. Utterly compelling. Hesitancy and tenderness are represented in Viola's Audition followed by a return to urgency - an urgency suggestive of Shakespeare's creativity. If occasionally I thought of parts of Beethoven's Ode to Joy this is no weakness.
Tracks 4-6 and 10 had what I had feared: insufferable Elizabethan court dances, lutenist airs, sad dumpes and Elizabethan elegy. Not compelling, I am afraid. In track 7 there is something of the title music. Somnolent clouds appear to chase across the cold moonlit sky and this picture carries over nicely into the concentrated reflection of 'Love and the Rehearsal'. Reflection returns for track 16 with its steady piano notes and vocalising solo soprano.
Pulsing dynamism is recaptured in tracks 12-14 which are insistently dark, sturdy and driven. In News of Marlowe's Death the sturdiness and subdued colours of the music hint that Warbeck may well have listened to Edmund Rubbra's fine symphonies especially No. 4. Track 15 represents a 'dark midnight of the soul' and a running battle with all its chaos and confusion.
Track 18 projects a ghastly twilight. The last four tracks are possibly the most impressive of all. They establish a spirit of success and satisfied rest. Track 20 for example musically wraps around the listener an aural quilt of surpassing softness and warmth and in track 22 tired summation pervades all. The ending of the final track is quiet. A nicely rounded sunset close to this bejewelled and subtle score. The film stars Gwyneth Paltrow, Joseph Fiennes, Geoffrey Rush, Colin Firth, Ben Affleck and Judi Dench.
The notes are skeletal with some nice publicity stills but in years to come someone picking up this disc will know little about the film or the music or Stephen Warbeck if they have to rely on the CD insert. The disc is not of a generous length but the playing time is about the standard for the CD of a contemporary film release. A good score with many imaginative touches especially within the last ten affecting minutes. Star rating applied with reference to the rather 'twee' Elizabethan dance tracks.
Reviewer
Rob Barnett