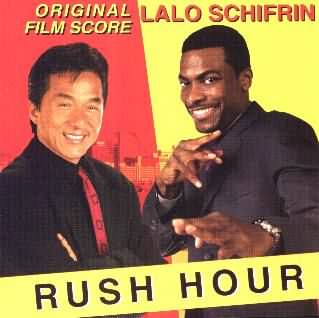 Director Brett Ratner took on this film seeing it as an opportunity to pay homage to his all-time favourite - Enter The Dragon. Where exactly that is paid off on the movie I'm not sure. It's got Jackie Chan, and lots of oriental references, plus the innovative fight sequences. Principally what Ratner meant was the opportunity to re-visit Dragon musically by capitalising on the relationship he'd established with Schifrin from their collaboration on Money Talks (also with Chris Tucker). He purposely cut the opening of the film & temped it with the Dragon theme, so that Schifrin would create a 90's twist on his classic. This kind of attention to and reverence of film music is pretty much unheard of today. A shame, since this score proves just how beneficial that kind of thinking can be.
The "Main Title" bears a passing familiarity with Dragon's, but is based around a much longer melodic line. It is hugely memorable, and is backed by all manner of percussive rhythms and Chinese instrumentation. It is a template for the body of the score; lots of brassy calls backed by rumbling drumrolls and picked out by numerous rattling live or sampled ethnic beats. "Fight At The Harbour" is an early example of the textured writing. In "Chasing Sang", the thrashed out beats are heart-pounding. Alongside the unpredictability of where the percussive line is going, this is Schifrin to a tee.
Other highs for the chopsocky action come in "Lee Arrives In LA" (which includes a phrase most closely ascribable to Dragon). This cue swings back and forth between variations on the main theme, & funky grooves on guitar for Tucker's wise-cracking character. "Battle At Juntao's" features elongated sweeps from both orchestra and samples, and in "On Juntao's Heels" it's a case of Holst meets Wagner. Mars' unmistakable rhythm introduces and is then overtaken by the salutary fanfare of the Valkyries. Quite a mix !
It is not all tam tam crashes and guitar wailing though. "Soo Yung's Theme" is for the young girl kidnapped. Although it opens somewhat covered in sugar, the sampled flute gives way to an oriental style that again carves out a memorable melody. "Lee's Sadness" is a very touching piece of melancholia for subtle strings, which helped pave over any excesses in Chan's acting in the film.
All the way through you can't help but be impressed by ways in which Schifrin weaves the main theme into the whole. "Sweet And Sour" contains almost subliminally subtle arrangements for strings. By the time the reprise for the "End Titles" comes around, it is inconceivable that it won't have been indelibly implanted in your head.
Reviewer
Paul Tonks