Note This is a very limited promotional edition that is only available from soundtrack mail order houses like SOUNDTRACKS DIRECT, BFS, Screen Archives,etc. Or it can be ordered directly from SUPERCOLLECTOR at www.supercollector.com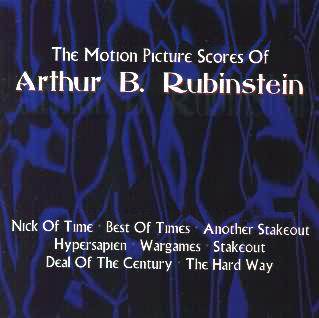 As a composer promo, this is on a par with those of Michael Lewis and Robert Folk in terms of ambition. It is generous in every department (except perhaps in notes). This is a double CD set covering 8 movies, and has almost consistently quality sound to boast too.
Nick of Time is about the worst of the ugly ducklings in actor Johnny Depp's career. The 'hook' of having the action unfold in real time (90 minutes) is interesting, but without Depp or Christopher Walken this might as well have been a TV movie of the week. Slightly predictably, the score opens on a Carnivalesque theme with strings, female voice and a ticking clock with bells. We're talking insanity and CLOCKS here. Wherever possible, the countdown will continue. "Union Station - The Innocents" is a little sweetness for Depp and daughter on synths prior to her kidnapping. "Rough Side Down" has some interesting arrangements for harp and a rhythmic beat. Both "What's My Poison?" and "Suite Dream" play up the building suspense with various ticking effects with an occasional sweetness reminder for the daughter in danger. "It's 1:30" reminds a little of Christopher Young's chasing theme from Hellraiser. This is the big countdown piece and brings the drama to a suitable high wake up alarm level.
Best of Times is a nice contrast, being very much comically upbeat. Think Police Academy with high trumpet over a marching band. "The Winning Dream" offers tenderness from guitar and strings. Then the band returns for the opening of "Night Game" and all of "Taft High Band". "The Pass - The Catch" is a gradual build of tinklings and drumrolls to suggest the momentousness of it all - captured inevitably in cringeworthy slow motion. Boy - sports based movies can be hideously predictable !
Another Stakeout opens surprisingly atmospherically; almost ghostly with an echoing piano figure that appears and disappears. A gentle harmonica adds to that mood. Then "It's A Dirty Job" is more like it - with raunchy trumpets and a funky rock beat. "Bloodhounds Are Us" features a harmonica's sassiness. It's odd that this should feature on disc one, before the original movie is covered disc two. Separating them ensures the material isn't overly repetitive, but the reversed order loses our appreciation of its development.
Hypersapien opens almost seemingly at Christmas, with excitable strings oozing blinking lights amongst the snow. A complete left turn with "Prairie Moon Rise" is the Western sound of yore. Left again for "Chasing A Trilyte", which is very surreal. Chinese mini-chimes work with a tick-tocking effect. Finally, "Leaving Earth" apparently occurs at Christmas time again. This is a very odd mix of styles for one small sci-fi movie.
Wargames is a musical exercise in creeping about. The opening is a cat burglar's ideal accompaniment, offset only the once by a moment of fun for a tambourine. With "This Is Not A Game" the familiarity of John Williams' style is introduced, and will stay throughout the score. "Finding Joshua" is about the only light moment for what tried hard to work as a comedy as well as a thriller. "Serious Threats" showcases a small heroic motif Matthew Broderick had, while a flipside saccharine sweetness pervades "Edge of the World". The sadly dated look at the computer world is brought to thundering conclusion with "Crashing NORAD" - a pounding action cue.
It is then a jarring transition into the guitar funk of the "Main Titles - Prison Riot" for Stakeout. "Maria's Street" is almost a calypso, with shouting and a quite mad saxophone. In fact the sax is one of the score's key instruments along with: bass guitar, bongos, synths and electric guitar. The synths come off worse really, certainly in the rather lame romance for "Trust Me". As mentioned above, this might have come off better with a chronological sequence.
The mellow trombone of "The Idea" is a very welcoming start for Deal of the Century. We realise by "The Hustle" that a jazzy mood is the primary idea. Here a bass plays scale to brushed drums and a cheesy synthesiser, while other parts exude jazz from a fuller band and/or orchestra (e.g. "The Sellout"). For "The Seduction" it's time to dim the lights baby ! This is Lounge seduction at its coolest. Contrasted against it are pulpy action histrionics in "The Plane", and Brazilian guitars in "South of the Border Sale" features. Later, "Serenata" is simply two guitars in conversation.
What a free-for-all opens The Hard Way. "Big Apple Juice" mixes Egyptian styles with South American and jazz. "Where Have You Gone, L. Ron ?" starts like the lounge jazz of Deal of the Century, and becomes something right out of Twin Peaks with a sax recorded from another room. A little typical rock action "N.Y.C. Subway Authority", and a fabulously sustained action cue, massing percussion, strings and horns with "Top of the World" brings the terrific final score and indeed the album, to a huge crescendo.
Reviewer
Paul Tonks

and Ian Lace adds a footnote
Arthur B. Rubinstein (not to be confused with, Arthur Rubinstein, the famous late classical concert pianist), I admit, is a name that is quite unfamiliar to me - probably because he has been unfortunate enough to have scored so many films that have been damned by the critics. Not one of the films listed has a good review in Halliwell. Which is a pity because Rubinstein's music is supremely colourful and individual with unexpected twists and turns that delight the ear; his music might be likened to looking at the brilliant ever-shifting patterns of a kaleidoscope. It is anarchic and whacky but above all it is fun. It is rare that such a sense of enjoyment and sheer exuberance is so strongly communicated. I enjoyed this set and I will certainly look out for the name Arthur B. Rubinstein on future film credits and I hope that this 2 CD promotional set will bring him commissions to score more worthy films.

Reviewer
Ian Lace