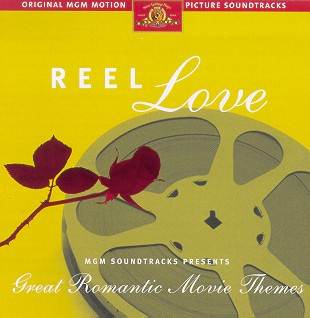 As the (uncredited) perceptive and intelligent CD notes to this album observes, after the broad, lush romantic themes of the 1940s and '50s, written by the greats like Korngold and Steiner, music for the screen romances of the 1960s changed to accommodate the jazz, pop and rock fashions of those days. This compilation reflects that change.
The album opens with music for Goodbye Again (1961), starring Anthony Perkins and Ingrid Bergman, by French composer Georges Auric who already had an accomplished career behind him scoring such films as Beauty and the Beast, The Lavender Hill Mob and Moulin Rouge. Auric's Main Theme straddles many dramatic and romantic moods and commences with sweeping, diving string glissandi and powerful brass statements before the rich romantic theme sounds out on strings and brass. "Mon Paris" has a tango-like rhythm under a slow unwinding bluesy melody for woodwinds.
Rob Barnett reviewed the recent Ryko release of the Alex North's The Misfits (1961) on this site recently (RCD 10735). From that score we have "Love's Reverie" a complex little bitter-sweet jazz-based composition which is harmonically striking. It is, in turn, blowsy and sweetly romantic and its often poignant turns of phrase suggest vulnerability.
Two scores by André Previn come next. The Main Title theme Two for the Seesaw (1962) that starred Shirley Maclaine and Robert Mitchum, Previn, has a smoochy, moody duet between horn and trumpet that gives way to strings with trumpet intoning over a softly brushed percussion rhythm. Previn adopted the lovely "Our Language of Love" from the stage musical of Irma La Douce for the 1963 Billy Wilder romantic comedy film starring Shirley MacLaine - this time with Jack Lemon. The song from the Ryko CD (RCD 10729) that I reviewed recently on this site, is presented here beginning with a scintillating accordion accompaniment (very Parisian) and later taken up by violin d' amour with accordion in counterpoint.
Francis Lai is represented by two scores too. For the sequel to the very popular A Man And A Woman, Live for Life (1967), comes "Live for Life" and "Theme to Catherine". The former employs a persistently repetitive, ardent/yearning piano rhythm and some electronic keyboard filigree patterns while the Catherine music has a mellow but descriptive trumpet solo set against delicate cascading strings. Lai's attractive title theme from Love is a Funny Thing (1970) features electronic harpsichord and organ seguing into a bridge for string and chorus.
Riz Ortoloni wrote a very catchy score for Buona Sera, Mrs Campbell (1968). The "Orchestral Theme" is appropriately sexy and smoochy for the film's glamourous star, Gina Lollobrigida; and "Won't You Dance With Me" is a lovely quiet melody, a duet for piano and guitar over brushed percussion that later picks up a faster beat to make dancing to it irresistible.
Gaily, Gaily (1969) has Henry Mancini's attractive sinewy tango duet for groups of strings and guitar - "The Tango I Saved for You". Michel Legrand is represented by two cues from his score for The Happy Ending (1969) that starred Jean Simmons. "It Ought to be Forever" is an old fashioned romantic theme - a soft descending melody for strings over piano and brushed percussion again. "What are You Doing the Rest of Your Life" is a beautiful melody but the arrangement (yes, it might have been used like this in the film) is too clever by half and its beauty is fatally muted.
Finally we have Gato Barbieri's "Tango" for Last Tango in Paris (1972). (Rob Barnett reviewed the Ryko CD [RCD 10724] on this site last year.). A strident, discordant opening leads to an accordion and strings take on this well known ambivalent love theme.
An enjoyable compilation
Reviewer
Ian Lace