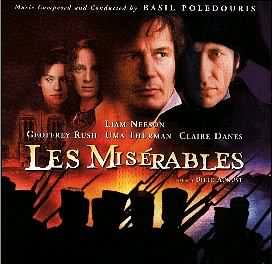 Any score by Basil Poledouris is worth the closest attention and this one again confirms his great strengths and high standing in the lists of feature film composers.
This recording is grouped into four tracks with one suite to each track. While the individual movements are listed on the sleeve they are not separately banded.
The first suite (Valjean's Journey) opens in a Sibelian rustling (En Saga). Soon an atmosphere of understated heroism is established by a robust theme (of which Poledouris makes extensive use throughout the score). The music is tense and is carried along by a glowing sea-swell. The melodic content is fine, wide and wandering and of epic quality. The tale of the big theme has a biblical edge, rather typical of the end of one of Rózsa's big moments in a Middle East spectacular.
Vigau (Suite 2) has some of the same spirit that imbues the first suite as well as a piercing sensitivity. Paris (Suite 3) conjures up memories of the gentler parts of Poledouris's 1980s Conan scores. There is also a 'grand ball' variant of the big theme contrasted with strong grand-stepping rondo straight out of the pages of Conan. Plangent harp work towards the end of suite makes an abiding impact. Suite 4 (The Barricades) spins the same big theme through the full grandiloquent treatment played over thunderous drums. This relaxes into angelic serenity (7:22).
It is worth mentioning that the orchestration is by Lawrence Ashmore whose characterful and sensitive work in providing orchestral accompaniment for the Gerald Finzi Five Bagatelles (originally for clarinet and piano) has been a great service to music. These have most recently appeared in a very good Finzi collection on Naxos (8.553566) but previously featured on an RCA collection where the solo was taken by Richard Stoltzman.
It is customary to provide deficient documentation for contemporary OST discs. Hollywood do not break from tradition. There are some good studio stills.
The film stars Liam Neeson, Geoffrey Rush, Uma Thurman and Claire Danes and as far as I am aware has not as yet been released here. The release must be imminent.
The disc plays for over an hour and is well worth acquiring. The composer makes the most resourceful use of his material and there is a great deal more variety in this score than the recent 'Lonesome Dove' collection from Sonic Images.
Reviewer
Rob Barnett

Ian Lace adds -
Another powerful and compelling score from Basil Poledouris for yet another version of Victor Hugo's classic novel. Poledouris's richly textured and beautifully crafted music is darkly dramatic, as befits the relentlessly tragic nature of Hugo's drama. Much of the score is taken over by relentlessly repetitive rhythms: cold, malicious and dark for the twisted obsessive nature of policeman Javert contrasted with warmer figures for the noble, honourable and compassionate Valjean.
The musical cues are divided into four suites of unequal lengths roughly following the four main episodes of the story: Valjean's Journey in which Valjean steals bread out of sheer necessity and Javert begins his savage and persistent pursuit; Vigau in which Valjean attempts to carve a new life for himself, cares for the poor Fantine, rises to a position of civic responsibility but has to flee when Javert is hot on his trail, Paris where he his daughter Cosette is now a young beautiful woman, and The Barricades in which Valjean is caught up in the insurrection in the streets of Paris and where he has his final confrontation with Javert. This splitting of the music into suites is a new presentation affectation; I first encountered it with Varese Sarabande's The Private Lives of Elizabeth and Essex. I cannot say I am thrilled with it. Unless the CD player display tells you which of the sub-cues within each of the suites you are listening to, this arrangement can be annoying. My player only recognised four cues for the four suites. (Yes, I know there are pauses in the flow of the music to indicate where one sub-cue ends and the next begins but often a listening experience of twenty minutes is interrupted)
The first suite opens with a plaintive oboe melody over quietly pulsating strings, sadness and a sense of hopelessness is communicated before stronger more heroic material enters suggesting fortitude and resistance against injustice and a malign fate The music of this opening cue maintains this sense of conflict and it carries over into Suite 2 as Javert is consumed with suspicion when he is in Vigau but most of the material of this suite is warmer underscoring Valjean's compassion and love for the poor Fantine. Snare and bass drum figures suggest a cold, ruthless machinery of justice as represented by Javert's sneering pursuit. Suite three contains some of Poledouris's most attractive music scored brilliantly for harp and woodwinds to describe Fantine's daughter now a lovely young woman and with Valjean in Paris. Suite Four has stirring, heroic music for the Parisian street battles and Poledouris cleverly underlines the emotional complexity of Valjean's final confrontation with Javert when the latter finally realises the injustice and utter madness and futility of his pursuit and the shock of the revelation sends him over the edge and compels him to commit suicide.
Reviewer
Ian Lace