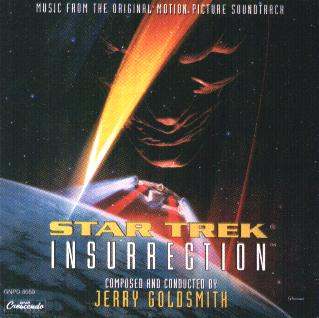 The philosophy in putting together this movie was to distance itself as far as possible from the 'scary' darkness of the previous (First Contact). The shame is that no matter how commendable Paramount's thinking ever is behind the latest in the trek franchise, they still mess up at the script stage. All 3 of the Next Generation outings have been flawed, and this latest suffers most from the feel of merely watching an extended episode.
A personal observation of mine is that an opening credits sequence that runs titles over footage is a self-defeating mistake. It's understandable for a TV movie, which wants to cram as much into its time slot. A feature movie needs to hook its audience from the start. Independent title sequences allow for conversations to finish up and packets of edibles to be opened (groan). More relevant to the purpose of this review (!) is that it allows a composer to show off their colours. Insurrection opens on a touchy-feely community going about its bread baking, clothes
mending daily life. Cue one very tedious tinkling piece ("Ba'Ku Village") from Trek regular Goldsmith. It immediately and unintentionally demonstrates how devoid of drama the film is going to be.
It moves into some opportunity for dramatic writing however, but only minutes into the score its second major downfall is presented. That being exceedingly flat action writing, sounding oh-so reminiscent of the by-the-numbers drum 'n' brass of recent offerings such as: US Marshals, Small Soldiers, and Air Force One.
Some overspill work on The Ghost & The Darkness clipped the amount of available time Goldsmith had on First Contact. An inspired collaboration resulted, with his son Joel providing excellent material for the enemy Borg. His pieces featured some terrific samples amongst the orchestra, but the use of electronics remains about the best that score had to offer. Now with Insurrection, Goldsmith Snr unfortunately demonstrates problem # 3 - a very poor use of electronics indeed. The one memorable piece he has crafted for the film is a romantic theme for Picard's unrequited love, but in its most pleasing appearance ("New Sight") it is ruined at the end by some grating sound effects.
It seems inconceivable that the innovator behind the use of the Blaster Beam in The Motion Picture should consider wee-wee-wee noises appropriate for the shock appearance of a hidden science observatory. Yet there it is.
Mr Goldsmith had a very full year in 1998, and since that included Mulan and LA Confidential, we'll let this one slide.
Reviewer
Paul Tonks

Yet Ian Lace is more enthusiastic:
Although I would hesitate to claim that his new Jerry Goldsmith score is amongst his best, it does contain some very attractive material. The plot, with its emphasis on the philosophical contrasts between the enlightened peace loving Ba'kas and the antagonistic and vengeful Sona's, as much as the usual Gung-ho heroics, gives Goldsmith the opportunity of presenting a more varied and richer score than say that of Air Force One.
The opening cue "Ba'hu Village" opens, significantly, with an attractive serene theme before the score darkens to admit more threatening figures with music that has great vigour and rhythmic vivacity. I was struck by the subtlety of the electronics in this context; I was given a vivid impression of combat tracer fire patterns. Also in this multi-dimension cue (and in "End Credits") we have reprisals of Alexander Courage's original Star Trek theme and Jerry's theme from Star Trek: The Motion Picture acting of course as thematic links in this continuing saga.
I was particularly drawn to the quieter cues, again using electronics sympathetically and unobtrusively integrated with the orchestra. "Childrens' Story" is a lovely, innocent impressionistic evocation. The beauty of "New Sight", the stand-out cue on the CD is again very impressionistic reminding me, in places, of the music of Debussy and Respighi; it has mystical connotations too. In both of these cues there is a sense of wonder with flutes, strings and harps magically combined with quietly tinkling electronics. Another impressive cue is "No Threat". It begins with an impressive combination of those tracer electronic patterns over percussive piano ostinatos and increasingly threatening horns before the music rides out in those interesting staccato cross-rhythms; but then the textures thin and you sense peace is restored. The point I am trying to make is that here we have here just one example of Goldsmith's superior film music craftsmanship: consider his control over weight and balance of texture and dynamics, the sheer richness of his harmonies, his great rhythmic drive and sense of dramatic timing and contrast.
Some of the combat music cues are less impressive and one can criticise some of the cloying sentimentality that spoils "The Healing Process". Nevertheless, there is enough in this Goldsmith score for me to reach it down and put it in my CD drawer more than once.
Reviewer
Ian Lace

GNP Crescendo invite you to visit their site: http://www. gnpcrescendo.com