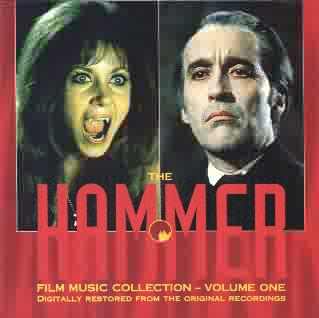 There is wonderful story behind the origin of this disc. Producer happened upon the recordings, when they were all thought to be lost. There will in fact be further volumes in the near future - such was the volume of the material discovered.
When Hammer is mentioned, there really is only name that stands out musically. I will forever salute James Bernard for his contributions to the genre, and to hear them as originally recorded is a massive treat. Beginning with The Devil Rides Out is a grand idea. We go straight into that unrelenting style of his. This is a particularly unnerving motif which ascends and repeats on those snare drums and sharp brass hits, reaching a register that wants to take the enamel off your teeth !
His pieces are scattered through the rest of the 25 cues, and encompass pretty much the best thematic material he penned. The outstanding Dracula theme still impresses every time I hear it. Here the sound is quite distant yet claustrophobic, and the pacing drum is a heartbeat waiting to explode. The inspired idea of his to spell out the title nasty in notes also appears in Frankenstein Must Be Destroyed, although somehow it is not quite as effective as Dracula or the recent Nosferatu. There is always a pervading eerieness in his pieces. A terrific example is the use of a solo female voice and a sustained synth chord throughout The Gorgon.
The other sound easily associated with Bernard is the bittersweet romantic strings he found a home for in the most unlikely of settings. Scars of Dracula feature those strings, offset and interrupted by the main theme, but the loverís theme that closes the album in Taste the Blood of Dracula is left alone and quite heartbreaking in its sincerity.
Let us not forget who else worked under the Hammer however. Christopher Gunning matched any such romantic heights with his gorgeous theme for Hands of the Ripper. Even Harry Robinson got a waltz in for Lust For A Vampire, and amazing subtlety for Countess Dracula. Then there is his Western swagger for Twins of Evil. Other fantastic contributions to the studio and this album came from Franz Reizenstein (The Mummy), Mario Nascimbene (Creatures he World Forgot), Carlo Martelli (The Curse of the Mummyís Tomb), and Malcolm Williamson (Blood From the Mummyís Tomb) amongst others. Roll on Volume 2.
Reviewer
Paul Tonks