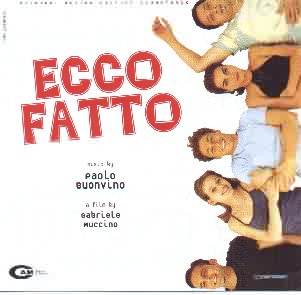 Filmusic often expresses dynamic emotions and skills. That is what it exists for, to add this emotion and skill to the film as well as support its own non-diegetic contribution to the 'reality' of the film. I have not seen the Italian comedy "Ecco Fatto" (international films very rarely show in the American Mid-South), but the soundtrack has structure, drama, and humor.
Although the music calls for an assortment of symphonic elements, it has a few superficial effects, making some moments similar to light pop or folk music. Ordinarily this spells doom, but when done properly the result is very satisfying. Paolo Buonvino handles the job competently. With his so-so orchestration being the weakest attribute, the melodies and harmonies themselves must shine.
Three main themes appear. There is a bouncy tango, filled with adroit manner and a touch of wit. There is the 'Tormento' theme, a short tune with an unmistakably sad intent (the track name does say it all). The dominant theme, the 'Ecco Fatto' theme, is lyrical and heartfelt. It forms the basis for a song titled 'Le ali della felicita.' I cannot comment on the lyrics as I do not read or speak Italian, but the music is soothing, easy listening. The remainder of the cues primarily support the central material.
Ecco Fatto is not a classic film score, but it has a personality that is difficult to refuse. Being smart and stylish goes a long way.
The album includes a four-page booklet, with straightforward notes on the film, the director (with photograph), the composer (with photo), and the music production, as well as stills from the motion picture. The music presentation is in Dolby Surround and has little digital distortion.
As an aside, the album unfortunately ends with two pop songs (by four songwriters, Buonvino not among them) performed by Isterika. These songs are obscene. With pulsing rock guitars, the sounds of a Isterika having an orgasm (simulated, I should think), no sense of musical structure, the songs thoroughly trounce the senses. They are to the human ear what Indian Love Call is to the Martians from Mars Attacks. Isterika should have taken her hysteria and removed it from the area, because this is as bad as it gets.
Thank goodness, tracks 1 through 17 possess sanity!
Reviewer
Jeffrey Wheeler