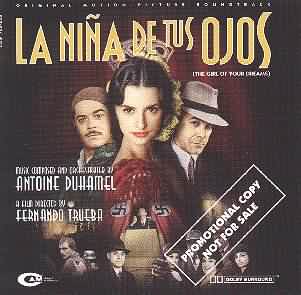 Symphonic music is not inherently funny, so the way to make instrumental music comical is to do something far beyond the norm. The result is always burlesque, which is not exactly gut-busting humor, and it typically degrades the 'serious' aspects of composition. "La Nina de tus Ojos" is a score that balances parody and drama in such a way as to make use of both ideals. True, there is nothing outrageously droll about the filmusic, but there is wit. The film itself is a dramatic comedy set in 1938 Berlin, with a Spanish film crew shooting an Andalusian musical titled "La Nina de tus Ojos" ("The Girl of Your Dreams.")
The music perfectly captures this setting. There are some clichés, including Hollywood-style outbursts that seem pilfered straight from John Williams' "1941" score, but these do not hamper the musical juggling act Duhamel creates. Two entertaining songs by Perello & Mostazo, 'Los Piconeros' and 'La Bien Paga,' liven things further.
The album begins with a rather pointless suite, 'Polaroids' From Film. The suite contains four movements, 'Los Piconeros' acting as bookends (the first sung in Spanish, then last in German) and the center two movements are the title track and the finale. It is an interesting idea, but one executed without structure, or melodic support. It serves no purpose when compared to the music in the film chronology. The soundtrack proper embodies variety and skill.
The production is agreeable. Biographies, plot synopsis, extensive credits, movie stills, and captions lay out in an attractive manner. The booklet is in Italian, English, French, and Spanish. The presentation is in Dolby Surround and sounds fine. The City of Prague Philharmonic deserves extra praise for an orchestral performance filled with a delightful abundance of grace and satire. It is an ensemble that captures the spirit of filmusic more than many better-known orchestras.
Reviewer
Jeffrey Wheeler

Reviewer
Jeffrey Wheeler