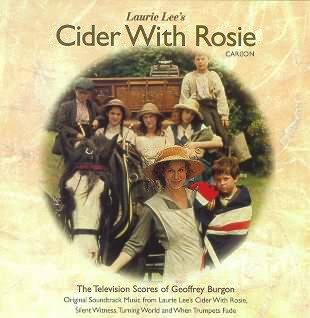 Burgon is very much associated with melodic-impressionistic (often slow-paced) music for British television dramas from Brideshead Revisited (his most famous score) and Testament of Youth to Tinker Tailor Soldier Spy. The music is sweetly tuneful with tart textures.
This disc has as its focus Burgon's incidental score for the Christmas season broadcast of a new adaptation of Laurie Lee's book. This has been done previously and with considerable success though why someone hasn't selected :Lee's sequel 'As I Walked Out One Midsummer Morning' I do not know. An imaginative though expensive decision given that the As I Walked ….' would have involved filming in Spain. The longest of the Laurie Lee tracks is just under three minutes and most are between one and two minutes. These 'building blocks' act as atmosphere builders and texture fillers. In the first track, Lee, who died shortly after the recording sessions, reads a section of his book. Burgon is a master at summoning the shimmer of summer days [2] and the urgent buzzing of insects [3]. Light [7], Finzian contemplation [Laurie and Jo] and heat-hazed landscapes all rise up in front of us. Japanese harp chords counterpoint Bachian tectonics of shifting string strata.Track [4] is a bucolic brass-band march partnering track [6] a village dance with the deep rumbling of a bass drum, a panoply of rustic characters and the subdued bustle of the village market place. In track [5] a light summer wind gently stirs the green leaves. The bittersweet music of track [12] offer a memory of The Lark Ascending. This predominantly slow-paced score is closed with the sorrowful "Laurie Leaves Home".
When Trumpets Fade is more urgent. The tart textures of brass and sax over subdued percussion hint at an underlying tension and then conflict. The developing urgency of the sax betrays a pulse worthy of Nyman.. The compilation of sax and flute is striking. In this score Burgon throws off his reputation for slow-paced music adopting a lively life-intense approach with a paean for brass and drums.
Silent Witness (a series about a police scientist) uses the sinister and chaste effect of the human voice. Track 21 has a wailing effect like the sirens associated with events whose legacy she investigates. The other tracks are sinuous, bright, sinister and finally the selection closes with a piano solo dance prelude. In The Turning World a psychiatrist from India is seen working in the southern counties, forgetting his past and having it catch up with him. Predictably (but still effectively) Burgon deploys various Indian effects and instruments. In track 32 a buzzing turbulence and eldritch shuddering produce a powerful effect suggestive of a nightmare transformed into reality.
It is a pity when so much attention is given to Cider With Rosie that fans of Silent Witness and the other two features may overlook the album. There are brief but reasonably adequate notes. The orchestra is unidentified - no doubt a contract ensemble. Although the CD is not as extensively-filled as many this is a very fine recording of attractive music in brightly minted sound.
Reviewer
Rob Barnett

Ian Lace adds:-
One of the delights of this album is the reading by the late Laurie Lee, himself, recollecting his first sexual encounter - with Rosie. Cider with Rosie was screened on UK television over Christmas just past. Burgon's music evokes a quiet secluded English countryside that just about persisted through to the end of World War I and a little beyond before the motor car, the cinema and the radio (known as the wireless then) swept away the old world forever. This suite, performed by a small chamber ensemble, with often an accent on the brass for colour and character, comprises 12 short movements. The music nicely reflects the innocence, sadness and tragedy of those times. The Introduction sets the scene with broad pastoral music at once nostalgic and sad as the family arrive at their new country home with their belongings piled high on a cart. 'Our Mother' a poignant cue for strings tells us much about Laurie's pleasant, capable and optimistic but delightfully/tragically naive and gullible mother. "The Outing" is a fine piece of character comic writing for the charabanc (coach) outing to the seaside complete with inebriated driver. Strong, agitated string writing, with a comic end piece, informs "Sid Does it Again." The music for the mad "Miss Flynn", a rather pre-Raphaelite-looking figure, with her flowing red hair and long velvet gown is one of the highlights of the score - delicate harp pizzicati stress her beauty and sad vulnerability while high string figures and steely, edgy strings, low bassoon musings and isolated percussion strokes show her mental disorientation. The music for "Sent to the Workhouse" accompanying scenes where an old couple, who have lived together for forty years but are no longer able to look after themselves, are sent to the workhouse where they are separated and die only days afterwards, is most sympathetic. The suite ends gloriously with "Cider with Rosie" then with a soft nostalgic glow, in the final cue, as Laurie reaches early manhood and prepares to leave his family to make his own way in the world.
When Trumpets Fade is scored mostly for brass: trumpets, trombones and tuba with saxophones, with percussion, often combined grotesquely, frequently in distorted jazz rhythms for this story about an infamous World War II battle in the Hurtgen Forest in Germany in which thousands of men met their deaths pointlessly. Strings, in the last cues balance military madness with sanity, humanity and poignancy but in the main, the music is brutal, dissonant and sometimes darkly comic. It certainly fulfills its mission to underline the senselessness and waste of war.
Silent Witness is the BBC TV series about the work of and life of a pathologist. Again Burgon uses limited resources to wonderful effect. (One wonders how much more he could achieve if he were given a bigger budget and a larger ensemble for his television scores - see my comments on television scores in my Master of Ballantrae review in the January reviews on Film Music on the Web). This is full-blooded, scary, horror music. "Requiem" the opening cue sets the mood - voices wail over dark, brooding and shadowy figures. "Death in the Shower" begins in a slightly more upbeat manner with an insistent rhythm which has a hysterical edge but then horror arrives with dark slithery stealth followed by sudden violence and cold death. "Silent Nocturne" is again full of creepy-crawlies. The remaining tracks, some scored with warmer music for relief like "Waiting" with its attractive piano solo, are all very cleverly scored are in the same broad vein.
Turning World is about the life of a Pakistani psychiatrist working in a mental hospital in the south of England. Burgon writes a darkening dramatic score that nicely balances and contrasts Asian ethnic music with conventional western modes to illustrate the character and neuroses of the psychiatrist's patients and the growing pressure on himself that will eventually push him over the edge into madness.
An adventurous collection.
Reviewer
Ian Lace