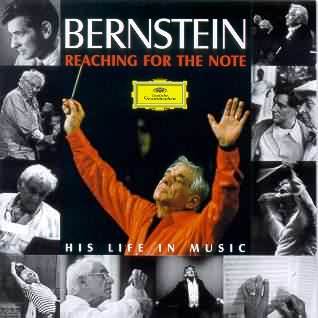 This 2CD album of DG recordings made by Bernstein later in his career (he had previously recorded for RCA and CBS), supports the PBS-TV documentary, Leonard Bernstein - Reaching for the Note (it was screened on British TV over the Christmas period). It is also a very useful accompaniment to Paul Myers's book on the composer, published by Phaidon Press, recently reviewed on this site; and a valuable introduction, for younger listeners to the art and music of Leonard Bernstein. It is a superb collection of Bernstein's work as conductor, composer and pianist.
The first CD opens with a passionate and thrilling reading of Schumann's "Manfred" Overture. This is the first time that this recording has appeared on CD. Next we have Bernstein's view of Aaron Copland's El Salon Mexico which crackles with life and vitality. Lenny then plays George Gershwin's blues-based Prelude for Piano No. 2. The remaining tracks are devoted to Leonard Bernstein's own compositions. There are two high-spirited songs from the 1993 live recording of On the Town, made by Bernstein's protégé, Michael Tilson Thomas: "New York, New York", and "Carried Away". (On the Town was filmed, brilliantly, in 1949, with Gene Kelly, Frank Sinatra and Jules Munshin with Vera-Ellen, Betty Garrett and Anne Miller.) From Leonard Bernstein's only original film music for On the Waterfront, we hear the beautiful Love Theme which is followed by the exuberant Candide Overture and June Anderson showing incredible vocal agility in her aria, "Glitter and be Gay" from that opera. From West Side Story (the 1985 recording with Kiri Te Kanawa and Jose Carreras), we have the Prologue, "Tonight", "America", and "Somewhere." The CD closes with "more difficult" Leonard Bernstein: The Prologue from his Symphony No. 2 "The Age of Anxiety"; and the Postlude to Act I of A Quiet Place.
CD2 opens with Kaddish 2 from Leonard Bernstein's moving Symphony No 3 "Kaddish", for orchestra, mixed chorus, boy's choir, speaker and soprano. The equally engaging and colourfully-dramatic, advanced rhythms of Psalm 23 from the Chichester Psalms follows for mixed choir, boy soloist and orchestra. We now turn to Leonard Bernstein as conductor of his beloved Mahler: first, the enchanting "Wenn mein Schatz Hochzeit macht" from Lieder eines fahrenden Gesellen with Thomas Hampson and the Wiener Philharmoniker, then a live recording with Barbara Hendricks and Christa Ludwig with the New York Philharmonic in two glorious excerpts from Mahler's Symphony No 2 in C minor "Resurrection"; and, finally, the famous Adagietto from Mahler's Symphony No 5 in C sharp minor. In contrast, we next hear the more strident and primitive dance rhythms from Stravinsky's The Rite of Spring. Three works by Leonard Bernstein follow: "To What You Said..." from his Songfest - a cycle of American Poems for six singers and orchestra; "A Simple Song" from the Mass sung by Cheryl Studer with the London Symphony Orchestra; and the Waltz from Bernstein's Divertimento for Orchestra. The programme ends with excerpts from two works by Beethoven: the Allegretto from Symphony No.7 in A major; and the final chorus - "Ode to Joy" from Beethoven's Choral Symphony No 9 in D minor, associated in everybody's hearts and minds with the tearing-down of the Berlin Wall.
Needless to say all these performances are dazzling and all are recorded in superb sound.
Reviewer
Ian Lace

Reviewer
Ian Lace