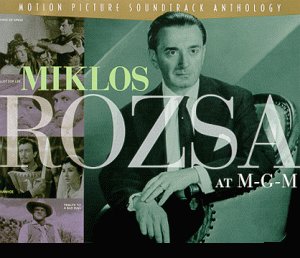 CD 1 [78:17]

Madame Bovary
Ivanhoe
Knights of the Round Table
Beau Brummell
Valley of the Kings
Moonfleet

CD 2 [78:20]

Green Fire
The King's Thief
Tribute to a Bad Man
Diane
Lust for Life
The World, the Flesh and the Devil
King of Kings
Yes, I know we carried this album in our reviews last month. But my copy only arrived on 8th November and this is such an important release that I am exercising my editor's prerogative to include another assessment from myself as a grey-haired film fan who sat through many of the above films when they were first shown in theatres here in the UK.
This album is a fine follow-up from Ryko's 2-CD set released earlier this year The Lion's Roar which was devoted to the non-musical soundtracks from M-G-M for the years 1935 to 1965. Once again the packaging is sumptuous with a 48 page booklet crammed with information including an insightful article by Fred Karlin, analytical notes on the scores, and stills from the featured films. Ryko have chosen to major on Rozsa's music for historical films excluding the spectaculars: Ben-Hur, Quo Vadis; and El Cid.
Karlin rightly emphasises Rozsa's often intensive and over-thorough research (but then that is the sign of genius - a capacity for meticulousness and thoroughness) to ensure that his music sounded authentic of period and place. (After all, as he observed, the art directors and other technicians on the set had to do their homework so why shouldn't he?).
The first CD opens with a suite from Madam Bovary (1949) adapted from Flaubert's novel set in 19th century provincial France. We had already been treated to the Waltz sequence from this score in the earlier The Lion's Roar collection. This is repeated within the scope of this 17½-minute suite. One marvels again at this key sequence's music; it underlines all the emotional and dramatic undercurrents and there is the sort of frantic, desperate hysteria that one associates with Ravel's La Valse. Rozsa described his score for Bovary as "romantic, luxurious and expressive." The music swirls dramatically and intensely and it perfectly matches Madam Bovary's (Jennifer Jones) idealistically romantic but ruthlessly passionate and yet gullible nature. Ivanhoe (1952) prompted research into 12th century music and Rozsa found the appropriate material including a song written by King Richard I (the Lionheart) and a popular French song which Rozsa adapted for Lady Rowena's theme. Ivanhoe is represented by a 20-minute suite of music that is spectacularly heroic and tenderly romantic. The sense of chivalry is also paramount in the suite for Knights of the Round Table (1953) which again starred Robert Taylor but this time with Ava Gardner instead of Joan Fontaine and Elizabeth Taylor. This suite has very thrilling music of swaggering bravado suggestive of knights in heavy armour setting out on quests or making ready for tournaments and there is another beautiful broad romantic melody.
Beau Brummell (1954) was originally scored by Richard Addinsell but producer, Sam Zimbalist, was not happy with the opening and closing cues and asked Rozsa to rewrite them, which he did -- and asked for no screen credit. The opening music is proud ceremonial stuff mixed with softer more tender material while the 'Farewell' cue where Stewart Granger (Brummell) takes his leave of the dying King is nicely poignant. Stewart Granger was also the star of Moonfleet (1955) a story about smuggling in 18th- century England. Rozsa did not like the film and the score tends to show this distaste for it is astringent, almost brutal (most of the characters are unsympathetic) and the score has a rather curious dragging character, it is rather sour and downbeat and distant. However there are some mordantly witty and poignant moments.
Valley of the Kings (1954), had Robert Taylor and the gorgeous Eleanor Parker in Egypt with a treacherous Carlos Thompson (along with Edmund Purdom, one of M-G-M's prospective leading man misfires) trying to find artifacts to prove the events in the Bible.
This is a very colourful score with Rozsa fashioning the sinuous, sensuously twisting North African/Arabian rhythms very evocatively and somewhat humorously in the 'Carriage Race' cue.
Disc 2 begins with music for another Stewart Granger adventure about the pursuit of emeralds this time set in Colombia - Green Fire (1954). Rozsa was compelled to hear his main title theme ruined by the crass song that the producers insisted on inserting (following the success of the more appropriate and more successful title song of High Noon ). Nevertheless this theme is strong enough to be attractively developed into variations with a Spanish/South American flavour. The King's Thief had David Niven, unbelievably cast as a villain with the ineffective Edmund Purdom in the lead. Rosza wisely provided music that provided enough energy drive and romance to smooth over the cracks in this inferior swashbuckler. For Tribute to a Badman (1956) a western starring James Cagney, Rozsa avoided the usual clichés and came up with a stirring score that had a memorable Prelude with a broad arching tune, with trenchant writing for the timpani, redolent of wide open spaces. His homely and romantic folk melodies were fresh-sounding too. Diane another historical drama set this time in 15th-century France drew one of the most beautiful themes from Rozsa's pen not surprisingly for he admitted that "Diane de Poitiers was a favourite character of mine." Lust for Life (1956) the story of Vincent Van Gogh inspired Rozsa to write one of his finest scores. In a slightly anachronistic mode, he used impressionist music to tellingly underscore Van Gogh's creativity: his view of his subjects and his bold interpretative paintings; while using other more dramatic and atmospheric music for the artist's anguish and torment and his descent into madness.
The World, the Flesh and the Devil (1959) is about the last three people alive after a nuclear disaster destroys New York. Rozsa's music verges on his film noire mode for this score that has tough relentless urban feeling about it together with a sense of despairing isolation. Finally, King of Kings (1961) was the story of Christ and again Rozsa was fastidious about doing his homework. He fashioned themes after examples of ancient Babylonian and Yemenite melodies. The result was a score that was deeply moving and one that added warmth and a quiet dignity to the film. This suite concentrates on the final Crucifixion section of the film.
This is a first-class, if a not too representative collection, of the wide-ranging talent of one of the giants of Hollywood's Golden Age. It is to be hoped that Ryko will release more Rozsa material in the not too distant future. We also urgently need a reissue of the marvellous recordings that Rozsa made of his own film scores with the Royal Philharmonic Orchestra and released on the Polydor label in the 1970s.
Reviewer
Ian Lace