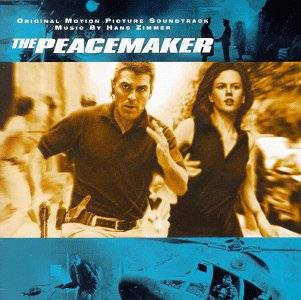 The first project Zimmer worked on as the new Head of Music at Dreamworks, The Peacemaker came on the coattails of Crimson Tide's enormous success. This project gave Zimmer a chance to finish certain ideas he started but never completed in Crimson Tide, and the similarity between the two scores is notable. The Peacemaker shares the same rousing, military heroism and smoldering male choir, but takes on more pronounced action flairs than the Crimson Tide's simmering dramatic underscore. It also has a more striking orchestral sound, with only subtle blends of synthesized percussions coming through. The score resounds with horns, trumpets, strings, cymbals, snares, and other symphonic instruments. Embellished by near east oriental sparkles and a deep Russian undercurrent, The Peacemaker is a delightful combination of Zimmer's blood-stirring action expressed with classical and orchestral media. As such, it stands as one of his more stylish and sophisticated action scores.
A main theme is somewhat hard to identify in this score. There is a romping action theme that marches with forceful and fiery determination, heard mostly in "Devoe's Revenge" and "The Chase." Appearing the most frequently, this theme probably becomes the most familiar by the time the score is over. However, it lacks the no-holds-barred passion that is intrinsic to Zimmer's main themes and sounds more like a secondary accessory. The only theme that has the kind of wattage to reflect the music's emotional core is the melody in the middle of "Sarajevo." It is mainly here that Zimmer carried over the broiling sentiments from the main themes of Crimson Tide. The resemblance is unmistakable, though it is no where near the fervency of the original. In the end, even "Sarajevo's theme" is missing the characteristic evocative command of his other masterpieces.
If The Peacemaker gets less than a perfect rating, it would be because there is a nagging sense of the music as "dressed-up leftovers" from Tide. Although it draws comparisons to Tide, The Peacemaker is actually unique in that it finally merged Zimmer's action power with the eloquence of an orchestra. (In truth, Tide was always more of a dramatic force than galvanizing action.) When appreciated as a gestalt, it is a splendid and thoroughly enjoyable listening experience, standing as one of my favorite Zimmer scores.
Reviewer
Helen San
We are grateful to Helen San (www.cinemusic.net) for giving us permission to include this review which is currently appearing on her Film Music site.

Reviewer
Ian Lace

---
---
Reviews carry sales links
but you can also purchase
from: