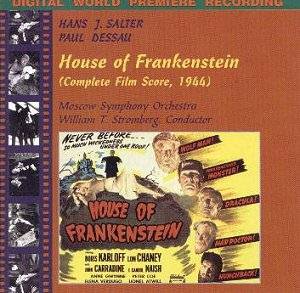 I just could not resist including a comparative review of the music for the original Universal horror film of House of Frankenstein. More rollicking and hilarious than horrific this film had a whole pack of monsters: Boris Karloff (Mad Doctor Niemann); Lon Chaney (Wolf Man); Glenn Strange (Frankenstein's Monster); Dracula (John Carradine); and (Maniacal Hunchback) J. Carrol Naish. For its 70-minute length, Salter felt that it needed about 50 minutes of music to bolster the outlandish plot. Dessau played a major role in its creation particularly with its electrifying, pulsating Main Title, a grotesque tour-de-force, a real chamber-of-horrors prelude. Dessau also composed the haunting, transparent night music for the Dracula segment.
I was delighted that Messrs Morgan and Stromberg had included the old Universal Signature motif at the beginning of this album. It was like greeting an old friend again; I remember it distinctly from my many visits to the cinema in the 1940's and 50's.
The score employs a large orchestra complete with organ and a battery of varied percussion. This 35-cue album has many delicious camp moments with ever so eerie 'don't look behind you now' creepy, lumbering music for the monsters. Particularly impressive is the music for he scene in the glacial cavern where Frankenstein's Monster and the Wolf Man are found encased in ice; and the final sequences in which the score explodes into a veritable musical maelstrom as each of the characters are killed off. As relief there is the infectious gypsy dance music for Ilonka who is loved, unrequitedly, by the hunchback assistant Daniel whose jealousy (shown with poignant sympathy in the cue Hunchback's jealousy) when he discovers her affection for the Wolf Man, Larry, precipitates all the final horrors. The writing for this shocker is as Bill Whitaker observes, "Although definitely of the twentieth century, with all the chordal progressions and motoric intensity of Arthur Honegger, the music includes a witty salute to Beethoven's fateful fifth symphony in the Main Title, and joyful asides to Weber's operas elsewhere."
Today's film music students could do well to study this masterpiece of the macabre to see what can be accomplished without recourse to synth sounds.
The 20-page booklet includes lots of stills from the film, Bill Whitaker's usual lucid and informative analysis and a note about the reconstruction of the score contributed by John Morgan.
Gleefully recommended
Reviewer
Ian Lace


Reviewer
Ian Lace

---
---
Reviews carry sales links
but you can also purchase
from: