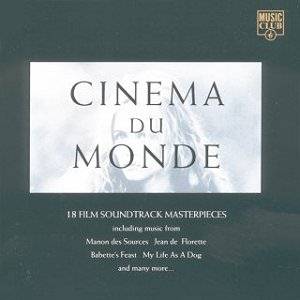 Complete list of composers and films featured: Maurice Jarre: Dead Poet's Society, The Year of Living Dangerously. Alex North: Ghost (Unchained Melody) Philippe Sarde: Fort Saganne, La Pirate. Jean-Claude Petit: Jean De Florette, Manon De Sources. Karl-Ernst Sasse: Klara. Georges Delerue: Le Mepris. Jurgen Knieper: Apres La Guerre. Bjoern Isflat: My Life as a Dog. Louis Crelier: Concert for Alice. Stefan Nilsson: Pelle the Conqueror. Nicola Piovani: Le Grand Chemin. Per Norgard: Babette's Feast. Frederic Devreese: Benvenuta.
It could be considered churlish to pick a conceptual argument with a CD which offers a considerable amount of good film for less than £5, so here goes. This album doesn't know what it is, and if you are like me and prefer a certain conceptual coherence to a theme anthology, then you have come to the wrong album. Not that that should distract from enjoying the disc too much, which on the whole is a pleasant listen.
So what, conceptually, is the problem with Cinema du Monde? The cover claims '18 Film Soundtrack Masterpieces'. It would appear to be a collection of music from recent European films, except that some titles date as far back as 1963 (La Mepris - music by George Delerue), and that two of the films are made by the Australian director Peter Weir. Certainly the music for these two, The Year of Living Dangerously and Dead Poets Society is by a European, Maurice Jarre. But where does that leave Ghost? Yes, Jarre scored Ghost, but the selection here is 'Unchained Melody' by Alex North, which wasn't even written for the film, and which the cover of album incorrectly attributes to Jarre. So, conceptually, we have an album of music from recent European films, plus some older ones, plus some none-European films directed by Peter Weir, with music by a Frenchman, plus an American film with music by Alex North. The connecting factor in this muddle is that all the tracks are licensed from the Milan label, presumably to fill a perceived gap in The Music Club label's range of budget compilations.
And the confusion doesn't end there, because track 8 contains a possibly unique bonus feature. The cue, 'Au Moulin' by Jurgen Knieper from Apres La Gurre appears to last 11:39 minutes. However, it is actually the same 3:48 minute long piece presented three times in a single track. Therefore the 71:54 minute running time of the disc should really be counted as 64:16 minutes.
Then there are the notes by Damien Ffrench (does anyone really spell their name like that? Or is the second f more pointless repetition?) These tell us that film music can be very powerful, that European film music is less fettered by commercial considerations than American film music, and quite a lot about Maurice Jarrre. And a little bit about some of the other composers whose music is featured on the album. There are not the most in-depth or insightful notes in the world, but when most full-price releases don't offer notes at all, they are a welcome and unexpected bonus, and to his credit Mr Ffrench knows that Maurice Jarre didn't write 'Unchained Melody', though he doesn't say who did.
And so to the music, 64 minutes of generally very pleasant, unhurried and elegantly crafted themes from some of Europe's finest film composers. Jarre's two pieces are rich in almost ambient atmospherics, showing a subtle and delicate side to his talent, while his orchestral arrangement of 'Unchained Melody' is restrained and tasteful. There are two selections by the immensely gifted Philippe Sarde. 'Generique' is a cello-led theme from Fort Saganne while a sequence from La Pirate maintains a similar mood. There are two selections from Jean-Claude Petit's attractive and popular music from Jean De Florette, with a further extract taken from the sequel, Manon Des Sources. 'Uncle Arvidsson's Dream', a beguiling melody from My Life as a Dog, composed by Bjoern Isfalt, is absolutely delightful, but after a mere 75 seconds suffers from one of the most abrupt fade-outs in memory. Happily, the album concludes with the lyrical title theme from the same film, an equally brief, but musicaly complete piano solo. The only real disappointment is the 'Pastorale Moderato' from Babette's Feast. Hearing this now for the first time, it reminds me nothing so much as of the out-of-tune comedy music from Michael Nyman and Damon Albarn's Ravenous and in the present context is no fun at all.
There is a lot of good music here, and at a bargain price. Much of it is difficult to find elsewhere, but this compilation seems to be in every soundtrack section of every shop I visit. The presentation may be less than model, but either as an introduction to some of the many talented film composers working in continental Europe, or simply as an anthology of elegantly refined and melodic themes, you really can't go wrong with this charmingly idiosyncratic set.
Reviewer
Gary S. Dalkin


Reviewer
Gary S. Dalkin

---
---
Reviews carry sales links
but you can also purchase
from: