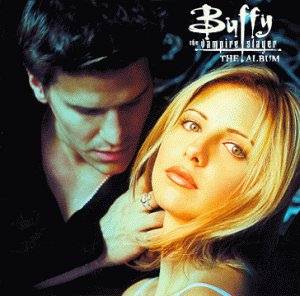 Following the recent and popular trend of TV soundtracks, Buffy the Vampire Slayer is filled with songs reflecting 90's teenage angst. Not being hip to new bands like Garbage, Velvet Chain, or Face to Face, I can only say these are the sort of songs that you can expect to emanate from a teenager's bedroom: guitar strums with forlorn whininess and a pinch of romantic longing. Although this is not my style of music, the songs and selections are well conceived, leaving very little doubt that they would be thoroughly enjoyable for the young adult population of our time.
With only two score tracks totalling less than 4 minutes on this album, there isn't much to review from a score lover's perspective. The main theme is an edgy, hard rock tune--an unremarkable, palpitating melody rushed by heavy electric guitars. The gem here is found in Christopher Beck's beautiful love theme. Woodwinds, strings, piano and a hint of brass float in this a gentle, loveswept melody. It closes with a dramatic, ardent finale, complete with timpani and cymbals. The track is a tiny miniature of perfection that only makes one wish there was more of it, a lot more. As it stands, the brevity of the track does not offer even a sample of the TV score, only a glimpse that disappears in the blink of an eye. Until teenagers at large can appreciate good orchestral music, I guess this will have to do.
Reviewer
Helen San

We are grateful to Helen San (www.cinemusic.net) for giving us permission to include this review which is currently appearing on her Film Music site.

Reviewer
Helen San

---
---
Reviews carry sales links
but you can also purchase
from: