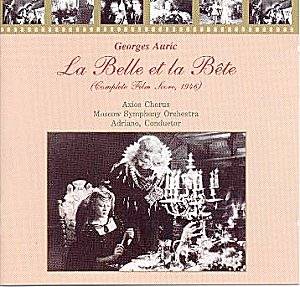 La Belle et La Bête (1946) remains one of the best loved films of the French cinema and a triumph of the imagination, with an inspired score by Auric supporting Jean Cocteau's equally inspired direction.
The story needs no retelling. Conductor Adriano, who also wrote the erudite notes, found Auric's full manuscript amongst other manuscripts left by the composer. Previously, it had been thought that the music was lost. There followed much toil in examining, transcribing, clarifying the differences between the composer's original intentions and the conductor's markings, and preparing the material for this recording. Cocteau's previous experience of working on a film with Auric, gave him the confidence to allow the composer much freedom without dictating what material should fit what sequence. As Adriano comments, the music "unsynchronised and contrasting, gave the picture new and fascinating dimensions." Here, for the first time, is the complete score, much of which could not be heard properly under the dialogue or sound effects of the film (or which was often abruptly stopped to prioritise the surface drama; and the more primitive 1940s film sound recording lost much detail too.)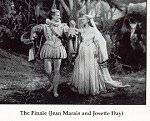 Auric's highly atmospheric music fits the fantasy world of the fairy-tale like a glove. The sound world he creates is beguiling, bewitching, romantic, mysterious, vaguely alarming: in short, pure magic. At times, there is a sense of other-worldly innocence that is utterly captivating. Much of the scoring is fragile, gossamer delicate, hushed, and anticipatory even, with emphasis on sheening glissandi and the higher registers of wind, strings and percussion, with harp. There are, clearly, low rumbling punctuations, and extended sinister episodes plus ceremonial and regal music. Rather than attempt to analyse the 24 tracks that comprise the score, I will quote extensively from Adriano's eloquent notes:
"Its overall orchestration includes three flutes (with piccolos), two oboes, cor anglais, two clarinets, bass clarinet, two bassoons, three horns, three trumpets, three trombones, tuba, timpani, eight percussion instruments, vibraphone, xylophone, glockenspiel, celeste, pianoforte, two harps, a wordless mixed chorus and strings. Nine cues are scored for a smaller ensemble, without brass and with only about 10-15 strings exempting double basses. In these cues the chorus has an important part.
"On a first hearing, the music seems impressionistic. There are moments in which the sensual element of Ravel's Daphnis et Chloé and the organum-like fourths and fifths of his L'Enfant et les sortilèges come to mind. The wordless chorus (mouths closed and open) is also inspired by Ravel's ballet. 'Les couloirs mystérieux' and 'Les entretiens au parc' have passages that seem closer to Debussy. Nevertheless, in its excursion into the realm of the magic, the irrational and the atmospheric, the music of La Belle et la Bête may be recognised, rather, as symbolist…Most sections describing the Beast and his surroundings are of a blurred musical atmosphere, obtained through precise notation, unusual rhythmic counterpoint, sensitive dynamic changes and sophisticated and highly intricate instrumental colouring, ranging from the eerie, mysterious and dream-like ('Les couloirs mystérieux', 'La Bête jalouse' and 'Le pavillon de Diane') to moments that are nightmarish, troubled and brutal ('Apparition de la Bête' and 'Moments d'effroi'). A unique element of drama is heard in the orchestral tutti passages of 'Le vol d'une rose' and 'Le miroir et le gant.' A handful of leitmotifs and thematic cells are used, but not to identify particular characters or emotions: they remain purely within the domain of music. Harmonically, Auric steps further into atonality than the so-called Impressionists. His score, starting and finishing in a brilliant E major, wanders through various unusual, floating tonalities and some episodes of advanced dissonance. By using a wordless chorus in a film score, Auric certainly surpassed many contemporary and subsequent Hollywood scores and as a colourful orchestrator, his only rival was Dimitri Tiomkin."
This is very atmospheric and thrilling performance of a ravishing score that preceded and still overshadows such wonderful fantasy scores as Jerry Goldsmith's Legend and, this year, Simon Boswell's music for A Midsummer Night's Dream.
Reviewer
Ian Lace


Reviewer
Ian Lace

---
---
Reviews carry sales links
but you can also purchase
from: